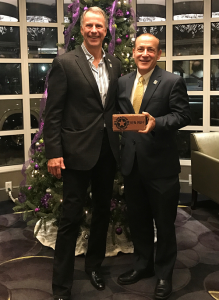 By Erin Patterson.
It was late the night before Thanksgiving in 2009. Ken Ruff, the vice president of national accounts at Beam Suntory, was exhausted. He and his family had just finished the long drive from their home in Chicago to their hometown of Utica, New York. Ken's daughter was sick with a cold, so he went to the grocery store to buy some cold medicine for her, looking forward to relaxing with his family the following day. While waiting in line at the grocery store to buy the medicine, he was so travel-weary he almost didn't notice what was happening in front of him.
A young family—a soldier in uniform, his wife, and their small child—couldn't afford to pay for their groceries. They had picked out a small piece of turkey, a loaf of bread, a box of stuffing, and a can of cranberry sauce for their Thanksgiving meal the following day, but they didn't have enough money to buy even these few items. When Ken realized what was happening, he stepped in and paid for the groceries, insisting in spite of the young family's polite refusal.
"It came out to a total of something like $15," Ken said. "It was an easy thing to do."
Ken didn't think much of the situation at first. He was just happy to have been able to help the family, who was incredibly grateful for the gift. It wasn't until he got back to his car in the parking lot that he was struck by an idea. It bothered him that there are so many military families who struggle during the holidays, and he wanted to do something about it.
"Christmas is a wonderful time to unplug and be with families and friends, and a lot of these people couldn't entertain in their homes, they had to go to the base to get a holiday meal and if they had a grandparent or someone from their extended family they wouldn't be included," Ken remembers. "They are challenged every day of the year. It's a very hard life for the military. During the holidays, it's even that much more of a need because you have presents, meals, etc., so that need is even higher. Providing groceries means that they don't have to pay for it, so there's that sense of relief to enjoy being at home with their family."
Ken called up his financial manager at Beam Suntory and told him to cancel the order of holiday gift baskets, which the company usually gave out to customers around the holidays. He knew that would make dollars available to make a difference in the lives of military families.
"I knew that it was a very real need that these military families don't have the resources to have a nice meal at home. It spawned the idea to develop program. We knew that this would literally bring joy to the families," Ken said.
Then, Ken called up Operation Homefront. Beam Suntory already had a long-standing relationship with Operation Homefront, so Ken knew that this was an organization he could trust to partner with on this program.
Ken went in front of the Beam Suntory leadership to present what would be an extraordinary idea: to create a holiday meals program in partnership with Operation Homefront. Beam Suntory was completely on board and wanted to support Ken as much as they could. The program aligned perfectly with Beam's corporate values of taking care of the communities where their employees live and work.
With the support of both the Beam Suntory leadership and Operation Homefront, Ken now had just four weeks to pull together the holiday meals program before Christmas. He recruited different partners to donate money, food, or volunteers, and ultimately gave groceries to 500 military families. As more and more people heard about the program, they wanted to get involved and help out for the following year.
Since the beginning, the program has grown every year, delivering more meals to more military families in need. It began expanding into different bases around the country, bringing in more donations and helping even more families. The volunteers started to make the events more exciting for the families, setting up Christmas decorations and even bringing in Santa Claus for the kids. In 2015, the program delivered holiday meals to 8,500 military families. And this year, the program is expected to serve more than 12,000 military families.
Ken attributes much of the program's development to the many partners that have jumped in and given financial donations or donations of food or time.
"Nobody thought this program would grow as much as it did. As the saying goes, it takes a community," Ken said.
One of the main reasons why Beam Suntory has continued to partner with Operation Homefront over the years is its fiscal responsibility. 92% of Operation Homefront's donations go directly to their programs, such as Holiday Meals for Military.
"We believe in what we're doing with Operation Homefront," said Emily York, the corporate communications manager at Beam Suntory. "We are very responsible with our philanthropic dollars and we want to put them to good use. The commitment to Operation Homefront and the belief in what you guys are doing is shared to the very top of our organization.
Looking back on the past few years, Ken is proud of the impact that the holiday meals program has had on so many military families, and he is incredibly grateful for the partnerships that have helped the program to continue to grow.
"It was fate being in that grocery store and having the good fortune to think of an idea to do something positive about it. I am very impressed with everything that Operation Homefront does for this program, and I'm very proud that Operation Homefront continues it," Ken said. "The program is what it is because of Operation Homefront. I'm the first one to tell you that the support of Beam is very important, but the people at Operation Homefront make it happen. I'm really looking forward to a great holiday season. I truly believe that this will be our best year ever."