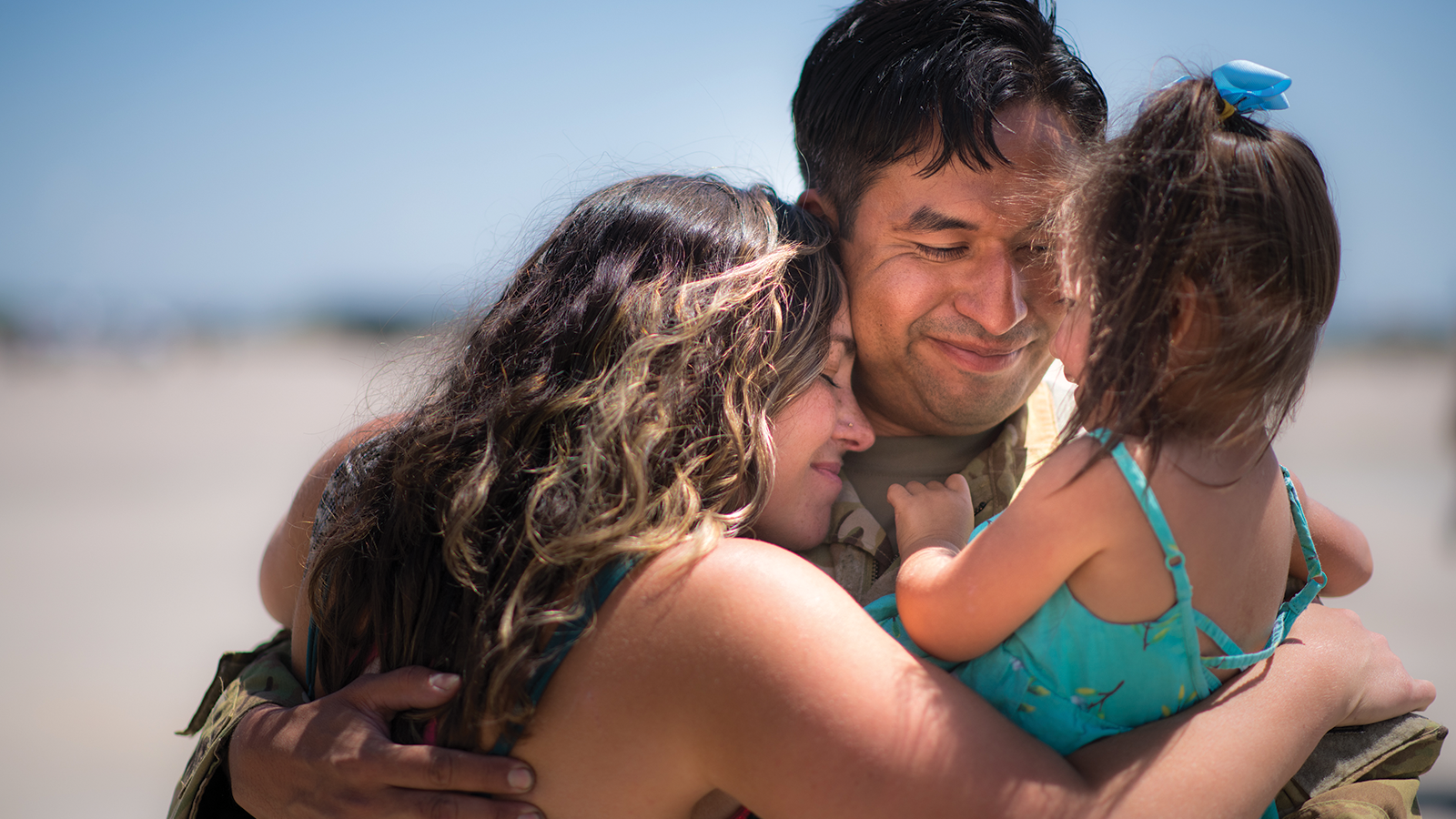 Ways to Give
Recognized for superior performance by leading independent charity watchdog groups, nationally, 85 percent of Operation Homefront's expenditures go directly to programs that provide support to our military families.
Donate Online
Online giving is fast, easy, and secure. Simply use our online form, fill in the correct information and it's done! It's the fastest option available for supporters to help our military families. Thanks to the generous donations of people just like you, we have provided assistance to thousands of military families.
Donate by Mail
Whether it's a $5 bill or a $5,000 check, monetary gifts sustain our organization. We are grateful for your generosity and appreciation for the sacrifices made by our military and the families they leave behind.
You can mail any monetary donations to:
Operation Homefront
17319 San Pedro Ave, Suite 505
San Antonio, TX 78232-1444
If you are more comfortable including a donation form with your contribution, you may download it and mail it to our office.
Volunteer
Operation Homefront relies heavily on our more than 4,000 volunteers who support our mission and help us deliver our programs.
Their commitment and support are what allow Operation Homefront to make a real and positive difference in the lives of our military families and veterans.
Become a Partner
Corporate and Foundation partnerships at Operation Homefront are often very customized and unique opportunities. We have a dedicated team ready to help you build the right corporate or foundation partnership for your business. Our most successful partnerships start with joint values and productive discussions which may incorporate several of the opportunities listed on our Corporate and Foundation partnerships page.
Donor Advised Funds
A donor-advised fund (DAF) is a charitable giving vehicle that allows you to make a charitable contribution and then recommend grants over time from the fund to support your preferred causes, like Operation Homefront. Donor-advised funds can easily be set up through a community foundation or financial institutions such as Fidelity, Vanguard, and others. We are experienced with working with all types of DAF hosts.
If you already have a donor-advised fund, you can contact your DAF representative and recommend a gift today.
Cryptocurrency
Support the future of military families by donating cryptocurrency today. The emerging space of decentralized web protocols, blockchains, cryptocurrencies, and beyond can be a powerful force in building strong, stable, and secure military families. The crypto community can truly strengthen lives.
Become a Homefront Hero
Give a recurring gift and help even more military families by becoming a Hometown Hero!
Homefront Heroes is Operation Homefront's membership program for donors who give to the organization via recurring gifts. Donations are always needed to continue to help build strong, stable, and secure military families. Recurring gifts makes giving easy, and allows us to better project anticipated donations to the organization. Donations are withdrawn automatically via electronic check or credit card transactions. Every contribution, regardless of amount, is significant to the work and mission of Operation Homefront.
Homefront Hero Impact
$10 per month

helps cover groceries.

$25 per month

helps pay utility bills.

$50 per month

helps cover car repairs.
To become a member, click the donate button below, select Monthly giving, and then complete the whole form.
For more information on the Homefront Heroes program, please contact Senior Donor Relations Coordinator, Jennifer Recker, at (800) 722-6098.
---
Other Ways to Give
Combined Federal Campaign
The Combined Federal Campaign is a partnership between federal employees, the government and charitable organizations like Operation Homefront. Most federal employees elect to pledge a specific amount to be withheld regularly from their pay beginning in January and continuing through December. One-time gifts are also possible.
Donate to Operation Homefront using code #12526.
The campaign begins on Sept. 1 and normally goes through Dec. 15. Find out more about the CFC.
Non-Cash Gifts (In-Kind)
Donations of goods and services, also known as in-kind gifts, are extremely valuable to Operation Homefront. In-kind gifts can be made by individuals, organizations, or corporations. Operation Homefront accepts donated in-kind services to include, but not limited to, legal support, automotive repair, heating and air conditioning services, roofing, and accounting services. Your donation is 100 percent tax deductible.
For more information on donating non-cash gifts, please contact us by email at inkind@operationhomefront.org.
Organize a Fundraiser
Do you own a business and want to direct proceeds to Operation Homefront? Or do you want to sell raffle tickets for donated items and raise money for us? Even if you just want to set up a lemonade stand, there are lots of ways to organize a fundraiser to benefit military families. Once the money is raised, you can send it to us to help military families (Hint: We love getting pictures of patriotic kids and lemonade stands!). Please contact us by email at development@operationhomefront.org.