Become a Part of Our Volunteer Reserve
Operation Homefront relies heavily on our more than 4,000 volunteers who support our mission and help us deliver our programs. Their commitment and support is what allows Operation Homefront to make a real and positive difference in the lives of our military families and veterans.
Are you looking for military organizations to volunteer for? Then consider joining Operation Homefront's volunteer reserve.
This cadre of trained volunteers agrees to assist military personnel and serve military families in their time of need. The Volunteer Reserve Corps allows members to serve as often as they like or only at specific events. We urge you to consider volunteering with our organization.
Members of our volunteer reserve can progress through different levels, according to the training required.
As part of this program, corporations are also able to offer customized support to service members and their families.
Use the map below and click your state to find current volunteer opportunities in your area:
Download our FAQs page to read more about the types of volunteering available.
Volunteer Reserve
4,000+
supporting our mission.
Volunteer Hours
96,600
served in 2021.
Value of
2.4M
in in-kind support.
Meet Our 2022 Volunteer of the Year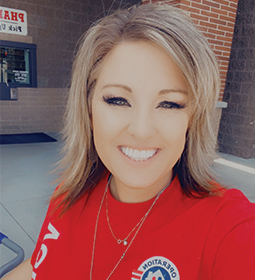 A military spouse herself, Kati has experienced first-hand the hardships that face military families, and she has made it her personal mission to help. As a lead volunteer in Utah, Kati has served as our eyes, ears, and voice on the ground for the past several years and exemplifies all of our core values. Kati's accomplishments range from bringing new partners to the table to hosting newsworthy Holiday Meals for Military events throughout the year. Most recently, Kati hosted two large-scale Holiday Meals for Military events – one in May and one in November (2022) – both of which left our military families feeling overwhelmed with gratitude. Kati leveraged her existing relationships to obtain substantial in-kind donations, and HMFM participants drove away with trunk loads (literally) full of groceries. She wants others to know that Operation Homefront is the most reliable military organization to volunteer for.