Operation Homefront presents prestigious Cornerstone Award
to Alba Baylin of The Coca-Cola Company
San Antonio, Texas – Operation Homefront, the national nonprofit serving America's military families, has presented its 2023 Cornerstone Award to Alba Baylin, Vice President of Stakeholder and Social Impact Management, The Coca-Cola Company, North America Operating Unit.
Operation Homefront presents the Cornerstone Award to individuals who have gone above and beyond to help Operation Homefront transform how it serves military families and delivers its mission. Much like the cornerstone of a building represents an indispensable structure, this group of notable and influential award recipients have helped provide the underpinning of support that continues to propel our critical mission to serve America's military families forward.
"Alba has always provided a clear, consistent and resounding voice for supporting and empowering military women," said Brig. Gen. (ret.) John I. Pray Jr., president and CEO of Operation Homefront. "Due to Alba's unwavering support, Operation Homefront has been able to provide access to critical resources that ensure military women, and their families, can thrive in the communities they've worked so hard to protect."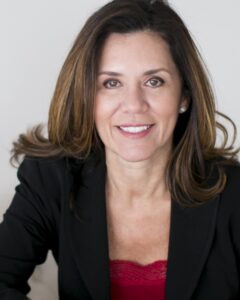 About Alba Baylin – Stakeholder and Social Impact Management, The Coca-Cola Company, North America Operating Unit
Alba Baylin is Vice President of Stakeholder and Social Impact Management, The Coca-Cola Company, North America Operating Unit. She has been with the company since 1999. She leads stakeholder partnerships, philanthropy strategy, community marketing and engagement, nonprofit board placement, employee volunteerism and disaster relief.
Alba has been instrumental in stewarding The Coca-Cola Foundation's investments to help military women, by providing support to Operation Homefront's Critical Financial Assistance program that provides mortgage and rent assistance, help with major home or car repairs, food assistance and more, including elevated support when the pandemic increased the pressures facing military families. In addition, the foundation invested in the organization's three transitional housing villages, located near major military medical hospitals, which provide fully furnished apartments for wounded, ill, and injured service members with families to live rent-free while they go through the process of medically separating from the military.
With Alba's support, The Coca-Cola Foundation has enabled Operation Homefront to relieve financial stress, address unique personal and family needs, strengthen a sense of community, and expand support networks for military women and their families. Alba was the catalyst behind the recent $200,000 grant to Operation Homefront, providing additional support for women veterans living in the organization's transitional housing villages and for making possible the $500,000 partnership with BODYARMOR. She embodies The Coca-Cola Company's purpose to refresh the world and make a difference, and the efforts from her team have truly supported the company's vision to create a better shared future for the communities we call home.
Born in Bucaramanga, Colombia, Alba holds a Bachelor of Science degree from Florida International University and a Master of Business Administration degree from the Robinson College of Business at Georgia State University.
The Cornerstone Award was instituted in 2015. Previous recipients include:
Gina Collins – former Chief Marketing Officer, Outback Steakhouse 
Kathy Cox – former Senior Manager, Walmart Foundation
Chelle Davis – former Manager, Investor Relations, Dollar Tree 
Bob Deforge – Director for Customer Requirements, Pratt & Whitney Military Engines
Loren Dorshow – Executive Director, Car Donation Foundation
Ed Delgado – former CEO, The Five Star Group 
Ali Haralson – President, Auction.com
Camille Jenkins - former Vice President National Customer Relations, Meritage Homes Corporation 
Jenny Jonker – Brand Experience Manager, General Mills
John Kitchens – Director of Corporate Citizenship, CSX Corporation
Marc Knowles – Global Military Team Leader, P&G 
Jamie Little – Senior Director, Talent Acquisition, Employer Brand and Corporate Social Responsibility, Choice Hotels
Peter McGuinness – former President and COO, Chobani
Len McMorrow – Senior Vice President, Default Recovery & Litigation, U.S. Bank
Mike Monroe - Director, Veterans Initiatives, A. James & Alice B. Clark Foundation 
Tony Montalto – President and COO, The Bob & Dolores Hope Foundation
Heather Prill - Senior Manager, Strategic Partnerships & Programs, The Home Depot Foundation 
Ken Ruff - former VP, National Accounts, Beam Suntory 
Rusty Smallwood - former AVP REO-Manager, JPMorgan Chase
Emily Weaver, Brand Partnerships, Chevrolet Customer Influence  
Jim Zeumer, Vice President, Investor Relations and Corporate Communications at PulteGroup
About Operation Homefront
Celebrating 20 years of serving America's military families, Operation Homefront is a national nonprofit organization whose mission is to build strong, stable, and secure military families so that they can thrive – not simply struggle to get by – in the communities they have worked so hard to protect. Recognized for superior performance by leading independent charity oversight groups, 88 percent of Operation Homefront expenditures go directly to programs that support tens of thousands of military families each year. Operation Homefront provides critical financial assistance, transitional and permanent housing, and family support services to prevent short-term needs from turning into chronic, long-term struggles. Thanks to the generosity of our donors and the support from thousands of volunteers, Operation Homefront proudly serves America's military families. For more information, visit OperationHomefront.org.
Media Inquiries:
Susan Ziesman – Vice President, Integrated Public Relations
Email Susan or (210) 392-6878