Andrew 'A.J.' Stone, National Guard 2022 Military Child of the Year®, Embraces Military Life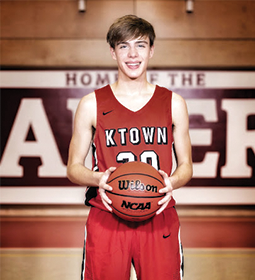 While some military children decry the constant relocations, Andrew "A.J." Stone, the 2022 National Guard Military Child of the Year®, decided to move to Kaiserslautern, Germany, during his mother's deployment to bask in a new culture even though he was five weeks into a new school year in Ohio, where he was lived on the family farm his entire life.
"I've always wanted to live abroad and experience the true life of a military child," said A.J., 15, who plans to pursue a military career himself. "This opportunity is amazing, and it makes me even happier to be a military child."
He is thriving as a student leader in his new environment just as he did at his American school.
Andrew is accustomed to unpredictable schedules and the absence of a parent because of his unique situation as a child of an Army National Guardsman and Air Force Reservist, so when the opportunity arose to move to Germany on short notice for almost a year, he took the chance.
Leaving during his sophomore year at Nelsonville-York High School in Ohio, he fit right in at Kaiserslautern High School.
"As soon as I moved to Germany, I met a bunch of new friends who readily accepted me," A.J. said. "Military kids seem much more accepting of newcomers and people who come from different backgrounds, probably because they, at one time or another, have been that new kid themselves."
At Kaiserslautern, he made the basketball team, serves as an ambassador representing the school to the faculty, and earned straight A's while taking AP courses.
A.J. already was an advocate for students before leaving Ohio. After contracting COVID-19 before the vaccine was available, he got vaccinated as soon as he was eligible. He also pushed for other students to be vaccinated, with the superintendent accepting his proposal that his school uses federal CARES Act money as an incentive.
"I was lucky enough to not have serious symptoms, but the quarantine was really lonely," said A.J., who got through the time alone in his family's basement by talking online with his friends and taking solo walks with his dogs.
When he chose to go to Germany, he had already started an online college course at a local community college through Ohio's College Credit Plus program. Due to his military move, he was going to be forced to withdraw from the program. He successfully worked with the college to transfer his participation. He also contacted the Ohio Departments of Education and Higher Education, as well as the governor's office and his own state legislators, to advocate for amending state law so it doesn't impact other military children in similar situations.
A.J.'s advice for other military children focuses on self-sufficiency.
"Make sure you grow your independence," he said. "Your parents may not always be available to be there for you in every little way, and you need to make sure that you do your best to not depend on them for everything. Your support and ability to be independent when needed makes their job so much easier."
Favorite Quote:
Forgive me, for all the things I did but mostly for the ones that I did not."—Donna Tartt, "The Secret History"
Service/Leadership Highlights:
Three-sport athlete in football, basketball, and track
Student council member
Red Cross school district and community ambassador
Ohio Military Teen Council
Tech Changemaker teaching computer literacy and cybersecurity to elderly and low-income residents
Kaiserslautern High School Student Ambassador