Air Force 2022 Military Child of the Year® Sees Needs, Takes Action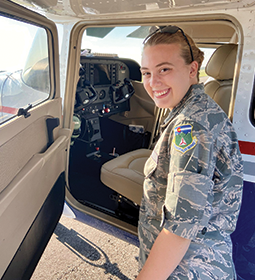 Anna Cummins, the 2022 Military Child of the Year® for the Air Force, loves to communicate with other people, and the extroverted teen from Colorado Springs, Colorado, has plenty she would like to share with others. As the younger sibling of a sister with special needs, Anna has learned to use her voice for those who can't speak for themselves.
The 16-year-old is a sophomore at Air Academy High School in Colorado Springs and is the middle child of Amy and Matthew Cummins. Amy is a registered nurse, and Matthew, a lieutenant colonel, is a flight commander and evaluator pilot assigned to the United States Air Force Academy's 70th Flying Training Squadron.
Anna has one brother, Luke, who is 9, and one sister, Maddy, who is 18.
Maddy, a senior at Air Academy High School, lives with Rett syndrome, a neurological disorder, and requires around-the-clock care. She is unable to walk, talk, or use her hands and communicates through an eye-tracking device.
Viewing life through Maddy's lens while growing up as a military child has helped shape Anna's perspective. Whether advocating for students with alternative needs or assisting other siblings and military families facing challenges while serving, when Anna identifies a need, she takes action.
When Anna saw a too-tight space for wheelchairs in the football stadium at her school, she spoke with school officials about removing a row of bleachers to increase mobility.
"Now, future kids with alternative mobility will have a place to sit alongside their peers," Anna said.
She's currently working with school officials to share an educational video about the hurtful R-word, a derogatory and outdated term for people with learning challenges.
"I want people to know that kids who are differently-abled are just the same as you and me," Anna said.
Anna also wants to be a voice for other siblings of special-needs children, especially those in the military.
"The military has programs for kids with special needs, but as siblings, we have to make our own connection." Finding someone who can relate to special circumstances can be especially difficult for people who are shy.
Experience has taught Anna the value of talking with others about problems she may be having. She uses the analogy of a soda bottle under pressure. Gradually releasing the pressure avoids an explosion.
In middle school, Anna founded Special Siblings, an Instagram-based support community for students with siblings who possess significant disabilities. Anna creates TikToks and encouraging posts. She also includes professional voices such as special-education teachers and child life specialists.
Anna began volunteering at age 4 and has contributed over 266 hours in the past year to the American Red Cross, Children's Hospital Colorado, and Angel Flight. From providing hands-on patient care in a military hospital to delivering critical medical supplies to rural hospitals during the COVID-19 pandemic, Anna found fulfillment in serving her community.
Ultimately, Anna wants to become a physician assistant or doctor and join the Air Force to help serve military families. Her career goal developed from a lifetime of attending medical appointments with Maddy, who was diagnosed when Anna was 6 months old.
"I've seen how much of an impact the doctors can have," Anna said. Maddy's doctors have taken the time to explain treatments to Anna, and one physician told her about Air Force training programs for medical professionals.
"I want to give back to my country what the Air Force has given to me," Anna said, explaining she appreciates the benefits her family has received through her dad's military service.
An aspiring pilot, Anna holds a leadership role in the Civil Air Patrol, and she founded the Aviation and Aerospace Club at her school. She has continually maintained above a 4.0 GPA throughout high school and serves as her junior varsity tennis team's captain. In her spare time, Anna enjoys reading and hiking and has her sights on hiking Pikes Peak.
Favorite Quote:
"I am the one thing in life I can control. I am inimitable; I am an original." – Lin-Manuel Miranda in "Hamilton"
Service/Leadership Highlights:
American Red Cross Hospital, mother-baby unit volunteer
Children's Hospital Colorado, volunteer
Angel Flight West, mission assistant volunteer
Special Siblings, founder, and director of the social media platform for siblings of people with special needs
Student Council, Executive Secretary
Civil Air Patrol, Tech Sergeant
Spanish Club, tutor
Children's Hospital toy drive, leader
Junior Varsity Tennis, team captain