Dual Military Family Presented with Mortgage-Free Home at FC Dallas Game
Operation Homefront was honored to join Chase to award a mortgage-free home to dual military family Army veteran Ramiro Carrasco and Marine veteran Aimee Carrasco and their family at an FC Dallas game recently. The family, who has been accepted into Operation Homefront's Homes on the Homefront program, will receive a newly renovated mortgage-free home donated by Chase.
Meet Aimee and Ramiro Carrasco:
Army veteran Ramiro Carrasco and Marine veteran Aimee Carrasco were proud to serve their country, but now it's time to serve their family. As a Green Beret, Ramiro had combat deployments to many countries around the world and was injured in the line of duty in Honduras. His wife of 11 years, Aimee, rose to the rank of sergeant in the Marines.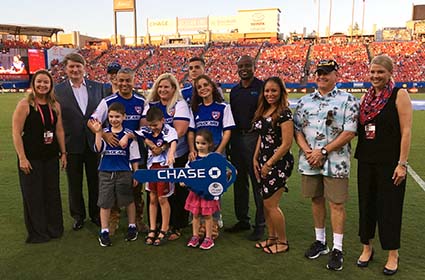 The Carrascos and their two special-needs sons are currently crowded into a rented two-bedroom house. Ramiro and his family were accepted into the Homes on the Homefront (HOTH) program because they are currently renting a house and struggling with no central air conditioning, not to mention, the owners were planning on selling the home before the lease is up.
"Receiving a mortgage-free home means a lot to me and my family," said Ramiro. "For the past 22 years, I have served my country and nation – it is now time to serve my family and provide for them."
Thanks to Operation Homefront and Chase, Ramiro will receive a mortgage-free home in Big Spring, Texas. This home will allow Ramiro to be closer to his family and six siblings that live in the Dallas-Fort Worth area. Aimee's family lives in Wichita Falls so she will be closer to her siblings as well.
Ramiro's plans are to go to college and earn a degree in history or art. Aimee is completing her dissertation and will be receiving her doctorate in development education, with a focus on veterans and higher education. She wants to continue to assist veterans and military families.
"Finances are tight and my number one goal is my wife and children," said Ramiro. "This will also allow her to complete her doctorate degree and continue to serve veterans and military families. I want to have a fruitful success with my family, allow my children a successful adulthood and be a part of society. They have taken the back seat and I can focus on them now."