Elena Ashburn, 2022 Army Military Child of the Year®, Helps Military Children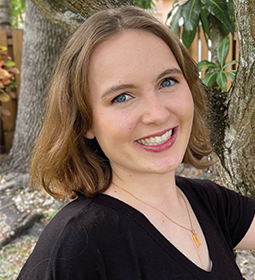 "Bloom where you're planted" takes on a special meaning for Elena Ashburn. When the military lifestyle separated her from her best friend, Elena, the 2022 Military Child of the Year® for the Army, decided to create an organization as a support system for military children across the world.
Elena and her close friend and fellow military kid Matthew Oh created the website Bloom: Empowering the Military Teen, a virtual community that reaches more than 2,500 military children on issues such as moves, deployments, and mental health.
Beyond being a founder and outreach director of Bloom, Elena regularly contributes articles to the website about her experiences being a military kid. Notably, she wrote an article about her family's struggle with housing insecurity in the housing market called "We Need a Home" that was brought to the attention of the Secretary of Defense and the Secretary of the Army. She has also worked with several organizations on Bloom collaborations, most prominently the Military Teen Experience Report with the National Military Family Association.
For her, the most rewarding part of Bloom is knowing she is connecting and uplifting kids in her community.
"I'm proudest of being a military kid when I see other military kids supporting each other," Elena said. "Underneath one of the earliest Bloom posts, I saw some military kids talking and supporting each other through a rough situation. Seeing that interaction made me very proud to be a part of the military kid community. It made me so grateful and proud of my supportive and amazing community."
Elena has been an active-duty military kid her entire life; her father, Col. Matt Ashburn, has served for 25 years. Due to the military lifestyle, Elena was homeschooled for eight years before entering the public school at the start of high school when she moved to Pennsylvania.
"I took the leap [to enter public school], and it's drastically changed my life," she said. "I wouldn't have started Bloom, I wouldn't have met some of my closest friends, and I wouldn't be the person I am today if I didn't seize that opportunity."
Since taking the leap, Elena has found a penchant for leadership. She was a Founding Fellow of Civics Unplugged's inaugural fellowship program, and stayed involved in the organization, producing and hosting its podcast and working on a project to revolutionize philanthropy through cryptocurrency.
She has worked as an intern for the organization Open Primaries for almost two years, where, as a political independent, she ran a virtual, student-focused campaign for a top-two, open primary system in Florida. Her primary advocacy has made her a subject of the upcoming documentary "The Young Vote" about student activists leading up to the 2020 general election. She also serves as print editor-in-chief of the school newspaper, where she has grown her love for writing, telling stories, and leading a team.
Despite having a congenital heart condition, Elena pursues her passion for performance in dance, music, and theatre. Since first grade, she has played violin, performing with orchestras and at weddings. She danced for many years as a young girl before turning to the theatre in middle school; she has acted on competition teams, with Shakespeare troupes, and currently serves as the recording secretary for her high school's Thespian troupe. She is also a South Florida Cappie Critic and a member of the International Thespian Society.
In the future, Elena intends to continue her work with Bloom and to study public policy in college. After college, she hopes to continue to serve the community that serves our country and gave her so much.
"I have learned a multitude of lessons about resilience, strength, and loyalty," Elena said. "Even with all the difficult parts of military life, I wouldn't trade being a military kid for anything."
Favorite Quote:
"You have handled everything life has sent so far. You can handle whatever comes next." – Will Bowen
Service/Leadership Highlights:
Co-wrote an editorial published in The Miami Herald
Won Scholastic Art and Writing Competition Silver Key for an essay on her grandmother's Alzheimer's
Won first place internationally in Chapman University's Holocaust Art and Writing Competition
Cooper City High School's Journalism Nominee for the Silver Knight Award
Cambridge AICE diploma candidate
Carlisle Area Science Advisory Committee's Excellence in Science Award for Honors Biology