Katie Rivera, a former military brat and Operation Homefront's Manager of Critical Financial Assistance, uses her six years of experience to help make military families stronger.

With a father who served in the Air Force for more than 20 years, Katie understands the nuances of military life and its impact on the family. She grew up watching her mother support her fellow military spouses and assist service members who needed something as simple as a ride from the airport when they returned home from orders. She has also lived through many of the challenges and hardships our clients are facing.

"Many people outside of the military population don't understand that it is the entire family that serves and the entire family that sacrifices," Katie said.

This understanding of military life helps Katie relate to the families she helps.

Katie's favorite part of her job is working directly with families.

"I feel honored hearing their stories and being able to help them during their time of need," Katie said. "It can be challenging at times, but this is very rewarding and impactful work."

Her days are filled with assisting military families that need help with past-due utility bills, rent/mortgage, auto payments and insurance, or food assistance. She also works with those in need of critical home repair assistance for roof repairs, HVAC replacements, ADA modifications, homeowner insurance deductibles, and the replacement of appliances.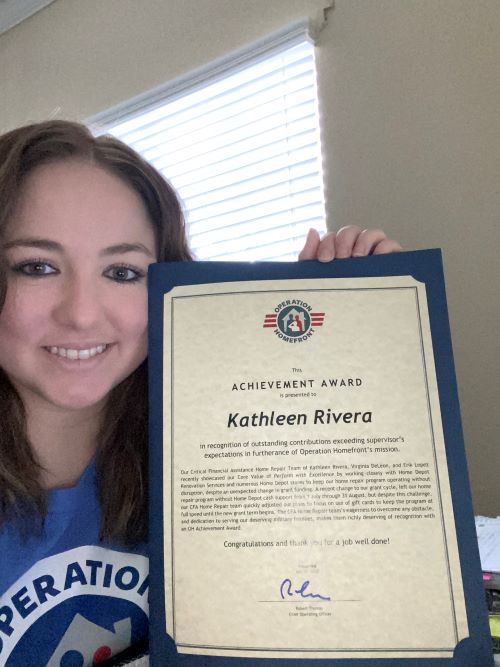 The Critical Financial Assistance team does more than provide financial assistance. They provide families with various tools and resources, including free in-house financial counseling services from a certified financial counselor and referrals to agencies that help service members and their spouses seek "military friendly" employment opportunities.

Katie recalls working with a service member who returned home from a deployment to find his home in disarray. The home had sustained damage from being essentially abandoned for a long period of time and needed a roof replacement, mold remediation, and basic drywall replacement to make the home livable again. The service member was also preparing to transition out of the military due to an injury. Operation Homefront was able to assist the service member.

"About a year after I worked with the service member, he reached out to share that he had just donated to Operation Homefront because he was now financially stable and remained grateful for the help we provided," Katie said.

A favorite memory of Katie's was working with The Home Depot Foundation and its annual "Operation Surprise" in December 2020. The Home Depot Foundation provided 50 veterans and their families with one month of mortgage or rent assistance as a way of thanking them for their service.

As an added bonus, all Operation Homefront staff were given the opportunity to notify the recipients of this amazing opportunity. This allowed team members who may not otherwise get to speak with clients to be involved in spreading some much-needed cheer, a reminder of the tremendous impact they are having within the military community we serve.

"I was fortunate enough to get to be on many of these calls with my fellow staff members and hearing the sheer joy in not only the recipient's voice but also the staff's voice was incredible," Katie said.

One service member said, crying, "I actually get to give my children a Christmas … I didn't think I could make that happen for them this year."
Another service member's spouse was in line at her church to receive groceries from its food bank when she got our call, and she was in complete shock hearing she was to be a surprise recipient of mortgage assistance.

Katie has a message for those who may be hesitant about asking for help.

"If someone were considering reaching out for help, I'd want to reiterate that while it may not feel like it in the moment, reaching out for help when you need it is an incredibly strong thing to do. Asking for help in your time of need is further caring for your family and yourself the very best you can. Operation Homefront is here to help empower you in your time of need and help you get back on your feet."

Katie said working at Operation Homefront has given her a deeper appreciation for her family.

"I've seen what the service members and their spouses are doing to support their children along with their nation and have a whole new appreciation for the sacrifices my parents made to provide me with a good life," she said. "It's also shown me the number of people who truly care for the military community and want to see them succeed. I feel that is something I didn't always see growing up, and just knowing how many resources are now available to the military population is incredible. I'm happy to be part of it."