Space Force 2022 Military Child of the Year® Aims to Fly High in the Military.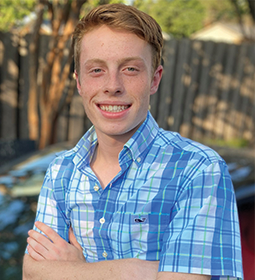 High school senior Grant Benson, the 2022 Military Child of the Year® for the Space Force, can consistently hit a target the size of a pencil tip with an air rifle. It's a skill that requires a sharp focus and discipline that the 18-year-old applies throughout his life.
Grant, a senior at Robinson Secondary School in Fairfax, Virginia, is the son of Todd and Rebecca Benson of Burke, Virginia. His father, a colonel, is director of requirements for the Space Force and is stationed at Space Force headquarters in Washington, D.C. His mother loves running and CrossFit and is pursuing a degree as a physical therapy assistant.
The calm demeanor that helps Grant hit the bullseye has enabled him to qualify throughout high school for the Junior Olympic rifle championships. His skill also made him one of two recruits this year for the Air Force Academy's NCAA Division I rifle team.
"Riflery isn't extremely physically demanding, but it is mentally exhausting," he said. "You have to focus, and you learn to control how you react to things. It helps you deal with adversity."
Grant began shooting when he was in his early teens. He was about 10 when he began volunteering alongside his dad with wounded warriors and other athletes with physical challenges. Now, he coaches adaptive athletes and coordinates camps across the country.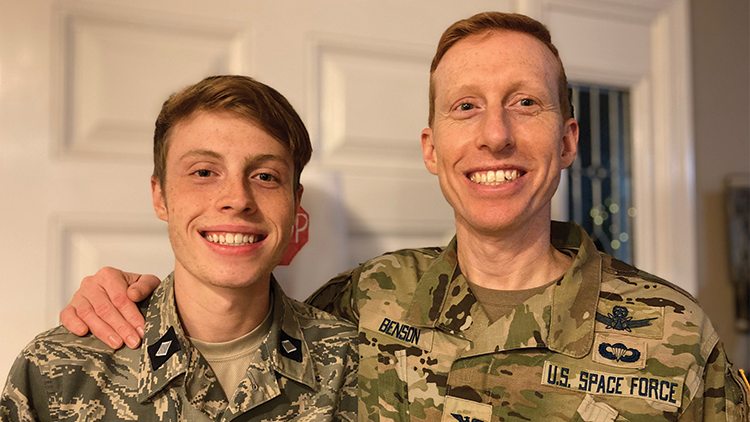 Since he was a child, Grant has dreamed of following his dad's path in the military and has accepted a conditional appointment to the Air Force Academy, where he plans to study aerospace engineering and possibly become a fighter pilot or an astronaut.
When a food allergy threatened to disqualify him from military service, Grant focused on his target to get a waiver and the conditional appointment. It meant wading through extensive questionnaires, multiple rounds of testing and medical appointments, and waiting for review board decisions.
"I had to really adult to get through this," he said.
One day, he said, he might follow his dad's footsteps into the Space Force, the newest branch of the military.
Grant remembers being nearby as the president signed the bill creating the Space Force. The moment was one of personal pride because his father was part of the team that spent years laying the framework for the newest branch of the military.
Grant says being part of a military family offers the best possible childhood, with opportunities for travel and living around the world. But being a military child wasn't always easy for Grant.
Like many, he struggled with the fresh starts that came with his family's seven moves. But he found that reframing his perspective to view the change as an adventure helped him adapt more easily. He encourages other military children to find adventure, embrace military friends as family, and find fulfillment through serving.
Grant has a busy summer mapped out after high school graduation. He has earned spots to compete at the U.S. Junior Olympics and to attend powered flight school through Civil Air Patrol. After that, he looks forward to the rigors of basic training.
Favorite Quote:
"Don't throw away your shot!" – From "Hamilton" by Lin-Manuel Miranda
Service/Leadership Highlights:
Move United Adaptive Sports Junior Nationals, rifle volunteer and coach
Civil Air Patrol, former cadet commander, Cadet Lt Col
Robinson Secondary School Rifle Team, captain
Robinson Athlete of the Month, December
Received the 2021-'22 Robinson Rifle Booster Award for sports excellence
Adaptive Rifle Veterans and Youth, Izaak Walton League, coach and volunteer
Civil Air Patrol, USAF Honor Guard, flag bearer
Robinson Secondary School Rifle Team fundraiser, parking attendant