Holiday Meals Program Helps Air Force Family Battle Inflation Increases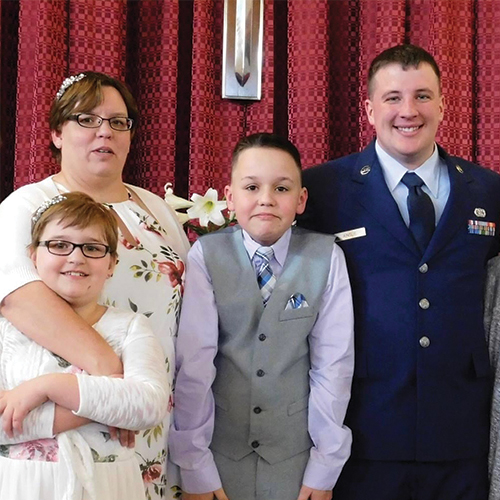 When Air Force Staff Sgt. Kyle Ainslie and his wife, Miranda, moved to Joint Base Lewis-McChord in Washington with their teenage son and daughter, they quickly noticed goods and services cost significantly more in the Northwest than their previous base in South Dakota.
Once on the base, Miranda heard through friends about Operation Homefront's Family Support Services, including the Holiday Meals for Military (HMFM) program.
The Ainslie family signed up and in early 2023 participated in an Easter HMFM gift-card giveaway.
"The cost of everything out here is really high," Miranda said.
Her husband agreed and added that the gift cards helped them give their kids something special.
"It's definitely been a relief and taken some weight off of our shoulders, especially when it comes to around the holidays," Kyle said. "I know our kids are older, but we still like to get gifts or show that holidays matter. We like them knowing that we are able to celebrate a special day."
"It's definitely been a relief and taken some weight off our shoulders."
Staff Sgt. Kyle Ainslie, Air Force
This year, the family had a car repair that took a chunk of savings, which meant the family support programs helped even more. Since their move to Washington, the couple also participated in Operation Homefront's Back-to-School Brigade for the first time. Previously, their daughter, 14, and son, 17, were homeschooled.
Kyles wants Operation Homefront donors to know that along with the financial assistance, military families appreciate that they are supported.
"We greatly appreciate everything everyone is doing and appreciate the donors who are willing to sacrifice for people they don't even know," he said. "It means a lot to this family. We sincerely thank you."