Deep Military Roots Guide Manager of Housing Operations
Meet Deb, Operation Homefront's Manager of Housing Operations. She has a deep military connection having served for four years in the U.S. Navy, from 1986-1990, and experienced Navy life as a spouse and dependent while her husband served for more than 12 years. Deb's father-in-law served 36 years in the U.S. Navy, and her step-grandfather served in the New Mexico Army National Guard from 1940-1946 and was a survivor of the Bataan Death March in 1942 and a POW.
While Deb was in the Navy, she was assigned to the Family Service Center (FSC). FSC offers financial and mental health services for military members and their families. When she saw the housing program coordinator position at Operation Homefront, she couldn't pass up an opportunity to serve military families.
"I've seen the impact services like this have on military families, and I really wanted to be a part of it again," Deb said.
Deb assists with oversight of both transitional and permanent housing programs to ensure the creation, implementation, and integration of the programs. She also helps oversee the daily operations of housing programs and is a wealth of information for housing staff. She has been an Operation Homefront team member for over nine years.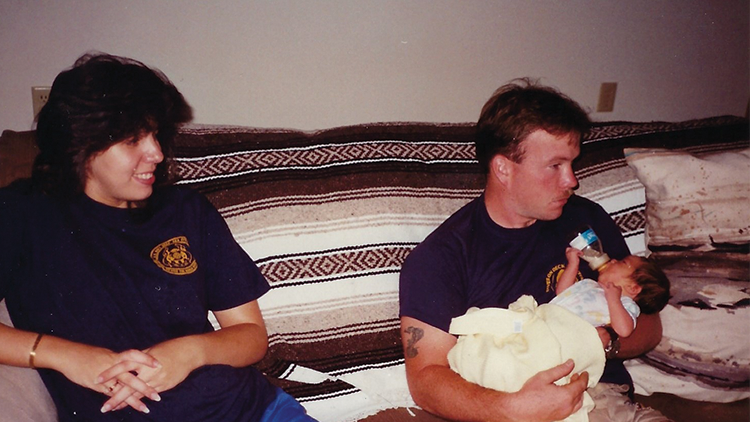 As both a sailor and military spouse, Deb has a unique view into some of the hardships of military life. After she was discharged in July 1990, her husband was transferred from Pensacola, Florida, to Southern California. She was 22 years old, with a 7-year-old stepson, a 10-month-old daughter, and was moving 1,400 miles from her family.
Deb's husband was part of a special unit that would suddenly depart with no communication for long periods of time. Deb had no idea where he was, what he was doing, or if he was still alive. She didn't know anyone in California and felt very alone.
The couple lived off base, but they were truly blessed to have great neighbors. Most of their neighbors were retired military or actively serving and helped tremendously. The neighbors checked in on Deb when they noticed her husband was gone and babysat the kids on school holidays when Deb had to work. Without the military community support, Deb is not sure things would have gone as smoothly as they did.
"I made friends with the spouses of the guys in my husband's unit," Deb said. "They were the only ones who really understood what it's like to be totally alone, with no communication from our husbands, and no idea if they were safe or even if they were coming home."
Deb's favorite part of her job at Operation Homefront is seeing a veteran graduate from a Housing program. She believes it is a truly beautiful experience.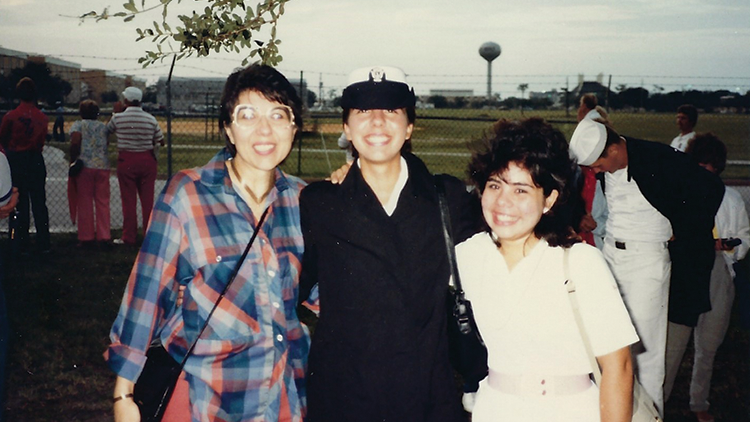 "I talk to them when they are first thinking about applying," Deb said. "I explain the programs, explain the expectations of the programs, help them fill out their application, and when they get chosen for the program, excel through the program and finally graduate. It's wonderful to know that I had a small hand in helping them change their life for the better."
A special memory that stands out for Deb is a client who attended one of the Tim McGraw concerts a few years ago. McGraw, an Operation Homefront supporter, previously recognized military families who received houses from Chase Bank and Operation Homefront. He honored them from the stage at his performances and met with other military families at private meet-and-greets before going on stage.
This client had been shot in the head overseas and lost vision in one eye. He had a few other injuries as well. When he went to the concert and met McGraw, he told him how his song "Live Like You Were Dying" inspired him. At the time of their meeting, he had done everything in the song except ride a bull named Fu-Man Chu. McGraw was touched by this story, and the veteran was grateful to have met the man who inspired him to live.
Deb draws inspiration from the possibility of making someone's life a little better—to make someone smile and relieve some of their pressures.
"It's truly heartbreaking to hear the stories from our veterans," Deb said.
To anyone considering reaching out to Operation Homefront for help, Deb has this to say: "Look at this opportunity as a hand-up, not a hand-out. For many military members and veterans, the mindset is to handle everything on their own, and asking for help is a sign of weakness. Everyone needs help in their life, so look at this as a strength, not a weakness. It takes a strong person to realize when they need help, and to ask for it."
Working at Operation Homefront has given Deb a new perspective of how the veteran community is sometimes treated and how hard it sometimes is to get services and benefits that they have earned through their service.
"The people working for OH treat veterans with dignity and compassion," Deb said. "We strive to help whenever we are able."