Jemma Bates, Military Child of the Year® for the Navy, Aims for a Career in Space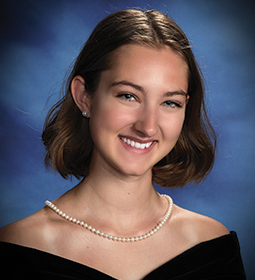 Annapolis High School senior Jemma Bates, Operation Homefront's 2023 Military Child of the Year® for the Navy, has her sights on the stars and beyond. An aspiring fighter pilot who hopes to one day work in space – possibly on Mars – Jemma recently accepted an appointment to the United States Naval Academy.
Jemma, 18, is the daughter of Captain James Bates, Deputy Superintendent / Chief of Staff at the United States Naval Academy, and Jennifer Bates.
"I am extremely proud to be a military child and proud to be the daughter of an active-duty service member," Jemma said of her father, who has served for 35 years.
Being the child of a military parent can be both exciting and challenging, she said.
"We move a lot and must deal with deployments and extended periods of separation," she said. "Despite this, it also offers fantastic opportunities. I am 18 and I have visited 48 of the 50 states."
Jemma credits her upbringing for equipping her with the skills to turn challenges into success stories. The family's most recent PCS move – Jemma's fourth – brought them to Annapolis, Maryland, in 2020 during the height of the COVID-19 pandemic.
"Moving across the country to a completely virtual high school in the middle of the pandemic was extremely challenging for a social butterfly like me," she recalled. "I wasn't able to go to school, join clubs, or play sports to make friends for my first year at Annapolis High School."
During the time of isolation, Jemma began advocating for other military kids facing similar struggles. She began writing for Bloom, a blog for military teens co-founded by a 2022 Military Child of the Year award winner.
She has spoken about mental health issues facing our country's military teens before the Military Interstate Children's Compact Commission's board of commissioners, and she helped gather data for the 2023 National Military Family Association teen experience survey to help support military teens.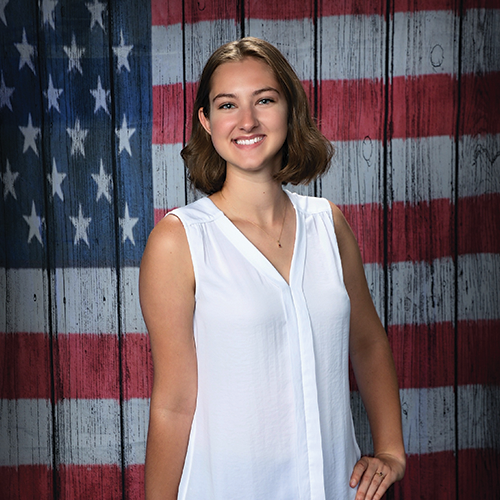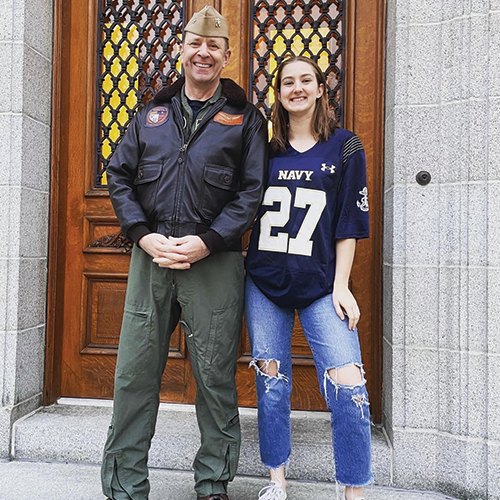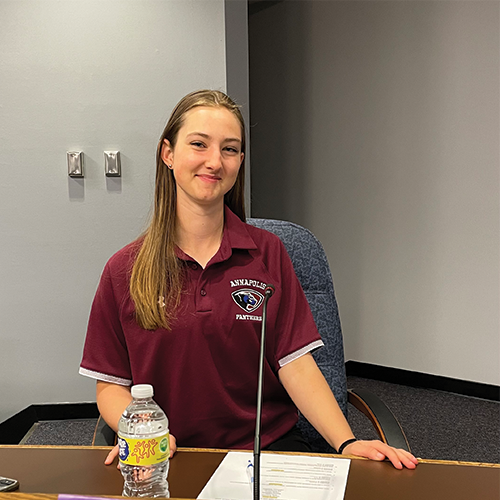 When in-person classes resumed during her sophomore year, Jemma's adaptability skills kicked into overdrive at the school of 2,200 students, all of them strangers to her. She began making friends by joining the tennis team and starting the Conversation Club which encourages all types of students to just show up.
"Sometimes the ability to walk into a room and introduce myself or sit in the front of the classroom and lead a discussion feels like a superpower," she said.
Jemma encourages her peers to set aside concerns about being the new kid and get involved.
"Never say you cannot do something just because you do not think you have been there long enough or are not qualified enough. Chances are, you might be exactly what's needed or more," she said. "Try out for that team, run for that position, and strive for excellence every day."
As a beginner tennis player, Jemma lost every match in her sophomore year. Through commitment and determination, she became not only the team captain her senior year but also the top player on the team.
Jemma now serves as vice president of the student government.
Her favorite place to live has been Naval Air Station Lemoore, where she found a close group of friends who shared her love of ballet and service at Bethel Ballet Academy.
"One of my favorite memories was climbing Half Dome in Yosemite with my dad when I was only 8 years old," she said.
"My dad is my hero and always has been," she said, adding that she looks forward to him swearing her in as a midshipman this summer. "His dedicated service to the protection of our nation is what has inspired me to serve." She said she expects to experience a swell of pride when she salutes her father at the swearing-in, just as she did the first time she saluted him when she received the award for junior cadet of the year for her unit of the Naval Sea Cadet Corps in 2021.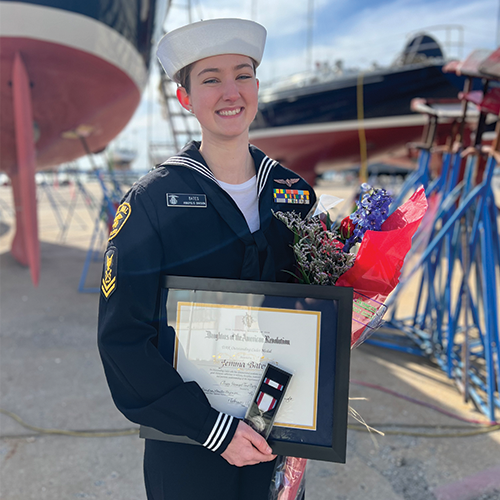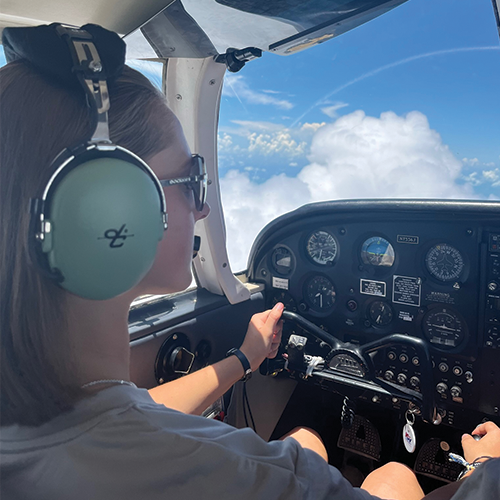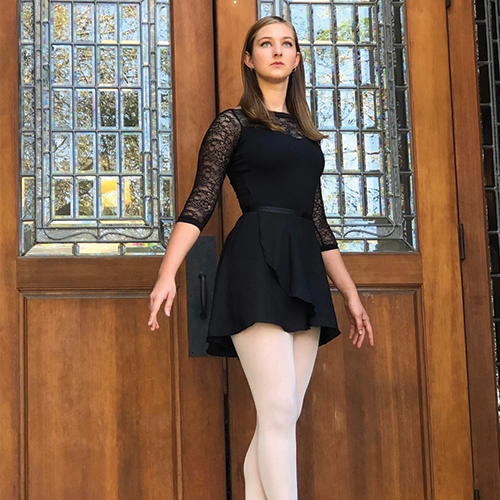 Jemma joined the local unit of the Naval Sea Cadet Corps in 2020. She served as the unit corpsman, led the color guard, and currently serves as the leading chief petty officer. She has logged 500 volunteer hours and began working toward earning a pilot's license through Sea Cadets.
Her family has a long history of military service. One of her great-grandfathers served with the Navy and another with the Army in World War II. One of her grandfathers, an Army veteran, earned a Purple Heart for his service in Vietnam. She also has an aunt and uncle who served in the Navy.
As a young adult ready to embark on her own military journey, Jemma appreciates the values instilled in her through a life steeped in the principles of the Navy, and she also values the second family – a very large one – she has gained.
'Within the military, I have a second family wherever I go always cheering me on," she said. "They say it takes a village, and the Navy family is mine."
Service/Leadership Highlights
• Daughters of the American Revolution Outstanding Cadet Medal
• United States Naval Sea Cadet Corps Annapolis Division Cadet of the Year
• American Legion Auxiliary Girls State elected state comptroller of the treasury
• Member of the Anne Arundel County Youth Advisory Council
• Speaker at Military Interstate Children's Compact Commission annual board meeting
• Future Business Leaders of America public speaking team, a national competitor in sales presentation
• Annapolis High School student government vice president
Favorite Quote
"Do not fear sadness, as it tends to sit right next to love." – Unknown