Kathryn Alonso, Coast Guard Military Child of the Year®, Enjoys Giving Back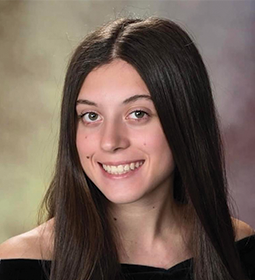 Kathryn Alonso, 2022 Military Child of the Year® for the Coast Guard, is the type of student who finds more joy in helping others than she does in serving herself.
The 17-year-old senior at George C. Marshall High School in Falls Church, Virginia, is known in her neighborhood, school, and the Vienna, Virginia, community for her giving spirit.
When the COVID-19 pandemic struck and adults and children alike were working and learning remotely, Kathryn helped herself and others cope with the stress of lockdown by organizing a neighborhood fun run, taking the children on picnics, and conducting sports camps for them while other such camps were closed.
After experiencing five changes of station in her life, she advises other military children to become as involved as possible in their new communities and schools when they move to gain new experiences and meet a variety of people.
"I can now say moving to new places and meeting new people," she said of her favorite part of being a military child. "It has given me the opportunity to experience different places and has helped me become a more diverse individual."
She clearly heeds her own advice.
For Special Olympics, she has served as an officer, volunteer, and sports coach through an organization called Best Buddies.
Because the pandemic prevented her from having a traditional 16th birthday party, she spent the day organizing a canned food drive.
As part of local eatery 29 Diner's Community First Initiative, she helped raise funds, food, and clothing for local families and for Afghan refugees.
Through the organization No Place for Hate, she helped promote inclusion and a non-judgmental school environment and led discussions about racism, respect, and stereotypes. She also helped with fundraising for Students Helping Honduras.
She cherished her time with her grandfather, who had Alzheimer's, especially after the family moved the grandparents closer to them so that they could spend more time with him in his last days.
"Being able to be together helped me get through that sad time in our life," she said.
That experience led her to volunteer with the Alzheimer's Association through community outreach, the Walk to End Alzheimer's, and the Longest Day events.
She won the "best motivator" award from her track team. She is a member of the National Honor Society, overcame stage fright to excel in choir, and carries a 4.0-grade point average despite over a year of online learning.
Her favorite place to live has been San Juan, Puerto Rico, where the family lived in base housing.
"The weather was beautiful all year long," she said. "The base housing had so many great family activities, parties and the beach was our playground! It was amazing!"
Kathryn also delighted in reuniting with several friends in the Washington, D.C., area after several years apart. Still, military life with its frequent relocations is difficult for anyone, especially for children.
The aspiring teacher and school counselor choose to find the positives.
"You always have to make the best of every situation you are put in," she said. "When you move, sometimes it's really hard to make friends and start over, but you just have to make the best of every situation and know that it's going to be OK in the end."
Favorite Quote:
"You do not find the happy life. You make it."—Camilla Eyring Kimball
Service/Leadership Highlights:
National Honor Society
Tri-M Honors Society (Music)
All-district choir
District and regional track qualifier
Selected to attend Hispanic College Institute through Virginia Tech