Lessons Endure for Operation Homefront Villages Graduate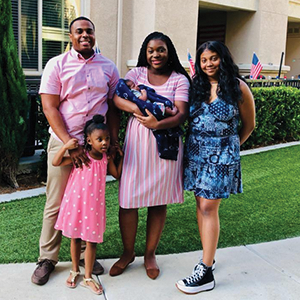 Garfield Johnson well remembers the five-star accommodations at Operation Homefront's Transitional Housing (Villages) in San Diego, but his enduring takeaways are the lessons in money management that will last a lifetime.
The former Navy petty officer first class served 11 years in the Navy Seabees as an aircraft structural mechanic. His dream of retiring from the military was cut short because of PTSD and panic attacks, the result of a near-fatal accident on the flight deck. He medically retired and now works in the payroll field.
Garfield spent almost six years aboard the USS Wasp amphibious assault ship before being transferred to Travis Air Force Base in Northern California and then to San Diego.
In addition to his own near-fatal incident, he witnessed others narrowly escape death on the flight deck too.
Garfield and his wife, Tia, resided at Operation Homefront's Transitional Housing Village (for wounded, ill, and injured service members) for six months, which provided the family stability as Garfield transitioned to civilian life.
"It would have been tough," Garfield said of life without the assistance of Operation Homefront. "The Villages gave me the opportunity to save, pay off debts, and find resources on job opportunities and school opportunities. They taught us life lessons on budgeting."
The family learned about the Villages from a Navy case manager and now give them a five-star review.
"It has a gym, sauna, trail, it's on top of a mountain. All of the appliances are brand new. It had cable. The bed was really comfortable. Every other week they would drop off a food distribution as well. My daughter loved it there. She could ride her bike around on the trail."
The financial counseling involved submitting a monthly budget, going over their credit score with a financial counselor, and making a spending plan for the next month.
Now they're doubly blessed. They received a home near family in Zephyrhills, Florida, through Operation Homefront's Permanent Homes for Veterans and the generosity of Meritage Homes. They say they left the Villages much better prepared to transition into civilian life.
"The six months I was there allowed me to enhance my life," Garfield said.