Through Operation Homefront Programs, Marine Veteran Working Toward American Dream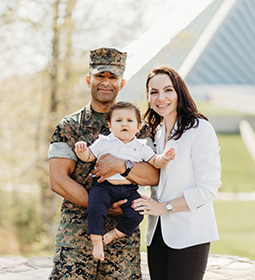 As Master Sgt. Class Lupe Mendoza prepared for retirement after 20 years in the Marine Corps – the last 10 of them served overseas – he and his wife, Dajana, looked forward settling in Texas and raising their baby boy, Alexander.
However, finding a place to live proved problematic because their savings did not align with exploding costs in the United States.
"With post-pandemic inflation, we didn't have a good understanding of what was happening in the housing market and how expensive it was to live in the U.S.," said Lupe, who retired in April 2022.
During a military retirement seminar, Lupe took note when the leader mentioned Operation Homefront. One mission of the nonprofit, he learned, is helping service members transitioning to civilian life, especially those having difficulty finding housing and waiting for the VA to process claims. That described his situation.
In February 2023, the Mendoza family received they keys to an Operation Homefront Transitional Homes for Veterans (THV) house in San Antonio. Through the program, veterans who are within 12 months of discharge can live rent-free for two to three years as they build savings, reduce debt, and become established in careers and the community.
"The house is brand new, and it's bright and has a nice backyard for our son," Lupe said. "Since coming back to the U.S., we've only lived in an apartment or a hotel room, and he hasn't had an area to play. I'm looking forward to being outside with him in a secure yard."
"This is an awesome opportunity.… Our goal is to succeed and be part of the American dream."
Lupe Mendoza, Marine corps veteran

The Mendoza family began their journey to civilian life at Operation Homefront's Transitional Housing – Villages in San Antonio. During their eight-month stay at the fully furnished rent-free apartment, Lupe finished his degree in business management, and Dajana began a master's program in visual communications. Lupe finalized his VA disability claim and began receiving treatment for PTSD and traumatic brain injury. He is applying for jobs in communication security, and his wife began a fellowship with a major insurance company.
"By not having to worry about all the expenses of transitioning and trying to start a new career, we were able to pay off a large amount of credit card debt and save some money," Lupe said. "We were looking for an apartment with the savings, but we were concerned about having to pay apartment rent and being tight with money before I got a job."
Lupe enlisted in the military in the summer of 2001. He was deployed to Kuwait in February 2003 as part of Operation Iraqi Freedom for the staging of the invasion of Iraq. In 2004, he was deployed in support of Operation Phantom Fury and efforts to regain Fallujah. His jobs ranged from machine gunner and convoy driver to security guard and, ultimately, cyber security technician.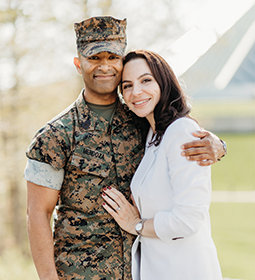 During his career, Lupe worked as a security guard at American embassies and consulates in Prague, Qatar, London, and Bosnia and Herzegovina, where he met Dajana, who is a native of Sarajevo.
In 2014, he was sent to Bahrain as part of Operation Inherent Resolve. During almost three years there, he worked in cyber security and served as led a team of Marines that trained foreign soldiers on basic Marine Corps infantry tactics.
Lupe's final assignment was with a NATO task force at Naval Air Station Sigonella, Italy, where he worked in cyber security. He earned a Defense Meritorious Service Medal for his work there.
The family is looking forward to making their home in San Antonio. Lupe grew up in the Rio Grande Valley and has family there and in the San Antonio area. During their time in the THV home, the Mendoza family will continue building their savings and working toward purchasing their own home.
Operation Homefront currently has 33 THV houses throughout the U.S. Since the program began in 2018, 16 veteran families have graduated, representing a savings of almost $900,000 in mortgage costs.
The Mendozas are grateful for the support of Operation Homefront and its housing programs in their transition to civilian life.
"This is an awesome opportunity," Lupe said. "We are going to do the work to take full advantage of what this program is about, which is transitioning into our own home and becoming part of the community and then living the dream of owning our own home. Our goal is to succeed and be part of the American dream."