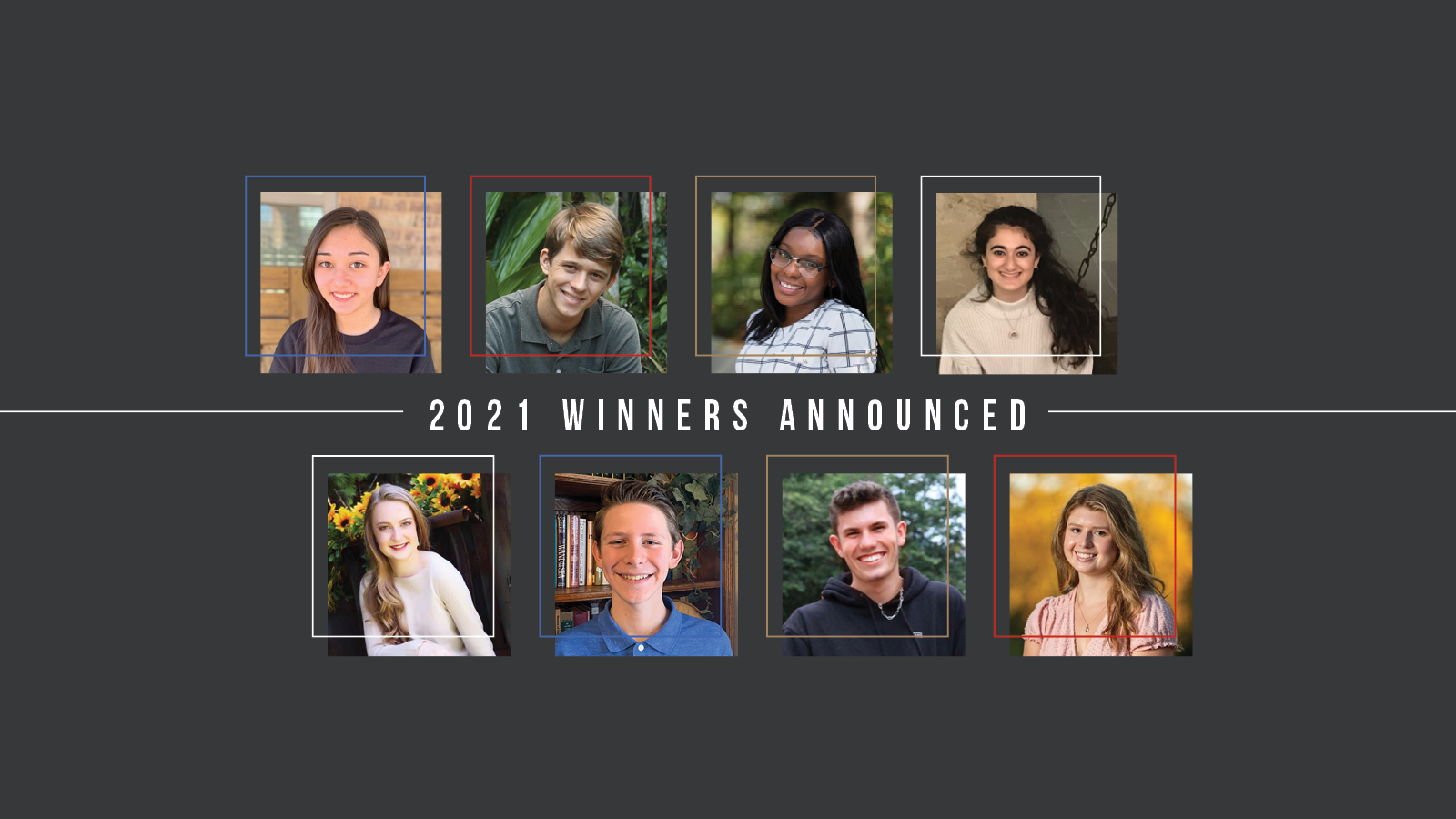 Military Child of the Year® Recipients
Now in its 13th year, the Military Child of the Year® Award reflects the positive impact that these impressive young people have made on their military families, their schools, and their communities. Operation Homefront will recognize the recipients with a special extended virtual celebration beginning on April 8 followed by 10 days to recognize each awardee via its digital channels. Each awardee will receive a $10,000 grant, a laptop computer, and more.
Emma Remley, 2021 Innovation Award Recipient
Emma Remley, the 2021 Military Child of the Year® for Innovation, created a legacy of her own at Yokota Air Base in Tokyo, Japan, by building a sensory garden that everyone could enjoy, and in particular other military kids, like her, who cope with anxiety.
Emma is the daughter of Air Force Chief Master Sgt. Jeremy Remley and Lydia Remley, a teacher. She is the only child of dual-military parents; both her mom and dad previously served in the Marine Corps. The family now lives in Papillion, Nebraska, where her dad is stationed at Offutt Air Force Base.
Sensory gardens have long been used to help those with depression, anxiety, or just provide a feeling of calm. Emma first came up with the idea after she experienced anxiety during her father's five-month deployment. Emma's garden was uniquely innovative due to its creative incorporation of grounding techniques into the design.
Grounding is a strategy designed to connect a person with the present moment using the five senses. Grounding can help manage a variety of conditions, like anxiety or depression. In Emma's garden, wooden signs guide visitors through exercises to experience the garden. Plants are meant to be touched, smelled and tasted. Wind chimes, large ornamental grasses and a solar-powered water feature all allow visitors to escape from the sounds of the military base, and Tokyo in the distance. For the younger children, there are scavenger hunt cards available at the garden providing an age-appropriate guide.
Emma first proposed her idea to the base commander and wing command chief. She worked with the American and Japanese Red Cross, and the Girl Scouts. Community members provided donations and feedback on the design. She worked with the Exceptional Family Member Program Manager to ensure the garden was impactful to as many different people as possible. The Red Cross continues maintenance of the garden.
Emma is a senior at Papillion La-Vista South High School. She plans to attend West Virginia University's Department of Forensic and Investigative Science in the Fall of 2021.
---
Nyah Gray, 2021 Military Child of the Year® for the Air Force
Nyah Gray, the 2021 Military Child of the Year® for the Air Force, developed powerful resilience as a little girl when her father died. In tragedy, she found refuge in music and academics. Now, the 17-year-old high school junior who lives in Buda, Texas, makes it her mission to find value in people and objects that others see as flawed or even worthless.
In addition to volunteer work with special needs children, Nyah founded Key Change, a ministry that restores pianos destined to be discarded and donates them to schools and nursing homes for music therapy programs. She also participated in a program to collect used eyeglasses and distribute them to villagers in Benin, West Africa.
Nyah is the daughter of Heather Gray Blalock and Maj. Walter David Gray, an Air Force Tactical Air Control Party air liaison officer who was killed in action in 2012. Her stepfather, retired Air Force Col. Jack Andrew Blalock, served as commander of a civil engineer squadron and as Air Force ROTC commander at Texas State University in San Marcos, Texas, until his retirement earlier this year.
Those who know Nyah admire her ability to handle adversity with faith and a determination to let obstacles make her stronger.
Nyah was 8 years old when her family became a Gold Star Family. Her father was serving in Kunar Province, Afghanistan, when he and three others died in an attack by a suicide bomber. Nyah took on responsibilities at home, pitched in with cooking, and helped her two younger siblings with homework.
Through it all, Nyah has excelled academically. She was recognized as a NASA Texas High School Aerospace Scholar, is a member of Mu Eta Sigma national math honor society, and she participates in the North American Computational Linguistics Olympiad.
Nyah is an accomplished pianist and enjoys the arts. She credits the many military moves with her father and stepfather for sparking an interest in languages and cultures. That passion could one day develop into a career, perhaps as a linguist with the CIA or as a Bible translator.
---
Caleb Pipes, 2021 Military Child of the Year® for the Army
Caleb Pipes, the 2021 Military Child of the Year® for the Army, is a cancer survivor, world traveler, and Eagle Scout who embodies resilience and the spirit of helping others.
The 18-year-old son of Army Col. Gregory Pipes and Lindsay Pipes, a marriage and family therapist, Caleb is the second oldest of five children. The family lives in Kailua, Hawaii, where his dad is stationed.
Caleb's biggest challenge in his young life has been his battle with cancer. He was diagnosed at 14. His father was stationed at the U.S. Embassy in Kathmandu and the family lived in Nepal. With his mom and three siblings, Caleb moved to California for his treatment. Having already been separated from his dad for two years because of his dad's job, being apart was even harder.
He spent his first day of high school in a transfusion chair in the oncology wing of Valley Children's Hospital in California. After that he had six months of chemotherapy and radiation. A year after completing his treatment, along with several scans showing no evidence of cancer, Caleb and his dad rode around the island of Oahu on a 135-mile, three-day bike ride. He was able to reunite with two of his favorite things – his bike and his dad, whom he had been separated from for a whole year due to the treatment.
Caleb has moved overseas five times. The combination of moving to different parts of the world, surviving cancer, and with his mom as his role model, Caleb has an adventurous and giving spirit. As an Eagle Scout, he helped build an outdoor toy chest for kids at the Fisher House. He is a certified scuba diver, excels at karate, an avid pianist, and spent 30 days trekking in the Himalayas with his family.
Caleb is a senior at Wilson Hill Academy, an online Christian Classical school headquartered in Austin, Texas, which he has attended from Nepal, California, and now Hawaii. He also attends the Kailua Community Church. He hopes to study mechanical engineering and one day design and program aquatic robots.
---
Liam Cooper, 2021 Military Child of the Year® for the Coast Guard
Liam Cooper, the 2021 Military Child of the Year® for the Coast Guard, has a heart for helping others and a gift for raising money. He has put both to work for organizations such as Wreaths Across America and Bottles for Change.
He is the son of Eileen and retired Coast Guard Capt. David Cooper, a helicopter pilot. The family was last stationed in New Orleans. They now live in Port Jefferson, New York, where Liam is a senior at Earl L. Vandermeulen High School.
The school is the sixth Liam has attended as his family PCS'd with the Coast Guard. This move was different from others. In the past, he and his younger sister found instant camaraderie with other military children. Vandermeulen's student body is mostly children of civilians.
To boost military awareness at the school and celebrate veterans, Liam worked with school administrators to organize a fundraiser for Wreaths Across America. After promotion that included a local radio interview and a social media campaign, Liam raised over $2,700.
He also serves as co-manager of Bottles for Change, a nonprofit that collects glass bottles and repurposes them as decorative lights and olive oil dispensers to prevent them from going to a landfill. Despite the pandemic, the effort raised over $1,000.
At school, he holds leadership roles in clubs and is a starter on the varsity soccer team. He is co-captain of the varsity tennis team and of his travel soccer team.
In addition to school, sports, and volunteer activities, Liam worked full-time as a paid summer intern for the school district's IT department assisting with setup of a hybrid learning model in response to COVID-19. His writing was published in a Long Island newspaper during an unpaid summer internship.
Moving with the military has provided Liam a broad view of cultures, diversity, and inclusion. The experiences have inspired him to pursue a career in public policy with the goal of serving others and making a difference in the world.
---
Eleanor David, 2021 Military Child of the Year® for the Marines
Eleanor "Ella" David, the 2021 Military Child of the Year® for the Marine Corps, realized her passion for violin during a temporary hiatus from the instrument because of a broken wrist. She has since dedicated herself to the violin and viola and is now an aspiring professional musician.
Ella, 17, lives in Falls Church, Virginia, and is a senior at McLean High School. She is the daughter of Medha and Col. George David, commanding officer of the Marine Corps Cyberspace Warfare Group based at Fort Meade, Maryland.
She has performed as principal violinist and violist in her schools' orchestras and in community groups. While her arm was in a cast, Ella documented progress of her fellow student musicians, then used her violin as physical therapy to regain range of motion. She began playing viola in eighth grade at the suggestion of a quartet coach, who became her private instructor.
Music, she says, has provided an avenue for connecting with other students when her family has moved with the military. The Davids have lived in Japan, Spain, and the United Arab Emirates, having PCS'd seven times in her lifetime. Ella's father has deployed for a total of 50 months during her lifetime.
In addition to music activities, Ella excels in academics and on the soccer field. She combined her interests in music and science for a study of the mechanics of sound production in string instruments, a winning project in the 2020 Fairfax County Science Fair. She has achieved top scores on all nine AP tests taken and earned the distinction of National AP Scholar for 2020.
Ella serves as a chemistry and math tutor at her high school and helped develop virtual tutoring sessions in chemistry and calculus to adapt to online learning in response to COVID-19. Outside of school, she enjoys scuba diving, sailing, and watercolor painting.
Living overseas inspired an interest in languages and cultures. She has studied Spanish and Arabic and is learning Latin and Brazilian Portuguese.
Ella plans to study chemical engineering and viola performance in college.
---
Elise Puliafico, 2021 Military Child of the Year® for the National Guard
Elise Puliafico, the 2021 Military Child of the Year® for the National Guard, is an empathetic leader who wants to help other military children cope with being the child of a parent or guardian with PTSD related to military service.
Elise, 18, is the daughter of National Guard Lt. Col. Joseph Puliafico and Lynette Puliafico, a teacher. She has one older sister. The family lives in West Bridgewater, Massachusetts, where her dad is stationed at Hanscom Air Force Base.
She learned just how strong and resilient she is during her father's deployment to Afghanistan from 2014 to 2015 when Elise was 12. During this time, Elise's mother had to have a routine surgery but dangerous complications required an extended hospitalization, including days in the ICU. Elise relied on her sister and grandparents to help during this time but knew she had to stay strong for her parents. She kept focusing on what she could control, like extracurricular activities, sports, school and other healthy outlets.
Overall, Elise has experienced over 60 months of her father being gone during deployments. But it was after her father returned from the latest Afghanistan deployment that she learned more about PTSD. She used her own family's post deployment experience to help others and advocates through the National Guard Teen Panel to focus PTSD educational programs for dependents of deployed service members in the reserve components.
Outside of her advocacy, Elise is active in various clubs as a senior at West Bridgewater Middle/Senior High School. She is captain of varsity field hockey and tennis and enjoys skiing, baking, and reading. She plans to study civil engineering in college and wants to create sustainable affordable housing for military bases and underserved communities.
---
Dasia Bandy, 2021 Military Child of the Year® for the Navy
Dasia Bandy, the 2021 Military Child of the Year® for the Navy, first aspired to be president of the United States when she was 7 years old. As commander-in-chief, she reasoned, she could order her father home from deployment with the U.S. Navy.
Now an 18-year-old freshman studying international affairs at The George Washington University, Dasia still aspires to be president of the United States – after serving in the U.S. Senate. However, she views her potential impact through a wider lens of advocacy, particularly in youth activism.
Dasia's father, Lee Bandy, retired Petty Ofc. 1st Class served as an operation specialist aboard the USS Theodore Roosevelt, the USS George Washington, and the USNS Big Horn. During his 20-year career, he provided support for the U.S. and foreign countries. Though the family never had a permanent change of station, Dasia, her three younger siblings and their mom, Dayna, endured a total of 60 months of deployments.
During his absences, and because her mother worked full time, Dasia shouldered responsibilities for added chores such as cooking and cleaning at an early age, and she was in charge of getting her brother and two sisters up and ready for school and then overseeing their homework after school.
In her own academic life, Dasia soared while balancing the rigors of Advanced Placement and dual-enrollment courses with extracurriculars. She co-founded her school's Multicultural Club in response to a traumatizing incident at school that was racially motivated. She also proposed plans for increasing minority student participation in advanced courses and for diversity and inclusion training for teachers.
In addition to serving as a student leader and earning academic accolades such as the AP Scholars Award, Dasia also competed with the Grassfield High School varsity gymnastics team.
Last year, she logged about 1,000 hours of volunteer time working with organizations such as Boys and Girls Club of America, the Norfolk chapter of the Jack and Jill America, and Ronald McDonald House.
Before launching her career as a public servant, Dasia aspires to educate and empower young people about holistic health, emphasizing physical, mental, social, spiritual, and financial well-being.
---
Joshua Wouden, 2021 Military Child of the Year® for the Space Force
Joshua Wouden, the first Military Child of the Year® for the Space Force, is Operation Homefront's youngest recipient in 2021 at 13 years old. But through volunteering at his church, helping his mom take care of his four siblings when she suffers frequent and debilitating migraines, and displaying leadership skills among his baseball teammates, Joshua is already mature beyond his years.
Joshua is the son of Space Force Maj. Derek Wouden and Joy Miel Wouden, a copyeditor and stay-at-home mom. He is the oldest of five children, three brothers and one sister. His family lineage is one of service: two great-grandfathers served in WWII, two grandfathers and an uncle were career military, and two more uncles served a combined 15 years. Given the service history of his family, one of Joshua's proudest moments of being a military child was not even about him but when his dad was chosen as part of leadership and commissioned for the country's newest branch.
Moving has been the most challenging aspect of being a military child for Joshua. Joshua's dad was gone for six months for a deployment, and the family has moved four times, most recently to Colorado. Baseball and volunteering have helped him maintain his friends and feel connected to each community.
Joshua has played baseball since he was three years old and is a highly-valued asset on his travel team both on and off the field. Much of his volunteering is with the Church of Jesus Christ of Latter-day Saints' young men organization. He completes service projects for ward and community members, participates in a council with other ward leaders monthly, and prepares and passes the sacrament ordinance to members weekly.
Joshua is in gifted and talented classes at Timberview Middle School in Colorado Springs. He has even skipped ahead two grades in math and participates in Science Olympiad.
Along with baseball, Joshua enjoys video games, wood burning, reading, piano, singing, board and card games, and being with friends.