Memorial Day Message: Stamped with the Great Seal of Heroic Character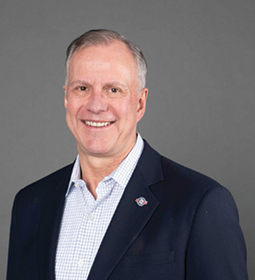 For two years, I had the privilege of serving as the commander of the 436th Airlift wing at Dover Air Force Base – home of a national treasure – the Charles C. Carson Center for Mortuary Affairs. One of my most solemn duties was to represent all Americans and welcome home those that had given their all in the defense of our great nation… fatalities from the wars in Iraq and Afghanistan.
It is impossible to fully describe the emotional impact of seeing 29 flag-draped transfer cases in the cargo compartment a C-141 transport plane knowing that their losses would affect hundreds, if not, thousands of family members and friends. Sadly, as difficult as this particular experience was, it did not fully prepare me for the day when I boarded a C-5 transport and saw 11 rows of 4 flag-draped transfer cases…44 fatalities…the grim result of a tragic helicopter accident in Iraq.
Young men and women lost, volunteers all…each of them serving with honor and courage. Each of their families forever changed. Some of those families encountered their loved ones within my view on the tarmac at Dover. The visions of those families, experiencing the full and lasting realization of the impact of their loved one's service, will remain etched in my memory. All powerful reminders that families and friends serve alongside those who choose to support and defend our Constitution. Each loss has an extended story that affects families and communities. No matter how difficult, all at Dover AFB were honored to welcome each service member back to American soil and be part of the process to prepare them to be received by their grieving families.
On Monday, May 30th, we honor all who have paid the ultimate sacrifice, as we have for over 100 years, for their selfless courage and unwavering commitment to protecting our way of life. James Garfield said, "For love of country, they accepted death and thus resolved all doubts and made immortal their patriotism and their virtue… death stamped on them the great seal of heroic character, and closed a record which years can never blot."
Please join me at 3 p.m. to pause for a National Moment of Remembrance to honor our fellow citizens who died while in service to our country. Thank you.
(Photo credit: DVIDs photo by Staff Sgt. Trevor Saylor, 934th Airlift Wing Public Affairs, VOLK FIELD AIR NATIONAL GUARD BASE, WI. The appearance of U.S. Department of Defense (DoD) visual information does not imply or constitute DoD endorsement.)