Mitchell Matella, 2022 Navy Military Child of the Year®, Puts Family First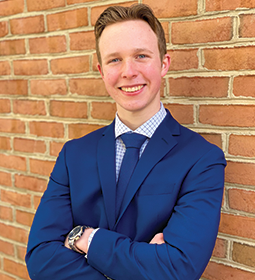 Mitchell Matella had had enough of family separations. So, when his father faced a cross-country change of station, the 2022 Military Child of the Year® for the Navy made the difficult choice to take extra classes last summer to finish high school at age 16 and move with his family.
Mitchell's parents gave him the option of staying in California to finish school with his classmates or moving with his family and finishing at a new school in the Washington, D.C., area where his father now serves as a chief nurse anesthetist at Walter Reed National Military Medical Center.
After too many separations and the loss of both of his grandmothers over the last five years, Mitchell decided to put in the work to graduate from Oceanside High School early—and with honors. Mitchell, who also skipped eighth grade, ranked 10th in a class of 458.
"Being a military child allowed me to realize how important it is to spend time with your family," he said. "You never know when there will be a move to separate further. I highly value time with my family and chose to graduate early to keep us together."
He left behind a full life in California, where he packed a lot into his three years of high school as a student, an athlete, a musician, a chess club and robotics club leader, and much more.
He took his passion for golf and served as a youth volunteer at Pro-Kids: The First Tee of San Diego, where he racked up more than 100 hours as a mentor and assistant coach to underserved youth in his community and was named the 2019 Youth Volunteer of the Year.
Mitchell attended school virtually his last year because of California's strict COVID policies and still managed to continue weekly meetings with the chess team, organized online
tournaments, and provided virtual instruction on strategy. He even managed to increase membership in the club through the pandemic.
A budding engineer, Mitchell applied his ability to think outside the box when he wanted to take the ACT and SAT exams but California canceled the tests seven times because of the pandemic. He found a chance to take them in neighboring Arizona and scored a 35 on the ACT and 1540 on the SAT at age 15.
Now 17, Mitchell is taking a gap year and is weighing his college choices. He works at a Panera Bread in the Rockville, Maryland, area.
During the holidays, he volunteered at Walter Reed National Military Medical Center playing holiday music for patients, staff, and visitors. Now, he enjoys playing guitar with the youth worship band at his church as well as serving as an usher for the National Institutes of Health Philharmonic Orchestra during their concerts.
Now, Mitchell values the saying of "make new friends and keep the old," getting familiar with new people in snowy Maryland while keeping in close contact with lifelong friends back home.
Through his experience, he has advice to share with fellow military children:
"The most important thing is to know there will be changes," he said. "It's tempting to try and control the changes, but you have to accept them and find the best path forward."
Favorite Quote:
"Shoot for the moon, for even if you miss, you'll land among the stars."—Norman Vincent Peale
Service/Leadership Highlights:
Varsity Golf Team Coach's Award, Oceanside High School
Most Improved Player Award, Oceanside High School Marching Band
Chess Club president
Robotics Club treasurer
Academic Team co-captain
Girard Prep Scholar
National Honor Society member
National Math and Science Initiative Award recipient