Operation Homefront awarded a mortgage-free home to U.S. Navy veteran Samuel Aryeh and wife, Hilda, through Operation Homefront's Homes on the Homefront (HOTH) program. The home was donated by JPMorgan Chase & Co.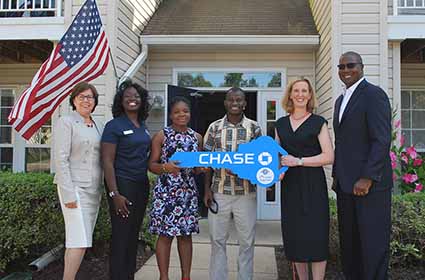 "This house is a gift from God," said Samuel. "It has brought a great relief to us financially, mentally, and psychologically. With this great gift, I can focus on my recovery and not worry about a place to lay my head. Words cannot express the joy in my heart for this honor and opportunity. I am very grateful to Chase and Operation Homefront."
After suffering three strokes and a heart attack, Samuel was medically discharged from the military. Leading up to his discharge in May 2018, Samuel spent a year and a half at Walter Reed National Military Medical Center.Samuel's medical condition and need for frequent rehabilitation visits kept him from joining the workforce. Receiving his monthly benefits from the VA helped, but the couple needed a solution for permanent housing. They applied for a home through the HOTH program and were selected for this impactful program.
Samuel and Hilda were accepted into the HOTH program because of their limited income from VA benefits, Hilda's full-time caregiving duties, the ability to save, and the need for long-term stability. They have been able to establish some savings by cutting down on unnecessary expenses. Samuel and Hilda continue to save money, and Hilda has enrolled at the University of Maryland University College to begin working on her master's degree of science in information systems. After Samuel completes his rehabilitation, to be independent, he would like to enroll as well at the University of Maryland University College to study information technology. After his enrollment, he would then seek employment either on campus or with a local technology company.
The Homes on the Homefront program provides veterans and their families the opportunity to move into an Operation Homefront home and work directly with housing caseworkers and financial counselors to learn and plan for home ownership. Upon successful completion of the program, the family will graduate and receive the deed to the home. Since 2012, nearly 500 families have graduated from the program and have been deeded a new mortgage-free home.
Operation Homefront has provided since inception over $64 million dollars in home equity to military families. The homes are donated by bank partners, including JPMorgan Chase & Co. and other major financial services companies and home builders.