When medical issues forced Mark Sheldon to leave the military, he and his wife were, in his words, hopeful and united but also struggling. Learning about Operation Homefront allowed them to find a path forward beyond military life.
The Ohio State University graduate joined the military—a family tradition–in 2006 as a petroleum supply specialist. He was later assigned to United States Africa Command and met his now-wife, Polish national Zaneta, while recovering from his health struggles in Germany.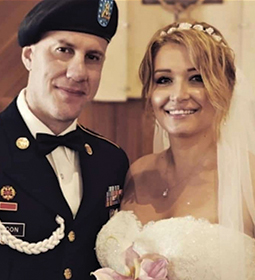 Mark had purchased a house in Virginia Beach, Virginia, to live in when he returned, but those plans were also scuttled when he learned while deployed that the home needed remediation.
He and Zaneta lived at an on-base hotel because spouses can't live in the barracks, so their living expenses continued to grow. Fort Belvoir's Warrior Transition Unit referred him to Operation Homefront, and soon Mark and Zaneta moved into an apartment at the Villages in Gaithersburg, Maryland.
Operation Homefront's Transitional Housing (Villages) program provides fully furnished apartments for wounded, ill and injured service members with family to live rent free while they go through the process of medically separating from the military
The Sheldons spent six months in the Villages, building $8,000 in savings and paying off $15,000 in debt.
"They were wonderful, very helpful with providing for our needs and the opportunity to get lots of information regarding other organizations," Mark said. "It was very smooth. We are very grateful."
Mark is now a military police officer for the Department of Defense in Virginia Beach, and his wife has become a court reporter.
He credits the financial counseling through Operation Homefront for helping them get and stay on track.
"I wasn't aware of all of the secrets of building up credit and things of that nature," he said. "I learned a lot of things I had no idea about it. I lifted my credit score thanks to that guidance."
Through their Operation Homefront connections, they were also able to get a car courtesy of U.S. Bank's Driven to Serve program when their car was totaled in an accident. The Sheldons have deep gratitude for Operation Homefront's donors.
"They're making an incredible difference in service members' lives," Mark said. "We're going into the unknown once we get out of the military, and they're taking our minds off of a lot of troubles in a positive way. They are relieving some big burdens."