Operation Homefront, the national nonprofit serving America's military families, has presented its 2019 Cornerstone Award to Gina Collins. Operation Homefront presents the Cornerstone Award for outstanding contributions toward the organization's mission to build strong, stable, and secure military families. The award is reserved for those individuals who have helped Operation Homefront transform how it serves military families and delivers impact.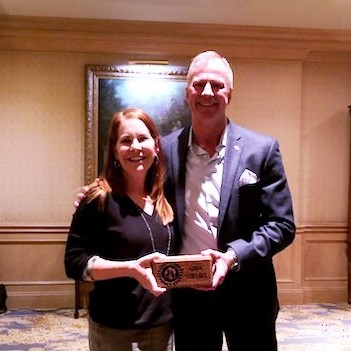 When Collins became the chief marketing officer of Outback Steakhouse in 2017, she created a marketing strategy that highlighted the deep military commitment of the restaurant, its employees and franchise owners. She selected Operation Homefront to be its charity partner and built an innovative fundraising platform, which quickly proved to be a success for both her company and Operation Homefront.
Collins launched the new platform on Veterans Day 2017 and raised over $100,000 for Operation Homefront in the first two weeks. Through Collins' efforts, Operation Homefront was able to increase the number of families served through its Holiday Meals for Military program by 20 percent and also fund our flagship Critical Financial Assistance program.
In 2018, Collins expanded the campaign's fundraising efforts by combining a "point-of-sale" activation in the dining experience with another restaurant partner, along with offering customers the opportunity to add a donation to the bill. That year, the company raised over $250,000, and its customers provided more than 2,000 $50 gift cards for military families. In addition to the funds raised, Collins engineered strong local relationships between her restaurants and our regions by including an Operation Homefront fundraiser at every new restaurant opening. Not surprisingly, many restaurant managers and staff members have become long-term Operation Homefront volunteers as a result.
"Gina is amazing! Her creative leadership, unwavering commitment, and active involvement in our important work allowed us to expand our programming to aid military families who may be struggling to make ends meet," said Brig. Gen. (ret.) John I. Pray Jr., President and CEO of Operation Homefront. "She can take great pride in knowing she has played a significant and enduring role in our highly valued Holiday Meals for Military program and helped us accomplish our mission to give military families the opportunity to thrive, not simply struggle to get by, in the communities they have worked so hard to protect."
###
About Operation Homefront: Founded in 2002, Operation Homefront is a national nonprofit organization whose mission is to build strong, stable, and secure military families so that they can thrive – not simply struggle to get by – in the communities they have worked so hard to protect. Recognized for superior performance by leading independent charity oversight groups, 92 percent of Operation Homefront expenditures go directly to programs that support tens of thousands of military families each year. Operation Homefront provides critical financial assistance, transitional and permanent housing and family support services to prevent short-term needs from turning into chronic, long-term struggles. Thanks to the generosity of our donors and the support from thousands of volunteers, Operation Homefront proudly serves America's military families. For more information, visit OperationHomefront.org.