Wife of Army Major Perseveres Through Challenges of Military Life
When Bonnie Conrad met her future husband 13 years ago, she didn't foresee that their whirlwind romance would mean moving every couple of years and being apart from him for months at a time.
Bonnie had worked for about a decade as a medical assistant when she met David Conrad, a recently commissioned officer in the Army. Mistaking him for someone else, Bonnie said hello. Two weeks later, they were engaged.
"I had zero clue about the military," said Bonnie, who grew up in Flint, Michigan, a community with scant military presence.
Through the years of adapting, moving, changing jobs, and making new friends, Bonnie has developed the trait common in military families: resilience. That – paired with an ability to always see the bright side – helps her support her soldier while caring for their two sons who are 8 and 17, managing their household, and juggling her own career and life goals.
"I've knocked on a neighbor's door before and said, 'Hi, I just moved in next door and need an emergency contact for my kids' school forms.' "
Bonnie Conrad, Army Spouse
Frequent moves – six in all for the Conrads, including the latest to Fort Bliss in El Paso, Texas – put Bonnie on a carousel of job transitions. She was always the new person in offices as she pursued her career in the medical field, and advancement was difficult.
That's familiar to military spouses. Because service members work long and unpredictable hours, managing home life falls to the spouse, often at the expense of workplace advancement. For many, the cost and availability of child care further complicate employment.
In the 2022 Military Family Lifestyle Survey conducted by the Blue Star Families initiative, military spouse employment was among the top five military life issues for active-duty service members and spouses. The survey showed a 21 percent unemployment rate among active-duty military spouses, who are mostly female. By comparison, the national jobless rate among women aged 18 to 44 is 6 percent.
During the COVID-19 pandemic, Bonnie serendipitously launched a home-based business and realized being her own boss would insulate her from some of the career limits inherent in being a military spouse. Now, she is on track to graduate in January with a bachelor's degree in marketing through Southern New Hampshire University's online program.
She's already helped a client launch a book on Wall Street and has set up her own website, Second You, to guide others in marketing their small businesses.
Just as military spouses face extra hurdles in the workforce, they also find extra challenges in furthering their education because of family responsibilities, tight budgets, and a transitory lifestyle.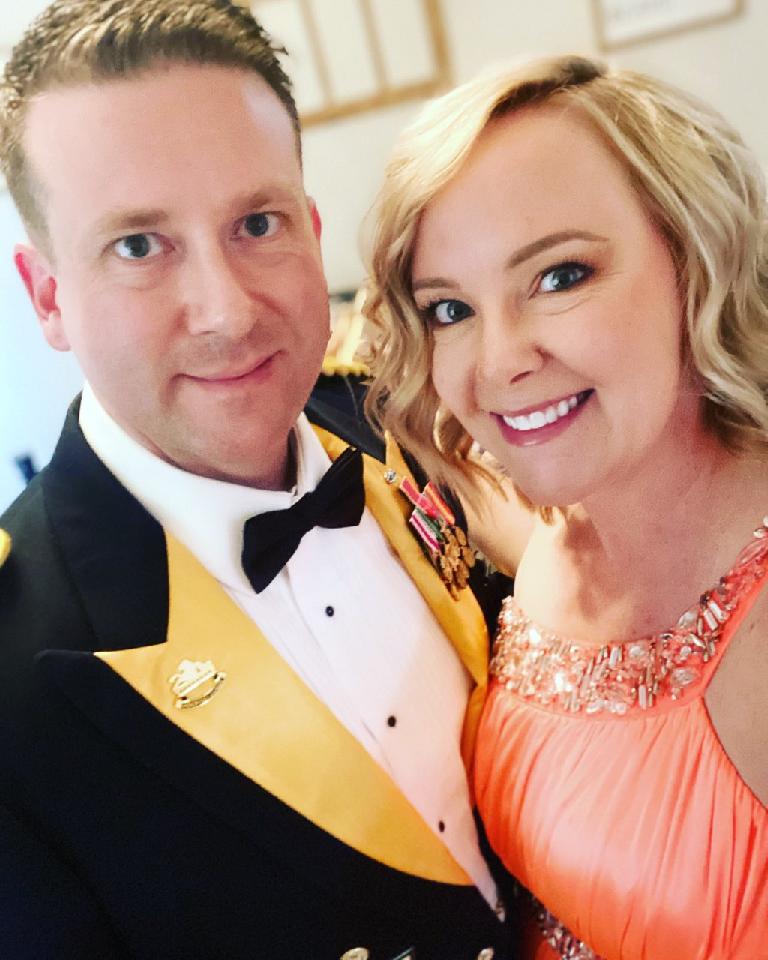 When the Conrad family moved to California, Bonnie delved into her associate degree after learning military spouses qualified for free tuition at some colleges. Then, after the move to Texas, she saw a social media post about a full-tuition scholarship available from Southern New Hampshire University in partnership with Operation Homefront, a nonprofit with the mission of creating strong, stable, and secure military families.
Ultimately, Bonnie wants to conduct marketing workshops for other military spouses.
When the Conrad family was assigned to Fort Irwin in the Southern California desert, Bonnie noticed a child-care shortage and began the lengthy process of obtaining a license for in-home child care. While waiting, her go-getter attitude and creative nature led her to start a business building farmhouse furniture and small décor items, including ornaments for Army duty stations.
"People joked I was the Hobby Lobby of the desert for four years," she said. She followed that with a stint as a virtual assistant before setting her sights on having her own business teaching businesses and other military spouses about marketing.
Bonnie's optimistic perspective shapes her view of other aspects of military life.
David was deployed to Afghanistan for a nine-month tour before he and Bonnie reached their second wedding anniversary. He also served a rotation in Korea. She powered through.
"You can't dwell on your soldier being gone because you have to be the person that's driving the energy in the house. If you're sad and boohooing, the kids will be the same way."
Moving every two years gives the Conrads opportunities to learn new areas and experience different cultures.
"I get to declutter every couple of years," said Bonnie, adding, "If you don't like your neighbors, you just wait because either they will move or you will."
She sees the benefits for children, too.
"Military kids are super resilient because they are used to moving and coming and going," Bonnie said. "Everybody speed dates their friends."
The same is true with military spouses.
"I've knocked on a neighbor's door before and said, 'Hi, I just moved in next door and need an emergency contact for my kids' school forms,' " she said.
At each duty station, neighbors are family.
Still, the Conrads miss their extended families. Bonnie stresses that traveling to see them can be difficult from both a time and money standpoint.
"Make the effort to go see your military families," she urged. "It can be harder for us to travel to see you."
Learn more about Operation Homefront and its impact as well as how your support can help secure the futures of America's military families for decades to come.