Sophia Jordan, 2022 Marine Corps Military Child of the Year®, Spreads Sunshine.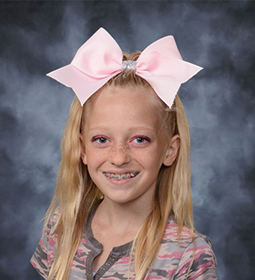 Winning Marine Corps Military Child of the Year® runs in the family, but 13-year-old Sophia Jordan did it her own way. The 2022 recipient did so by spreading sunshine.
What started with a single decorated box to a Make-A-Wish Foundation child awaiting a wish soon became the Sunshine Express, parcels of cheer she and her peers send out to critically ill children across the nation.
"I truly believe that to repair the world starts with a single act of kindness," she said.
Her two brothers were Military Child of the Year recipients before her—Michael-Logan in 2014 and Jaxson in 2019. Michael-Logan passed his prize Military Child of the Year hoodie to Jaxson, and now Jaxson has handed it down to Sophia.
"I'm not going to lie," she said, "I cried tears of joy as my heart beamed with pride."
She creates artwork to decorate each Sunshine Express box, and in 2021 more than 100 Make-A-Wish children received a box.
Despite battling a series of health issues herself—including lupus, juvenile arthritis, and kidney disease–the Fort Worth seventh-grader chooses to focus on helping others. When she had to curtail her gymnastics activities, she found the positive in the life change by getting involved in student council, drama club, guitar club, dancing, cheerleading, and learning to play three instruments.
"Instead of having one thing that I loved to do, I had multiple," she said. "I was able to push myself outside of my comfort zone and succeed in things that I didn't even know to be possible."
Because Sophia is small in stature because of her health issues, she has faced some bullying. Instead of retaliating, she has chosen to stick with her motto, "Always choose kindness."
She volunteers with the American Heart Association as a Heart Hero in the annual Kids Heart Challenge. She has participated in nationally recording video cooking segments called "Cooking With Sophia—Heart-Healthy Snacks and Meals."
Sophia is also an ambassador for the Arthritis Foundation, advocating for legislators to provide military families with access to life-saving medications, specialists, and research. She also volunteers for annual Juvenile Arthritis Conferences and mentors newly diagnosed children.
As a volunteer for the Purple Playas Foundation's Chronically Caring Kids, Sophia has helped raise funds for families with critically ill children to receive gas and food cards, medical equipment, and the opportunity to attend Camp Boggy Creek.
Through it all, she has excelled in school, maintaining a 4.0-grade point average at Pike Middle School. She has participated in student government, drama club, music, drama, and cheerleading.
Sophia knows the triumphs and difficulties of life as a military child. From the aloha spirit of Hawaii to the big hearts of Texas, she has embraced the military lifestyle.
"I love every aspect of being a military child," she said. "I love adventure, and military life is the best adventure that you could ever be a part of."
Her father was wounded in Iraq in 2006, before she was born, in an attack that killed a fellow Marine. She has experienced four changes of station and her father's absence to deployment for some 3 ½ years.
Because of all that, she's well-suited even at her young age to offer advice to fellow military children:
"Be your authentic self," Sophia said. "Remember that we all struggle in some form or fashion and to approach each day with kindness."
Favorite Quote:
"Kindness begins with the understanding that we all struggle."—Dr. Charles Glassman
Service and Leadership Highlights:
Make-A-Wish Foundation ambassador
American Heart Association ambassador
Arthritis Foundation ambassador
Logan's Heroes Foundation ambassador
Four-sport athlete in basketball, cheerleading, track, and wrestling