Veteran Family Finds Renewed Sense of Appreciation in Backpacks
Back-to-school time is triple the fun – and triple the expense – for Navy veteran Curtis Montgomery and his wife, Debra.
Receiving backpacks and supplies for their three children at an Operation Homefront Back-to-School Brigade (BTSB) event was a boost for the family, who lives in Madison, Alabama.
"Anything can help ease expenses, especially with how the economy is now," said Debra, who homeschools her daughter and two sons. "We are a one-income family, and we're already tightly budgeting."
BTSB, which launched in 2008, is one of Operation Homefront's numerous programs to support military families. Through the generosity of donors, sponsors, and volunteers, BTSB has provided more than 550,000 backpacks to deserving military children.
Operation Homefront understands that military service impacts the whole family. The Department of Defense reports that more than 1.6 million military children face challenges and unique experiences because of their parents' service.
"It's nice to have a reminder that someone appreciates your military service."
Debra Montgomery, wife of Navy veteran Curtis Montgomery
Something as small as a new backpack can make a difference for a child who is adapting to a new school.
The Montgomery family learned about Operation Homefront, a nationwide nonprofit when Curtis transitioned from the military back to civilian life in 2009. He received an honorable discharge after serving five years and earning the rank of petty officer second class.
His work with the Seabees, the Navy's construction battalions, took him to Djibouti, Africa, for 10 months.
Now he divides his time between a vocational rehabilitation program and helping with homeschooling for his children, ages 6, 8, and 11.
At the BTSB event at the National Guard reserve base in Decatur, Alabama, the Montgomery children were excited to see military members in uniform. Curtis and Debra appreciated receiving resources and community information.
"They handed out useful, mindful reading material for parents about transitioning during the pandemic. I really appreciated that" Debra said. "It was nice to plug into the community."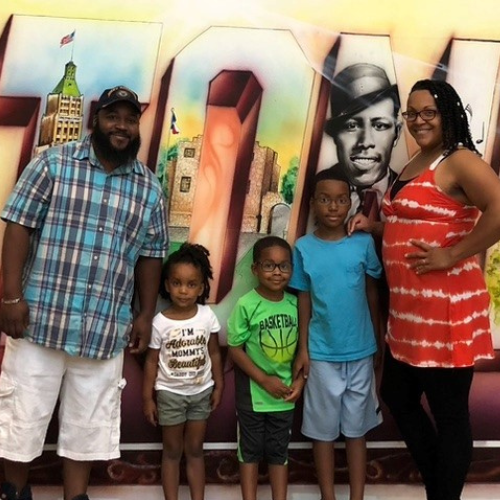 The Montgomery family is grateful for the donors who make BTSB and other Operation Homefront assistance possible.
"To stay home and educate our family is important to us and what we believe in," Debra said. "To not have to buy school supplies helps us do that."
She said donors might not understand their impact on families.
"When we have resources like this, it allows us to ground ourselves," she said. "It's nice to have a reminder that someone appreciates your military service. Even though they don't know you, they want to be a blessing to you just because you served your country."
She said her family is inspired to support other service members and is looking forward to the time when they give back to Operation Homefront.
The goal of the nonprofit is to help service members and veteran families overcome short-term bumps in the road so they don't become chronic problems.
Donate today to help secure stable futures for military families.