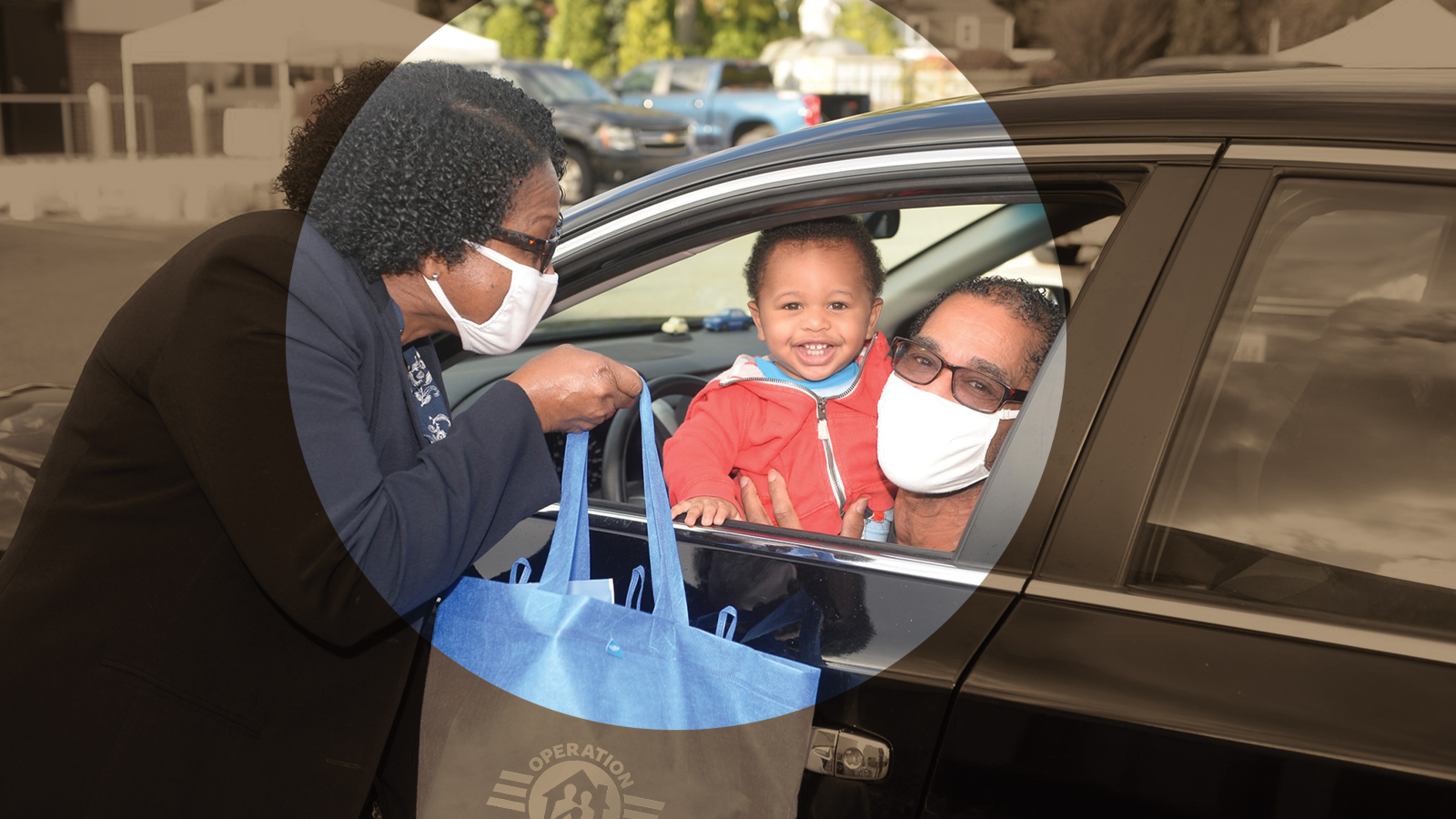 2020 Annual Report
Operation Homefront is a national 501(c)(3) nonprofit whose mission is to build strong, stable, and secure military families so they can thrive — not simply struggle to get by — in the communities they have worked so hard to protect.
Responding in Their Time of Need
Throughout 2020, as military families experienced the financial strain created by the COVID-19 pandemic, they turned to Operation Homefront. They trusted us to be there for them when they needed us most, and thanks to you – our community of supporters, partners, and donors – we were able to serve them during these unprecedented times. In 2020, we fulfilled over 1,500 COVID-related requests for help, across 39 states and Puerto Rico, providing nearly $1 million in much-needed financial assistance.
Thank you to our partners who provided COVID support through our Critical Financial Assistance program including: The Bob & Dolores Hope Foundation, Chobani, Walmart Foundation, The Home Depot Foundation, P&G, Lockheed Martin, The May and Stanley Smith Charitable Trust, Northrop Grumman Corporation, Stater Bros. Charities, Wounded Warrior Project, and others.
2020 Milestones Achieved
Holiday Meals
Provided our 120,000th
holiday meal to military and veteran families and served our 500,000th individual family member.
Permanent Homes
Entered our 700th
military family into the Permanent Homes for Veterans program and graduated our 600th military family from the program, surpassing over $90M in deeded home equity to military families.
Back-to-School
Provided our 400,000th
backpack with school supplies to a military child, saving families $50M in back-to-school expenses.
Financial Assistance
Fulfilled over 46,000 requests
for financial assistance and provided over $30M in support to military families.
Serving Our Military Families in a Pandemic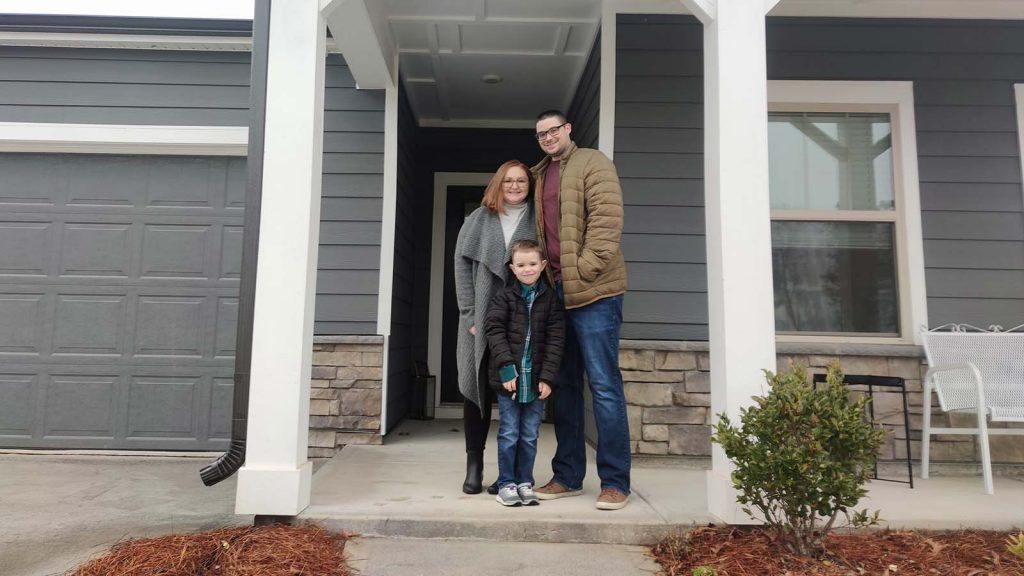 Air Force veteran Trevor Allison planned on a military career, but a medical retirement from injuries sustained during his service ended that dream. With the help of Operation Homefront's Transitional Homes for Veterans program, Trevor and his wife, Brittany, are working toward their new dream of home ownership. The couple and their son, Cohen, moved into a donated home in the Atlanta, Georgia area thanks to the support of a generous donor. The Allisons, along with the Wrights and the Hendersons, and thousands more families like them relied on us to be there when severe financial hardships hit in 2020 in the wake of the COVID-19 pandemic. This report tells the story of how the entire Operation Homefront family was ready to respond to the needs of military families when the pandemic started. We saw that our partners, donors, and volunteers were ready as well. In 2021, we will continue to be ready, willing, and able to support our military families in their time of need.
COVID Related Assistance
$985K
Assistance Provided
39
U.S. States & Territories Served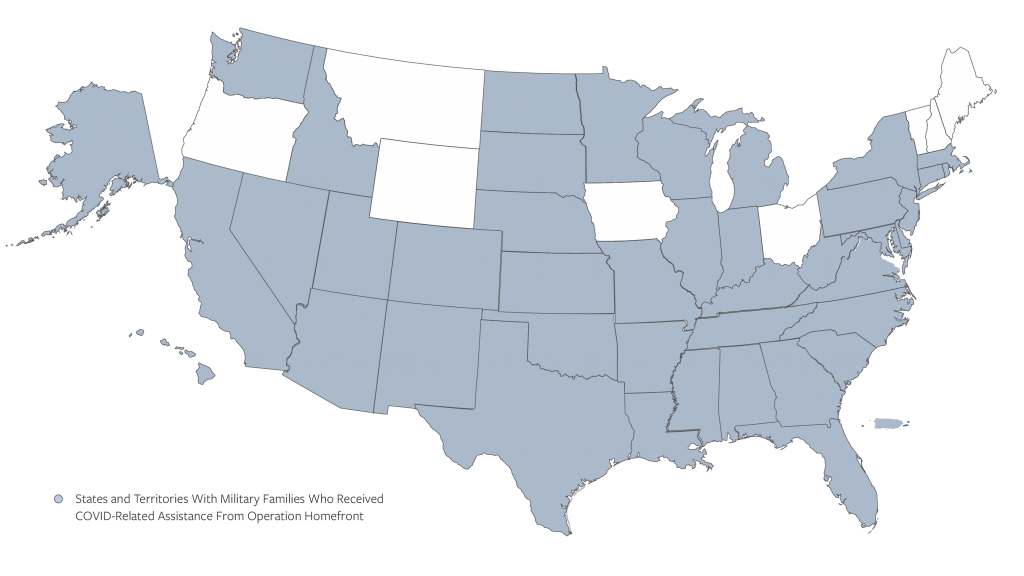 Most Requested Types of Assistance
My high rent was stressing me out the most. I've never not had the money before. When I found out Operation Homefront was going to pay my whole rent, I was in tears.

–Army National Guard Sgt. Tamara Newton, COVID CFA Recipient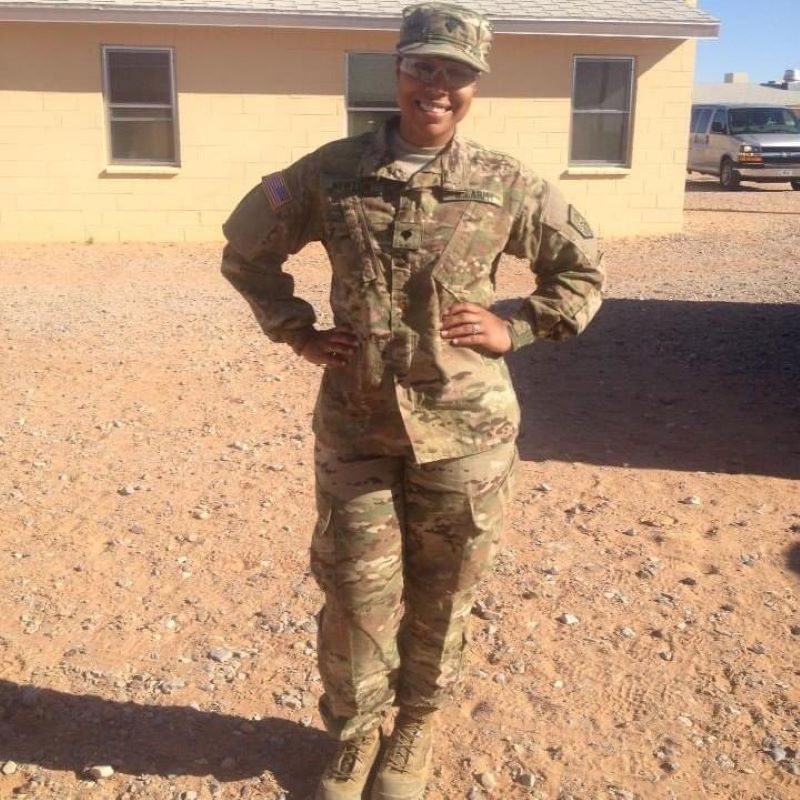 2020 Relief Programs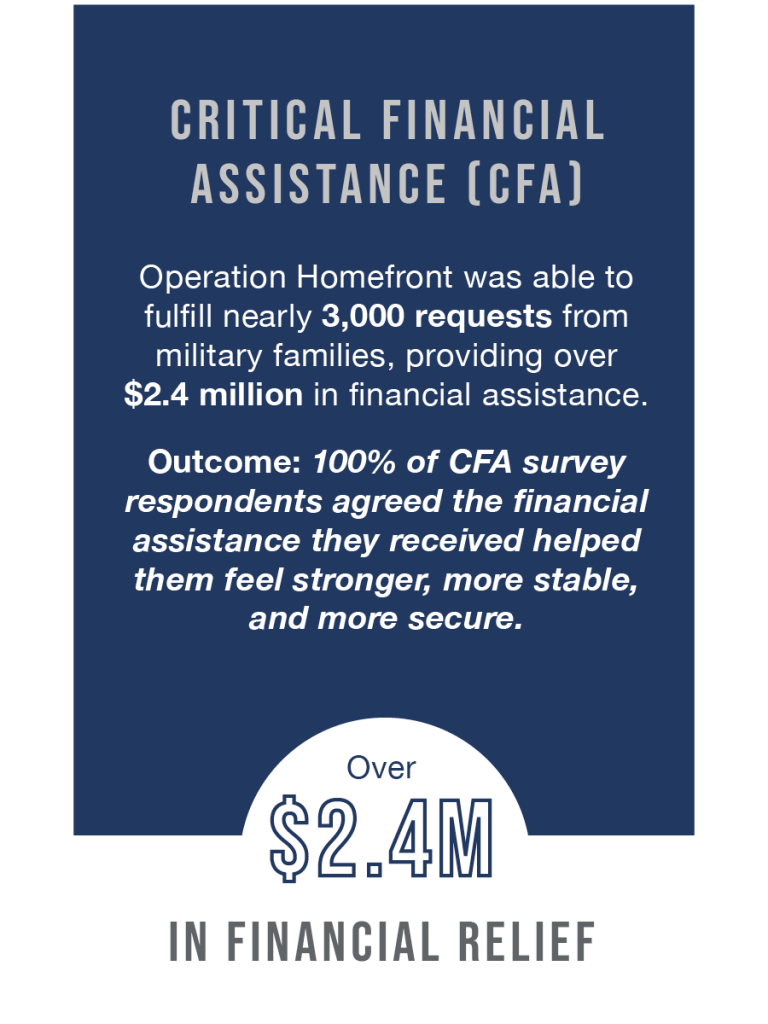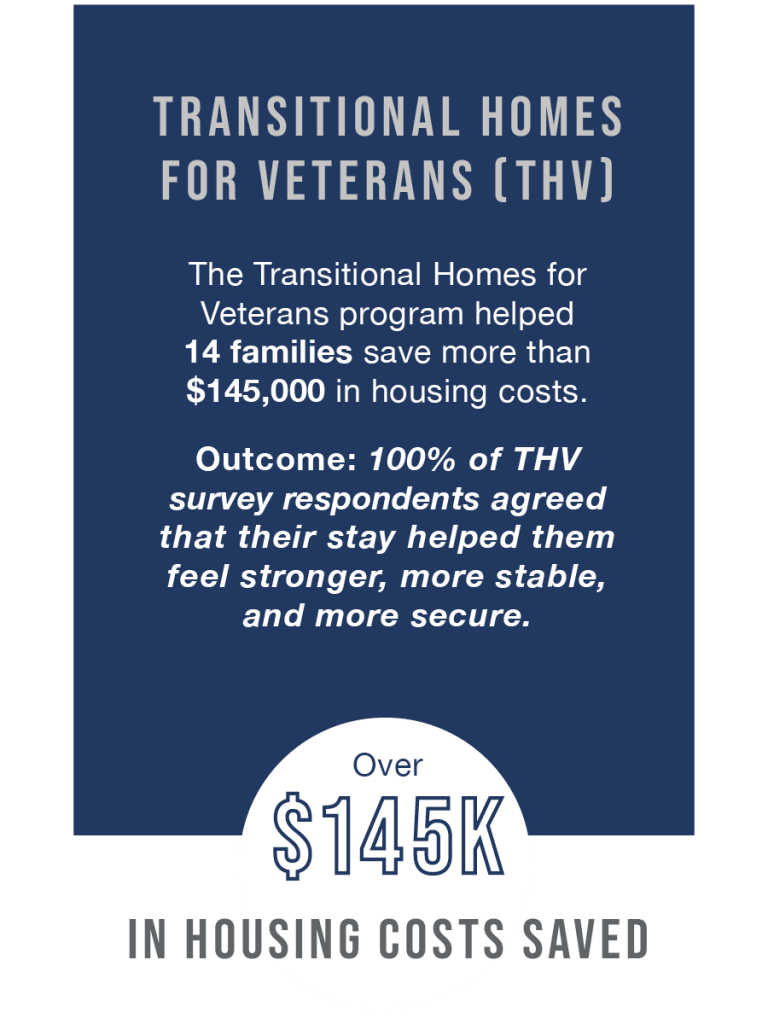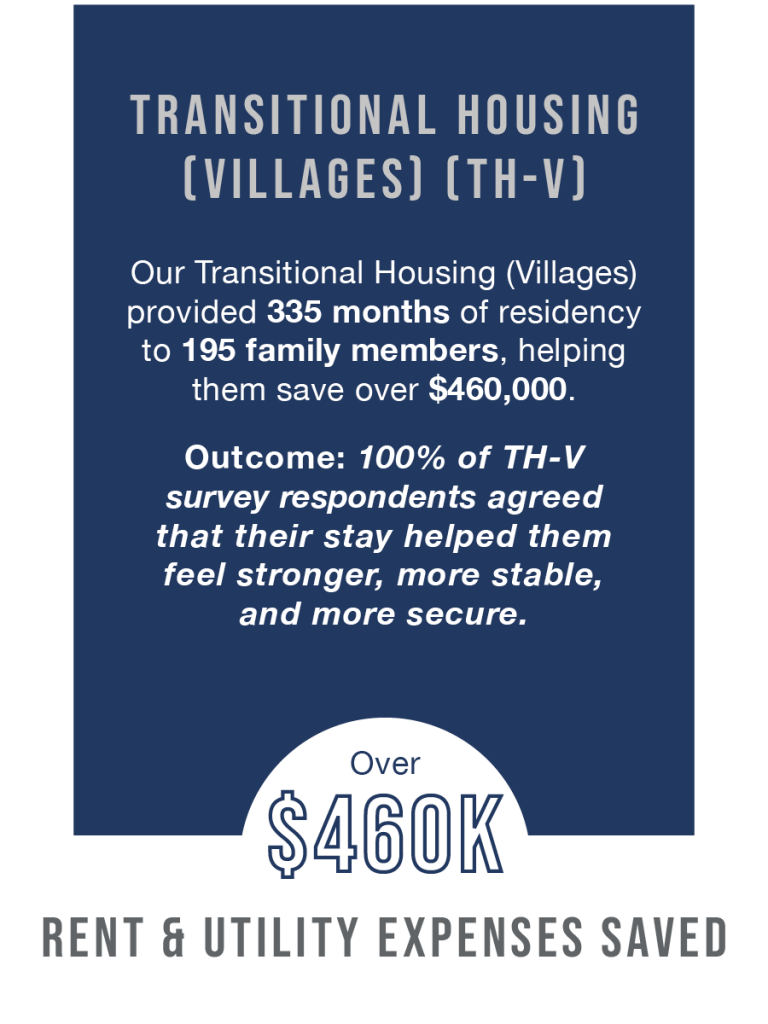 Relief Provided in 2020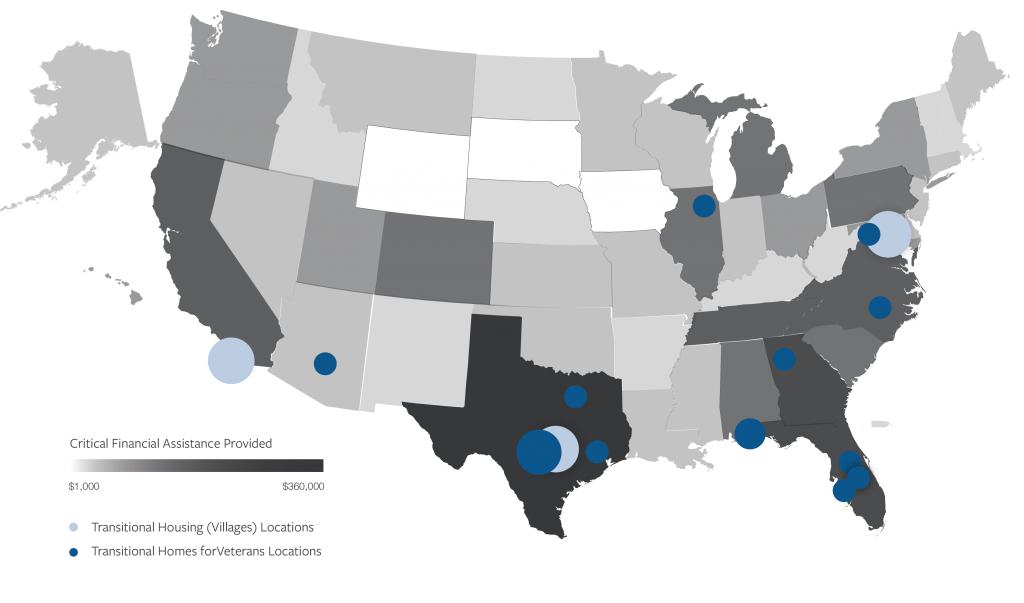 Responding in Their Time of Need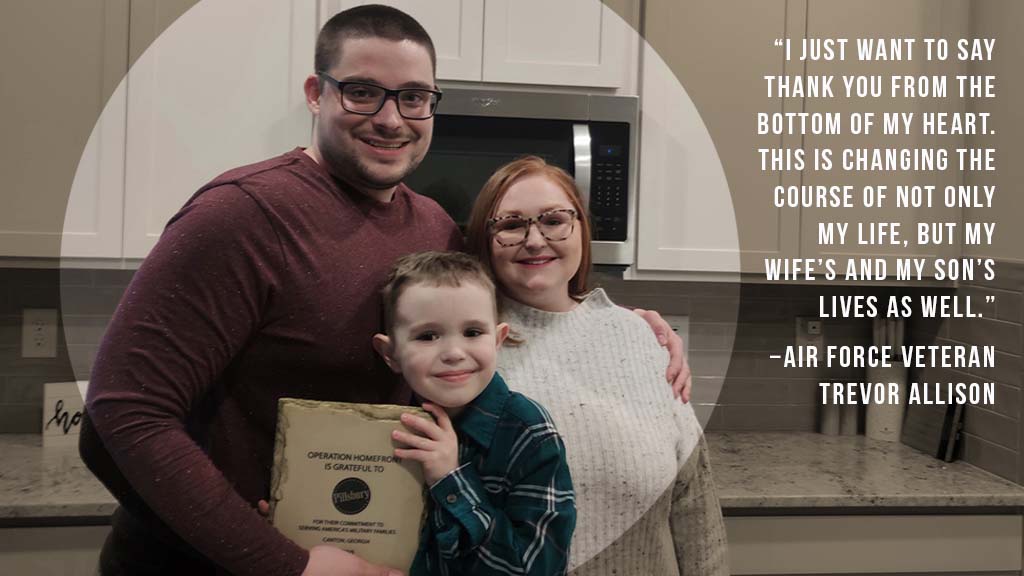 Veteran Air Force Staff Sgt. Trevor Allison, wife Brittany, and son Cohen look forward to getting settled in their transitional home in Georgia.
After eight years in the military, and being stationed away from family, veteran Air Force Staff Sgt. Trevor Allison, wife Brittany, and their son, Cohen, 6, are finally home.
Both Brittany and Trevor grew up in the Atlanta, Georgia, area. The family was stationed in Idaho for the duration of Trevor's enlistment, which included deployments to South Korea and Southwest Asia. A back injury and PTSD resulted in a medical retirement, ending his planned career.
Reintegrating into civilian life has been challenging for Trevor, but being back in Georgia will provide more support. Cohen can get to know his grandparents, whom he had only seen a couple of times.
"It's a big deal just to have our family around us to support us," Trevor said.
The support will not just come from family. Trevor applied and was accepted into Operation Homefront's Transitional Homes for Veterans (THV) program.
2020 Resiliency Programs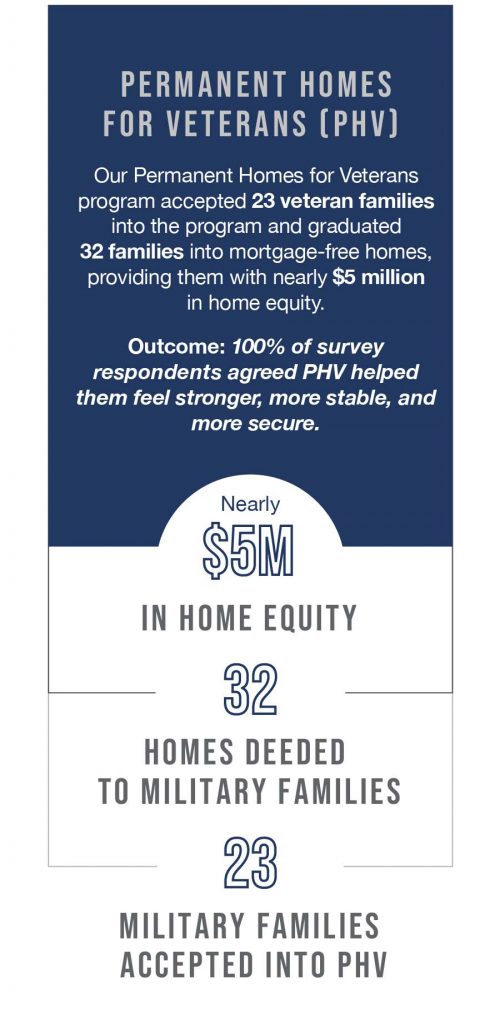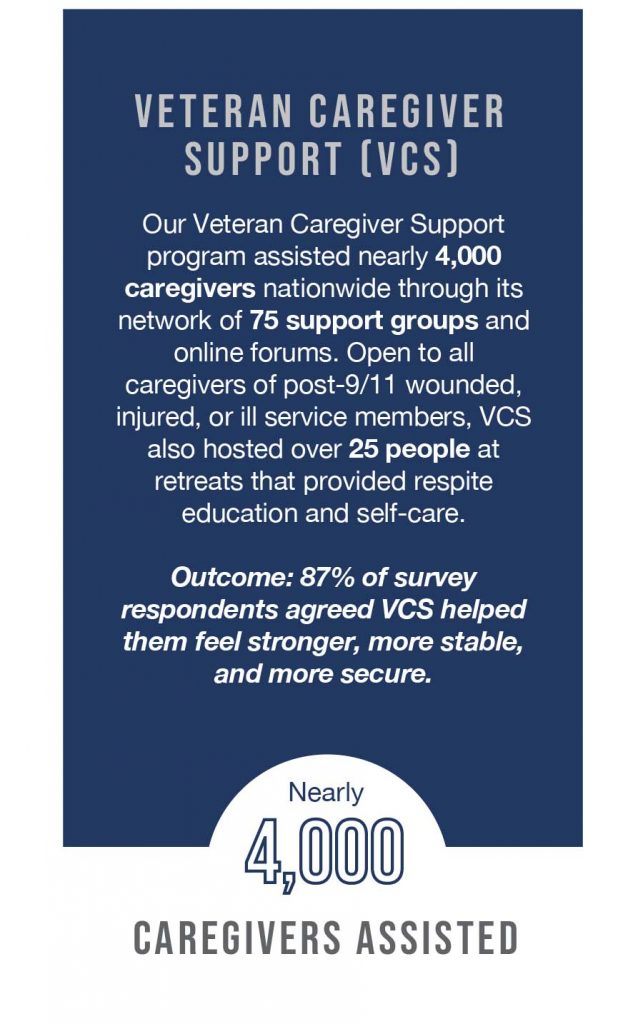 Permanent Homes for Veterans (PHV)
Properties since 2012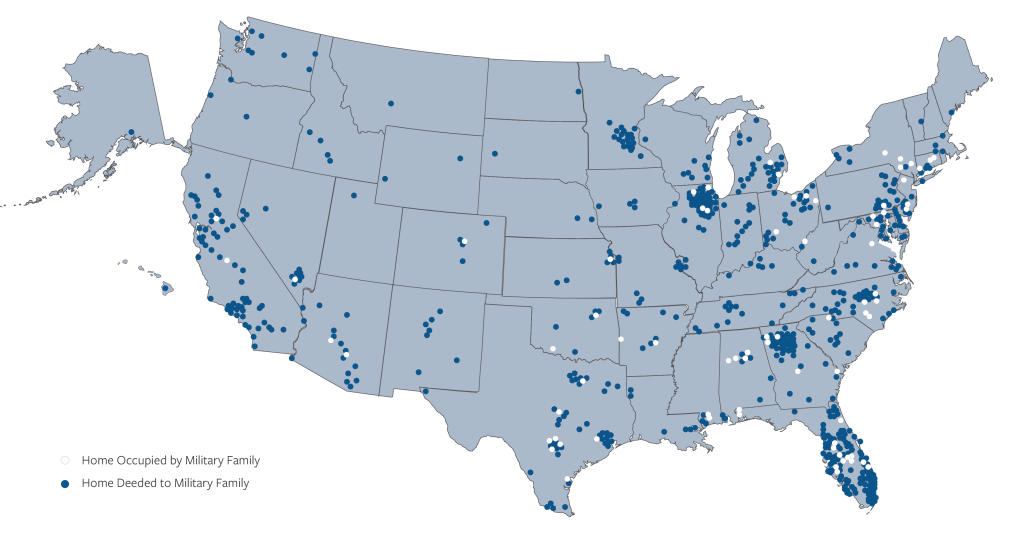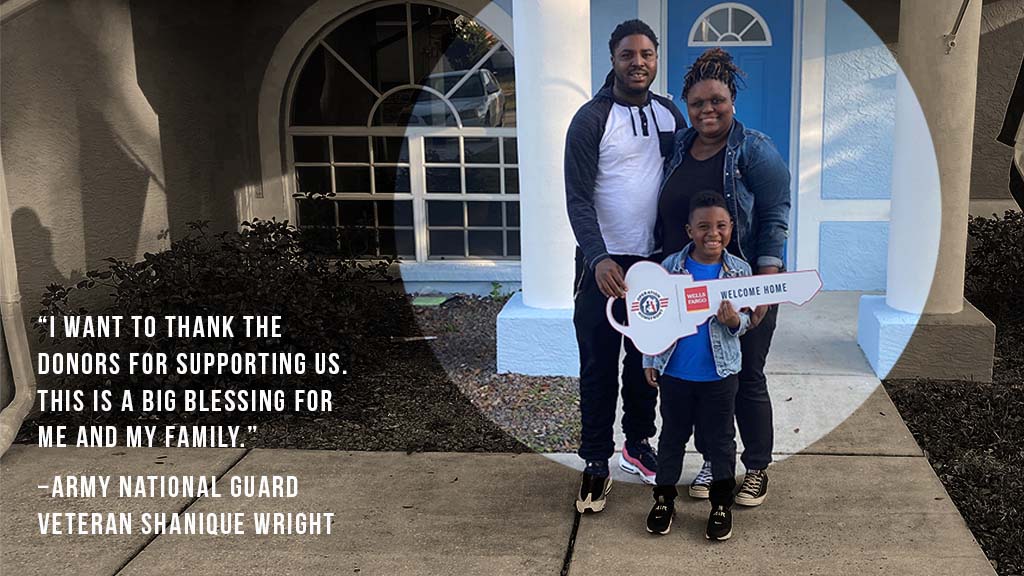 Army National Guard veteran Shanique Wright, husband Eugene Hicks III, and their son, Eugene IV, at their donated home on move-in day.
Veteran Shanique Wright was 18 and still in high school when she joined the Army National Guard in 2008. During her service she deployed to two different locations in Iraq. She medically retired in 2014 with a diagnosis of PTSD related to her deployments.
She and her husband, Eugene, had dreamed of being homeowners, but were living mostly paycheck to paycheck. They could only afford a small duplex in Tampa, Florida, and it was not in a good part of town. Shanique would hear gunfire, which aggravated her PTSD. After learning about Operation Homefront through friends, she applied and was accepted into the Permanent Homes for Veterans program.
The Wrights have since moved into a three-bedroom, two-bathroom house in Dade City, Florida, donated by Wells Fargo. The house is in a quiet, family-friendly neighborhood.
In 2020, Wells Fargo renewed its partnership with Operation Homefront, continuing its commitment to military families and helping those like the Wrights realize their dream of homeownership. Since 2012, Wells Fargo has donated more than 140 homes to Operation Homefront's Permanent Homes for Veterans program.
As part of the program, veterans receive customized financial counseling to build savings, reduce debt, and learn homeownership skills. When the family graduates from the program, Operation Homefront will deed the Wright family the home mortgage-free.
"Being a homeowner is something I've always talked about with my husband," Shanique said. "It was something we wanted to do together."
2020 Recurring Support Programs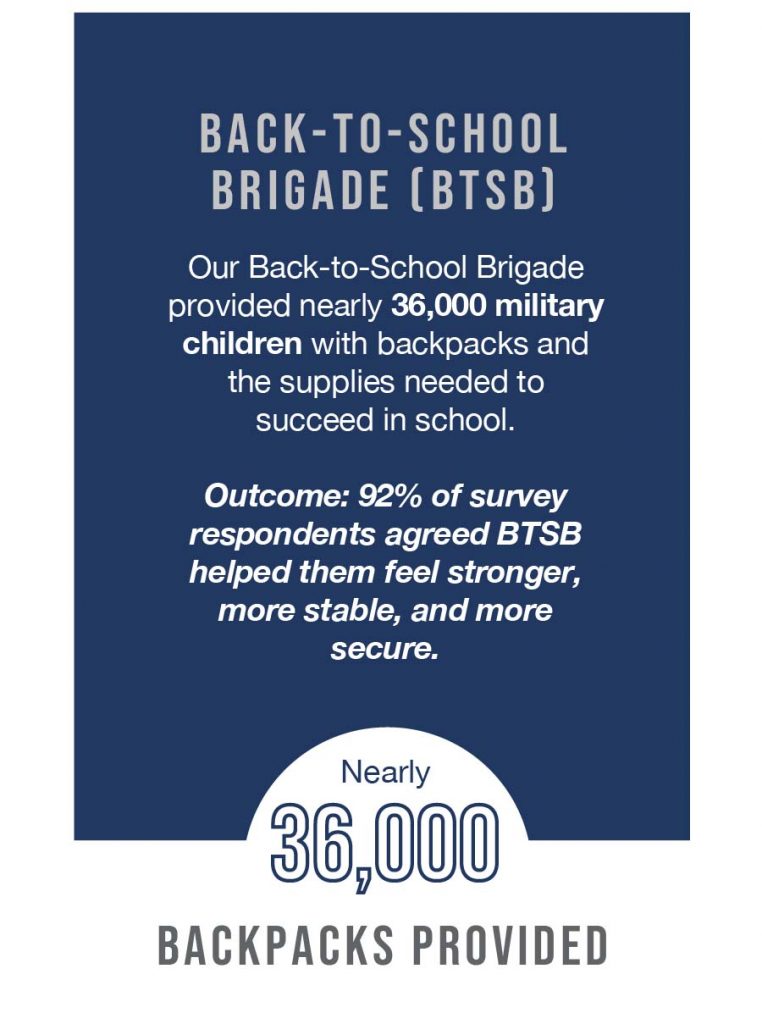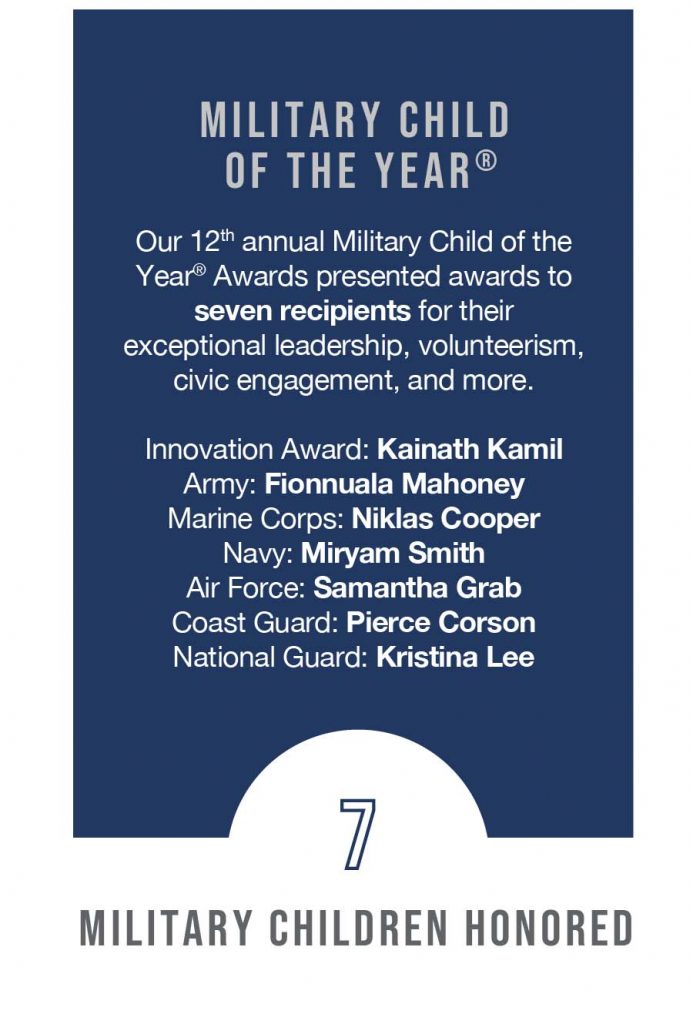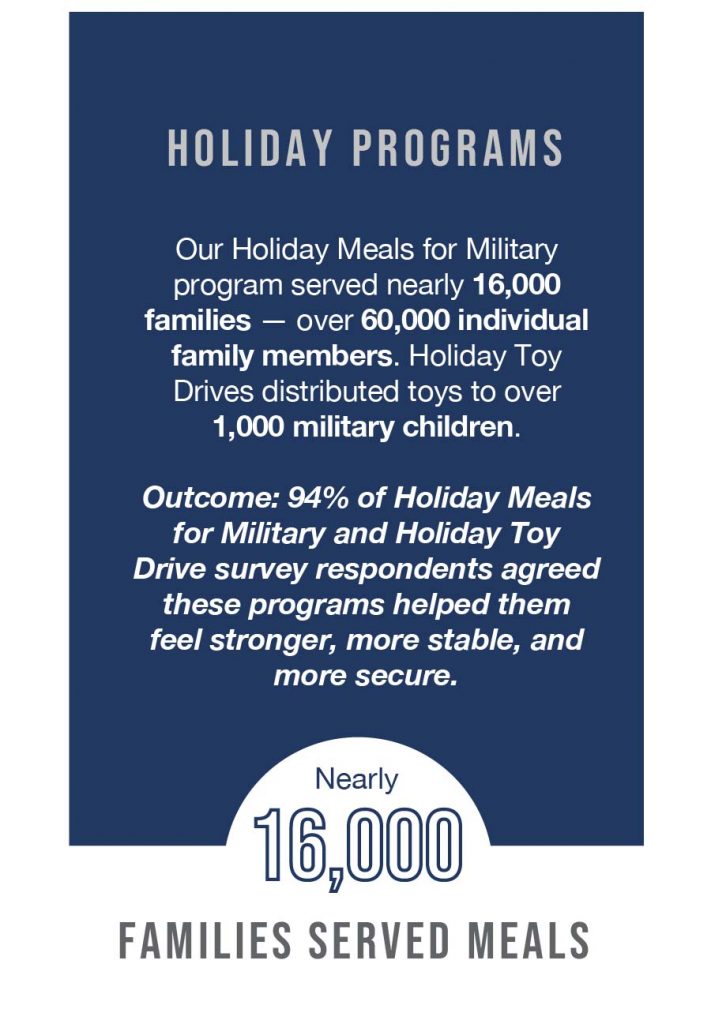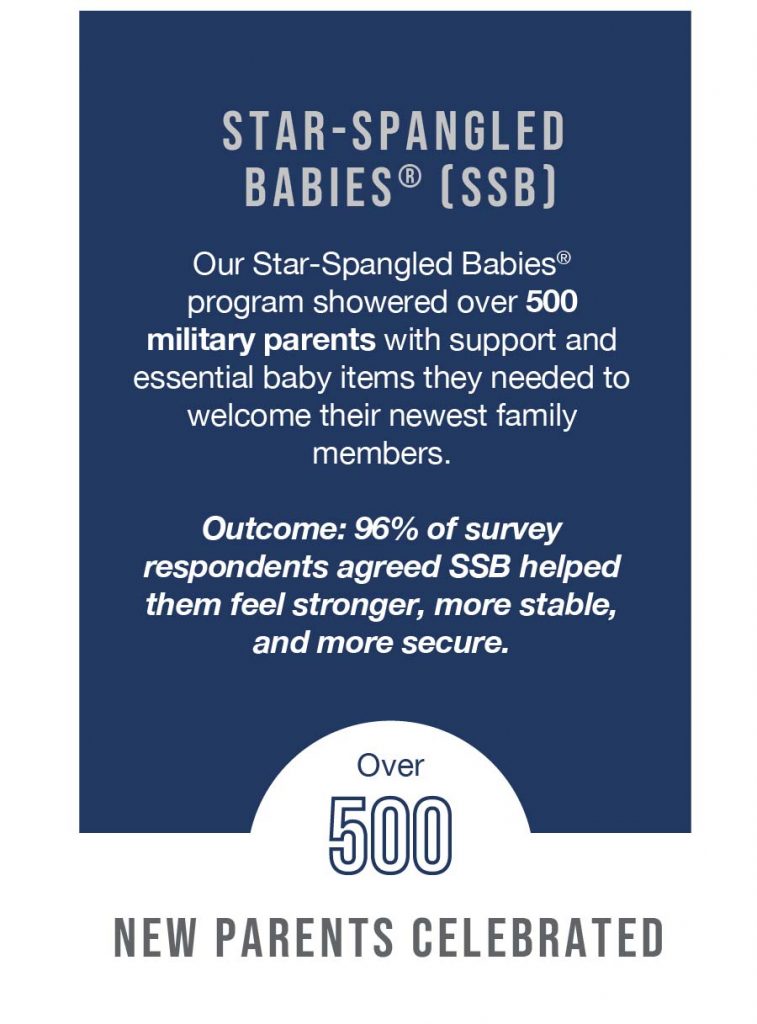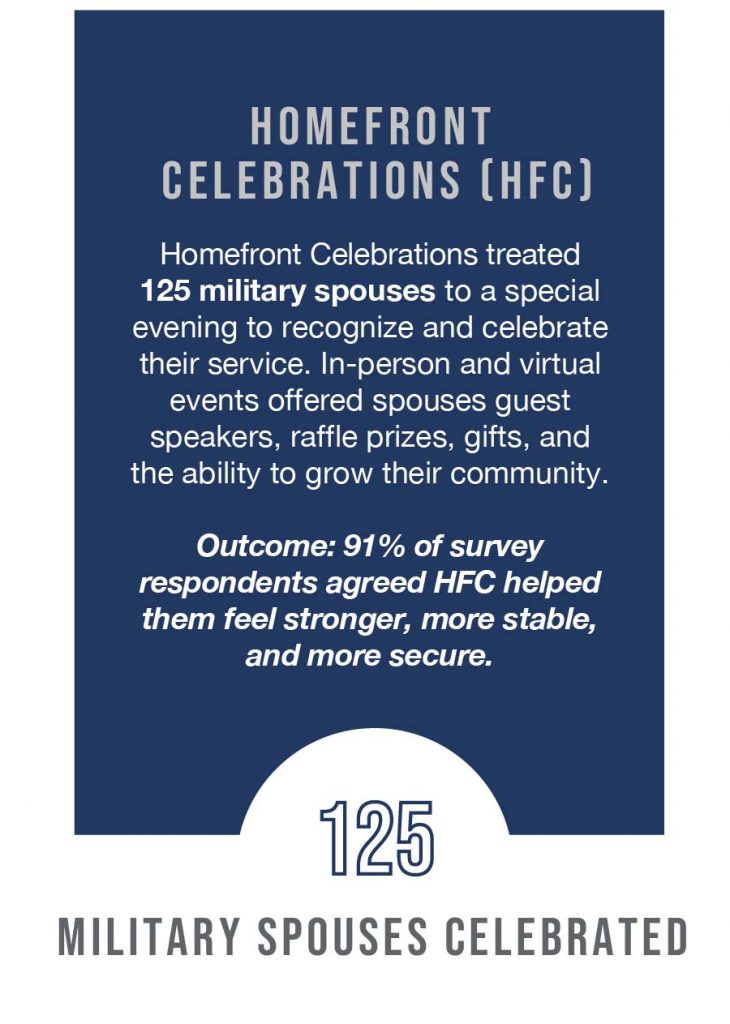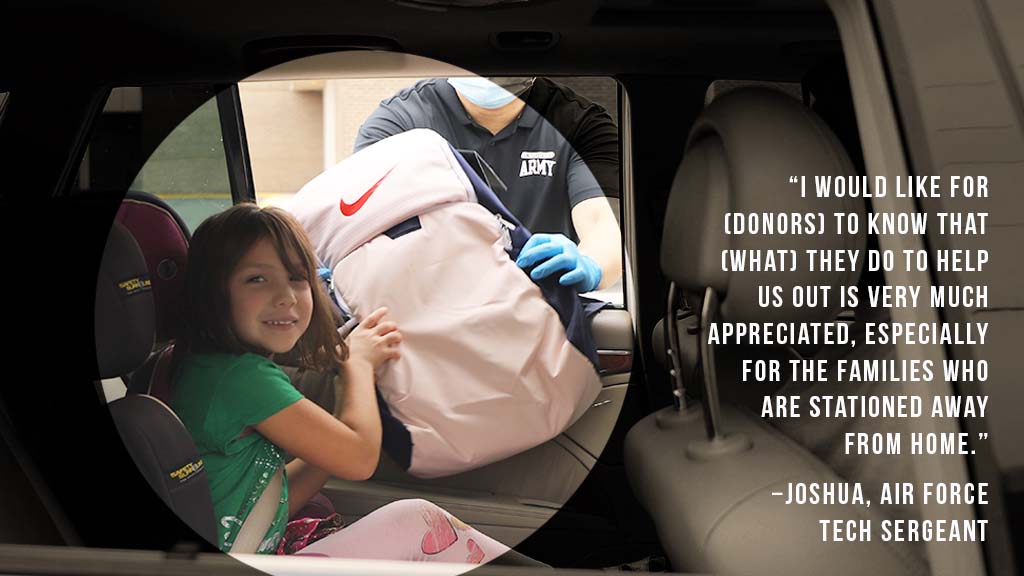 A military child receives a backpack donated by Nike and filled with school supplies donated by Dollar Tree at one of our Back-to-School Brigade drive-thru events.
Driving through a winter wonderland with his wife and two kids, Joshua, an Air Force tech sergeant, was grateful not just for the free meal his family received and the toys for the kids, but for the ability to give his children something fun and happy.
Stationed in Las Vegas, Joshua and his wife had planned to go back to Michigan to visit their families for Thanksgiving. Because of the pandemic, that was not possible. Instead, the family attended an Operation Homefront drive-thru Holiday Meals for Military Families and Holiday Toy Drive event. The event was one of 105 scheduled nationwide in 2020. The family also attended the Back-to-School Brigade.
"I would like for (donors) to know that (what) they do to help us out is very much appreciated, especially for the families who are stationed away from home," he said. "It brings morale up, helps mental health because it's one less thing to worry about."
The COVID-19 pandemic brought food insecurity into the headlines as families lined up at food banks, many for the fi rst time. Operation Homefront's commitment to providing recurring family support continued throughout 2020.
Working with partners such as Nike, P&G and Mattel, who donated to Back-to-School Brigade, Holiday Meals for Military, and Holiday Toy Drive respectively, ensured even more families got the support they needed.
"During the coronavirus, people have lost jobs and Operation Homefront benefits a lot of people," Joshua said. "You guys have definitely blessed, and benefited my family, and a bunch of other families, as well."
From Our Family to Yours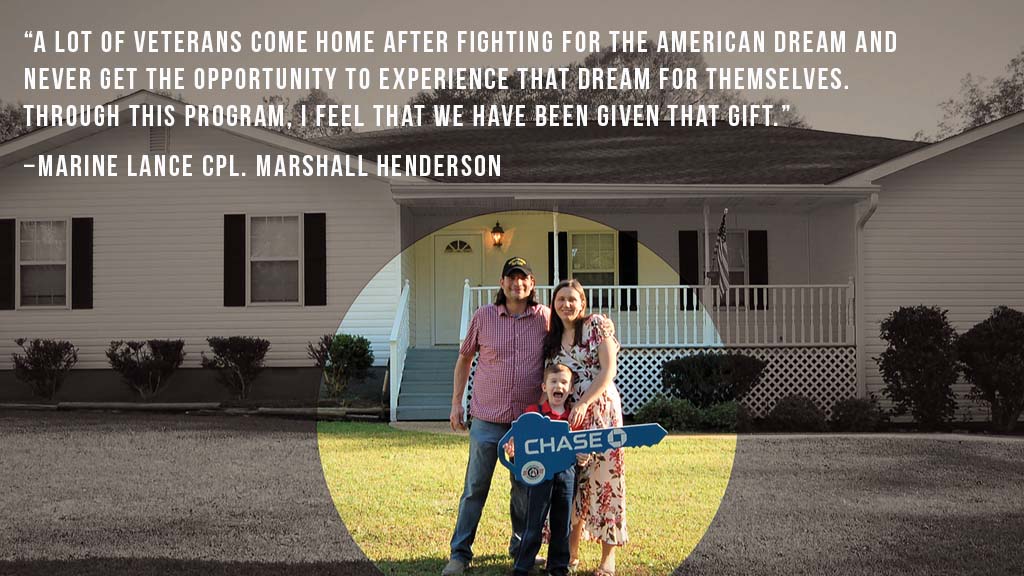 Marine veteran Marshall Henderson served during two of the most volatile events during the Iraq War — the country's first democratic parliamentary election in 2005 and the Second Battle of Fallujah. "It was the hardest and longest battle I ever fought," Marshall said. He told Operation Homefront he was sure he was not going to come home to his mom. Marshall's wife, Jamie, is now his caregiver. They have a 6-year-old son with special needs.
In Their Time of Need
Marshall served for eight years and was honorably discharged in 2011. PTSD and a traumatic brain injury have left him unable to work and made his transition to civilian life incredibly difficult. Jamie has been a part of Operation Homefront's Veteran Caregiver Support program since 2016.
"In my mind, I relive the (Second Battle of Fallujah) every day, and due to all that I went through, my PTSD is so severe that my pain is physical and I've had to be hospitalized countless times," Marshall said.
Getting to his VA appointments and trying to make sure they could pay the bills was stressful. Owning a home seemed unattainable. They heard about Operation Homefront's Permanent Homes for Veterans program from another veteran. When a house became available in Kathleen, Georgia, they applied and were accepted.
"A lot of veterans come home after fighting for the American dream and never get the opportunity to experience that dream for themselves," Marshall said. "Through this program, I feel that we have been given that gift. We would like the donors to know that it is so important for a veteran to have hope, and that is what you give to all veterans by supporting Operation Homefront."
Our Connection
Operation Homefront's Tabitha John, Senior Manager of our Permanent Homes for Veterans program, has been shepherding military families into homes since the program began. In March, the Henderson family became her clients when they moved into a four-bedroom, three-bathroom house, donated to Operation Homefront by JPMorgan Chase.
For the family, the move was a homecoming. Both Marshall and Jamie can trace family lineage in Georgia for more than 100 years. Being close to friends and family, plus the fact that Marshall's VA hospital is closer, allows them to be near a support system.
"What I love most about the program is the long-term, generational impact it has," Tabitha said. "Being an Army brat myself, I know how difficult it is to have to move every couple of years: new homes, new schools, and new friends. The PHV program enables my fellow military brats to have a stable 'forever' home, where they can establish roots in a community and not have to worry about moving anymore."
"We have seen the children in the homes flourish in sports, academics, and extracurriculars. Becoming a homeowner is about much more than the physical structure, it's about providing stability, from which the family can grow."
Our Partner
JPMorgan Chase has partnered with Operation Homefront since 2011 to provide homes to military families as a part of their 1,000 "Homes for Veterans" initiative.
For the Hendersons, JPMorgan Chase is making what was once just a dream become a reality. The Henderson family was one of 22 families who moved into homes donated by JPMorgan Chase in 2020. Since the partnership began, JPMorgan Chase has provided 519 homes to the program.
"JPMorgan Chase has been honored to work alongside Operation Homefront for a decade. Our employees have helped hand keys to hundreds of military families in their communities, and it continues to be one of the most inspiring parts of our jobs. During a year that was challenging for all of us, we commend Operation Homefront for their steadfast commitment to empowering military families to overcome challenges and build secure futures. We look forward to continuing to be a part of this mission." –Mark Elliott, Global Head of Military and Veterans Affairs, JPMorgan Chase & Co.
Our Impact Since Program Inception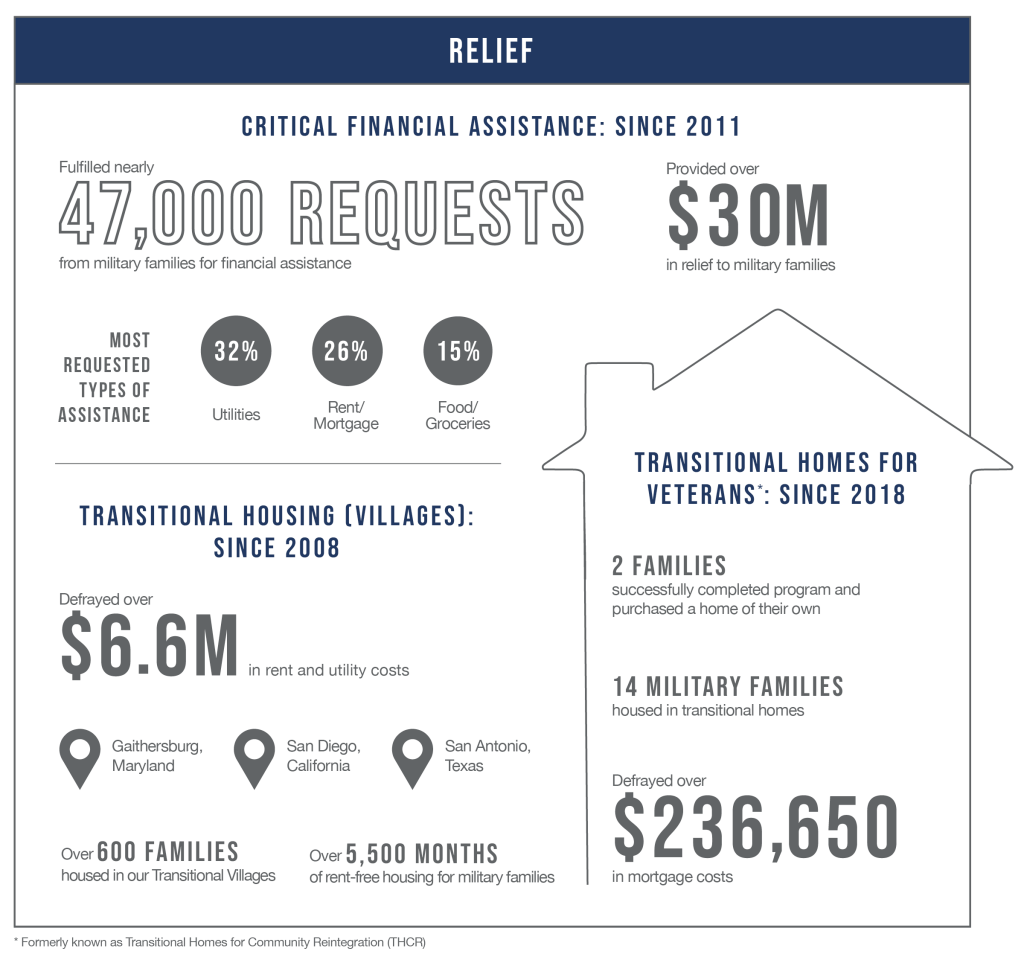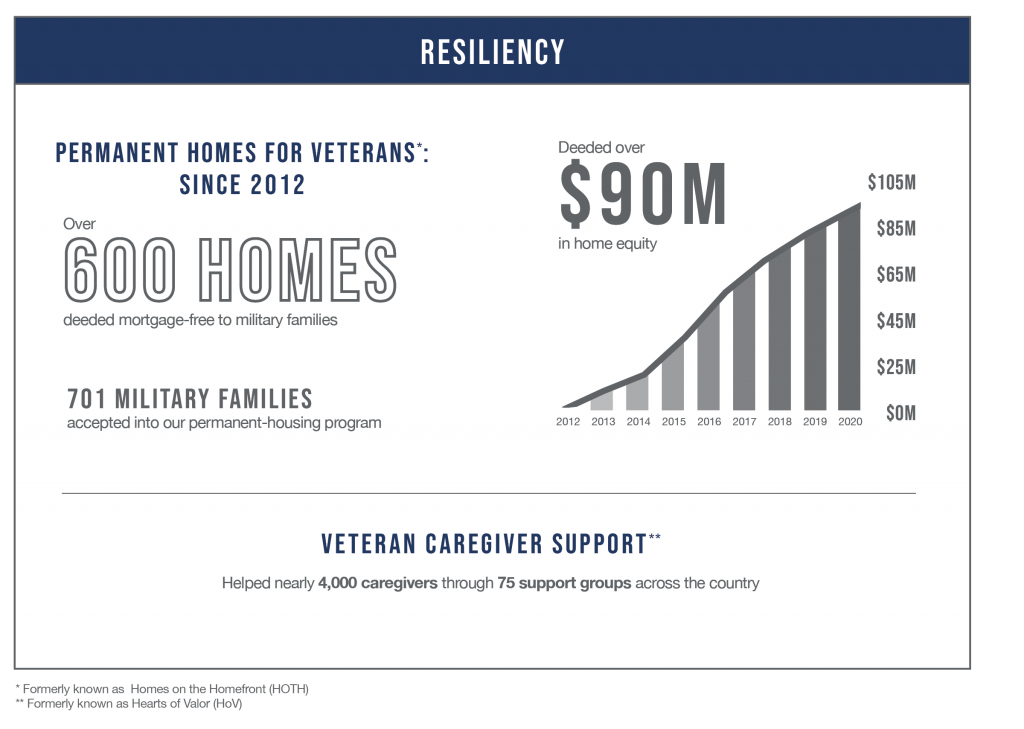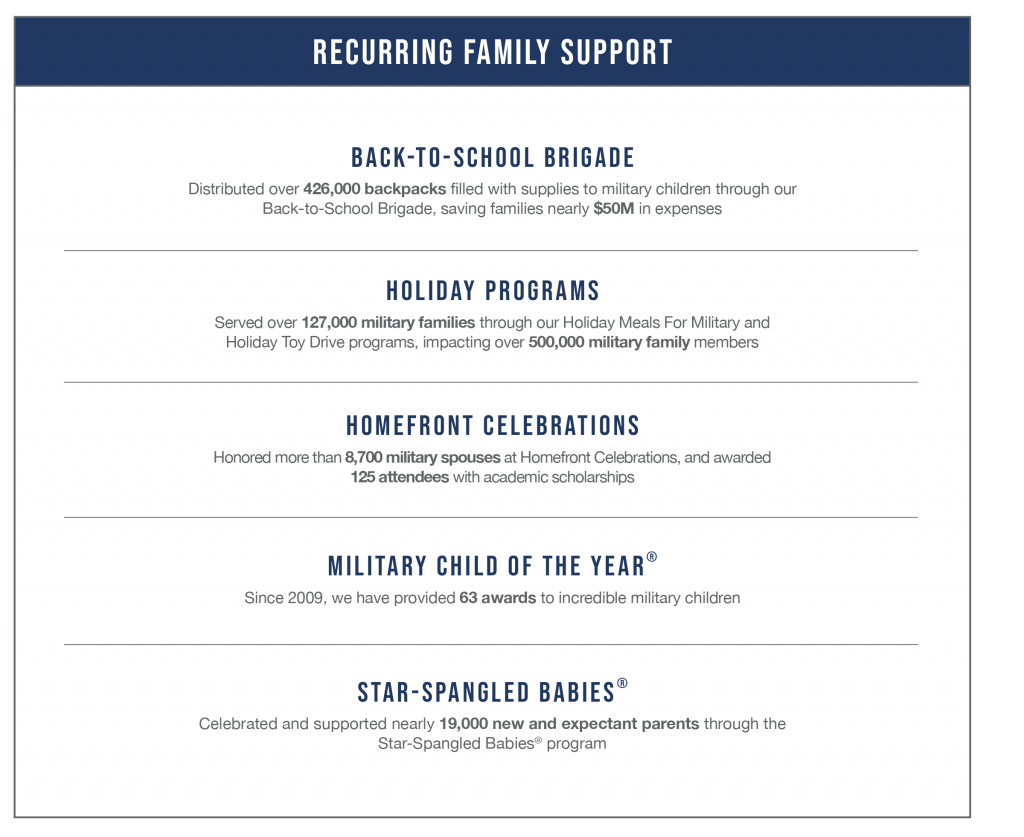 Program Delivery in a Pandemic
Responding
As the devastating global spread of COVID-19 became a reality in the United States in March, lockdowns followed. This forced us to quickly pivot to a virtual celebration of the Military Child of the Year® (MCOY) Awards gala.
The celebration of our MCOY winners and their families is a time-honored tradition that takes months to plan. With less than a month's notice, staff , partners, and volunteers quickly shifted to respond to the changing landscape. Leveraging social media channels, the gala became a virtual celebration, with messages of thanks and congratulations sent to the winners. Staff later created a book of those messages and sent a copy to each winner.
We also created virtual Homefront Celebration events, awarding two military spouses with full-tuition scholarships to Southern New Hampshire University. The Veteran Caregiver Support program hosted virtual retreats, support groups and created three new fully virtual support groups.
Innovating
We did not stop there. By combining virtual with in-person, drive-thru events that adhered to safety protocols, Operation Homefront was able to serve our families in new ways.
Staff , partners, and volunteers stepped up to find innovative ways to continue Star-Spangled Babies, Back-to-School Brigade, and Holiday Meals for Military that were fun and safe for families.
Meanwhile, donors and partners helped fill gaps. Our Critical Financial Assistance program broadened to include COVID-19 related requests, funding over $985,000 in assistance to help families pay essential bills such as mortgage, utilities, car payments, emergency home repairs, and food items.
We prerecorded video messages from Operation Homefront leadership and partners so when new homeowners in our Permanent Homes for Veterans program walked through the door of their donated home for the first time, they received a personal welcome.
Growing
None of this would have been possible without our volunteers. In a time of uncertainty, our volunteers rose to the challenge. At events throughout the nation, volunteers ensured their safety and the safety of our military families by adhering to all CDC, state, and local protocols.
To help make drive-thru events more celebratory they crafted homemade signs filled with warm, welcoming, and encouraging messages. They stuffed backpacks and food boxes. They stacked teetering diaper towers and wrapped festive Christmas gifts. They dressed up as Santa and Mrs. Claus, donned elf costumes, and bundled up to stand outside in 32-degree weather.
COVID-19 kept us socially distant, but Operation Homefront volunteers demonstrated that they would go above and beyond to keep us together to deliver our programs to military families nationwide. Without our volunteers, Operation Homefront would not have been able to meet the demand of military families seeking food, baby necessities, and school supplies.
We Delivered
No one could have known how 2020 would become the year of a global pandemic. But by coming together, our staff and volunteers, board and advisory council members, corporate and foundation partners, and our individual donors ensured Operation Homefront was able to respond and deliver programs when our military families needed us most. We know that the unwavering commitment experienced in our darkest times in 2020 will continue into the next year. And for that, we thank you.
Partner Highlights
Throughout 2020, as military families experienced the financial strain created by the COVID-19 pandemic, they turned to Operation Homefront. They trusted us to be there for them when they needed us most, and thanks to you – our community of partners, donors, and volunteers – we were able to support them during these unprecedented times.
11 Days of Impact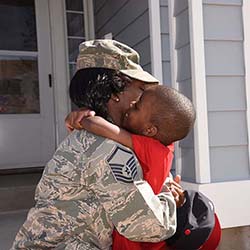 In November, in recognition of Veterans Day, Operation Homefront launched our 11 Days of Impact campaign and issued a challenge to raise $111,000 to support our mission. We would like to thank all of our donors and partners for their generosity in accepting the challenge. With the support of partners such as American Furniture Warehouse, Brown & Brown Insurance, Carnival Cruise Line, Interstate Battery, Knockaround, Maaco, Navy Federal Credit Union, Sempra Energy, and others, we raised over $170,000.
CVS Pharmacy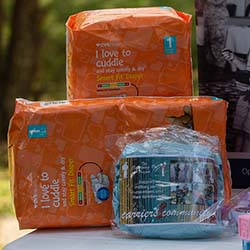 In May, in honor of Military Appreciation Month, CVS Pharmacy donated $100,000 to Operation Homefront, in support of our mission to build strong, stable, and secure military families. Throughout the campaign, Operation Homefront was listed alongside P&G in various marketing touch points, including a weekly circular, the CVS Pharmacy website, and in-store. We are excited to welcome CVS Pharmacy back to the Operation Homefront family. CVS Pharmacy also supported our Star-Spangled Babies shower in North Carolina with diapers and gift cards for guests.
Dollar Tree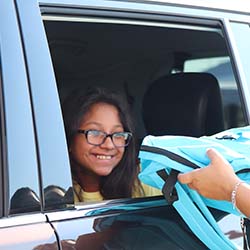 For 15 years, Operation Homefront has been Dollar Tree's national charity of choice. During this time, Dollar Tree's corporate and employee giving, as well as in-store customer purchases, have contributed millions in cash and in-kind donations for our Back-to-School Brigade, Holiday Meals for Military, and Holiday Toy Drive programs. In 2020, Dollar Tree launched Choose to Give, an employee giving campaign, raising nearly $520,000 for Operation Homefront in the inaugural year.
The Home Depot Foundation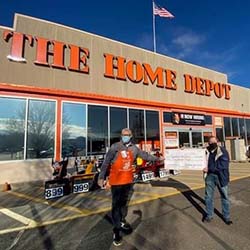 The Home Depot Foundation shares a strong commitment with Operation Homefront to serve veterans in need. In December, The Home Depot Foundation partnered with Operation Homefront for their second annual Operation Surprise campaign. Together, The Home Depot Foundation and Operation Homefront surprised 50 military families with the incredible news that they would be receiving up to two months of rent or mortgage payments. This donation brought joy to military families during the holiday season and provided the relief they needed to start the new year one step ahead.
Love's Travel Stops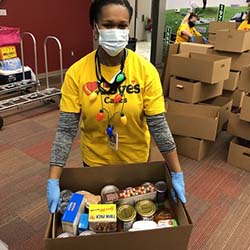 In July, Love's Travel Stops donated $125,000 to Operation Homefront. Customers helped increase the donation amount by purchasing a special-edition Operation Homefront/Love's 24-ounce mug. For each mug purchased, Love's donated an additional $2, totaling $25,000, bringing their total donation to $150,000. In December, Love's employees from their corporate office and surrounding retail locations volunteered to help distribute meals at a drive-thru Holiday Meals for Military event.
U.S. Bank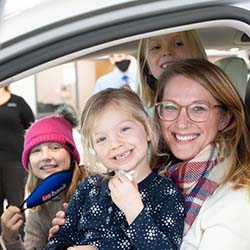 In 2020, as a part of their Driven to Serve initiative, U.S. Bank partnered with Operation Homefront to donate vehicles to six military families. Those who received donated vehicles included an Army veteran and single mom whose previous car was destroyed in a fi re, a dual-military couple with five children, and a veteran with special-needs children. Operation Homefront is grateful to the U.S. Bank Dealer Services team and all of the local car dealerships who made the donations possible.
Walmart Foundation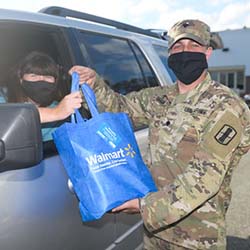 The Walmart Foundation supported Operation Homefront several ways in 2020. A $225,000 Bridge grant helped strengthen Operation Homefront's brand and enhance mission delivery through a new website, improved internal data collection and reporting, and amplified digital marketing. In addition, regional grants and in-kind gifts totaling $182,946 funded Recurring Family Support and Critical Financial Assistance programs.
Awards & Recognition
Cornerstone Award
Instituted in 2015, Operation Homefront's Cornerstone Award recognizes individuals who have helped us transform how we deliver on our promise to military families. We are excited to profile our latest recipients: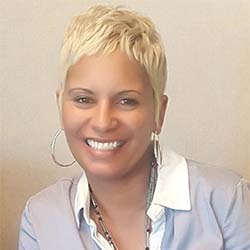 Camille Jenkins, Vice President National Customer Relations, Meritage Homes Corporation, has been a champion for our Permanent Homes for Veterans program, responsible for the donation of 13 newly built, mortgage-free homes from Meritage. She has said that the most rewarding part of her 20-year career is the hands-on work she does with Operation Homefront.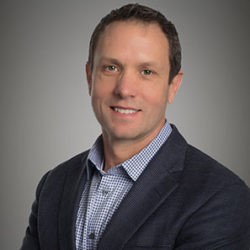 Mike Monroe, Director, Veterans Initiatives, A. James & Alice B. Clark Foundation, has been instrumental in the creation and development of Operation Homefront's Transitional Homes for Veterans program and in expanding the capacity and goals of our Transitional Housing (Villages) program. A Marine Corps veteran, Mike understands the challenges military families face in transition.
Employee of the Year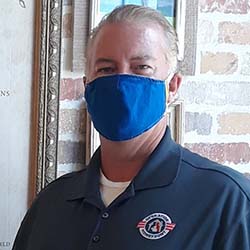 Joe O'Hara, an Area Director based in Quincy, Massachusetts, shows unwavering commitment to Operation Homefront's core values. He stepped up as interim Region 3 Senior Regional Director, planning and executing a full calendar of events using COVID-19 protocols. Joe's tireless efforts resulted in several big development successes this year to include substantial donations from Bob's Discount Furniture, Visions Federal Credit Union, Carrabba's Italian Grill on Long Island, and the continued expansion of Operation Homefront programming throughout New England.
Volunteer of the Year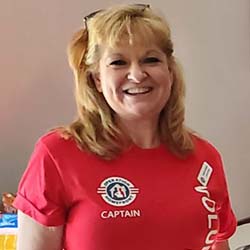 Tonia Russell, from New York, was an Operation Homefront employee from 2013- 2015 and has volunteered since 2015. She is a caregiver herself and always thinks of families first. She chairs the Advisory Council and has encouraged the council members to become more involved. For the Santa Boots program, Tonia located three deserving families in record time. With COVID-19 changing how we had to do our events, she quickly developed a successful plan with the local American Legion post that can be used for future events.
Where We're Headed
"Thank you for believing in us, and thank you for being our stepping-stone and rock in hard times when we truly needed it."

– Transitional Housing (Village) Graduate, Gerald Ferraren, Navy Veteran
2020 was a year of disruption and change… a year of challenges for America. As we look to the future, we want to be a key part of the eff orts to build a stronger America. America's strength depends, at its core, on strong, vibrant communities building economic bridges and social ties. Military families have been and continue to be key contributors in their communities, bringing the assets of service, teamwork and duty to the civilian communities to which they return. It is a tragedy that too many military families struggle to make ends meet, particularly as they transition, and it is why we work tirelessly to provide our highly-regarded relief, resiliency and recurring support programs to tens of thousands of military families each year.
But, we fi nd more need our help each year. That is why we are looking ahead to raise the funds needed to ensure our programs and services will be there to support thousands more military families through their financial hardships. In 2021, we are preparing to embark on our first ever major fundraising campaign. We fully expect our "United We Stand" campaign will give even more Americans an opportunity to help us help this very special and deserving group of our fellow citizens… for decades to come.
As this Annual Report presents, we were extremely proud to be there for America's military families and respond in even greater numbers during this most challenging of years. You can join us and ensure we keep America's military families – a cornerstone of their communities – stronger, more stable, and more secure.
2021 Major Milestones
Financial Assistance
Fulfill 50,000th
request for help, providing over $35M in assistance to military families (by the end of 2022).
Transitional Housing
Provide 6,000th
month of rent-free housing, saving our military families over $7M in rent and utilities costs.
Permanent Homes
Graduate 650th
military family from this housing program, providing over $95M in deeded home equity to military families.
BTSB
Deliver 450,000th
backpack with school supplies to a military child, saving families over $50M in back-to-school expenses.