Operation Homefront Makes a House a Home for Army Veteran
Two years ago, at the height of the second wave of the COVID-19 pandemic, Army veteran Brandon Baye received the keys to his new home in Hope Mills, North Carolina, as part of Operation Homefront's Permanent Homes for Veterans (PHV) Program.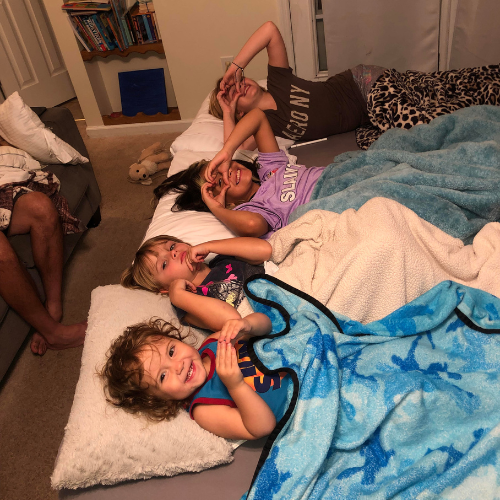 Now, he and his blended family of six are celebrating their successful completion of the program, having received the deed to what they hope will be their forever home.
"We never in a million years thought we would get picked," Brandon's wife, Misty, said. "The experience is just a dream come true. Throughout our time in the program, Operation Homefront has provided all the tools needed to better not only our future but our children's futures as well. We will forever be appreciative of this."
The Bayes flourished in their new home and family-friendly neighborhood. One of the highlights and favorite new memories was their first trick-or-treating.
"Before in the old neighborhood when we took my oldest trick-or-treating there was maybe one or two houses that gave out candy," Misty said. "But in this neighborhood, it's almost every house. It's so family oriented."
"There are so many children around and just enjoying the neighborhood," Brandon added.
Brandon first learned about the PHV program when a friend tagged him on a post on Facebook. He was surprised to see there was a home in Hope Mills, where he and Misty grew up. Misty had never left their hometown area, and Brandon still had a lot of friends and family there.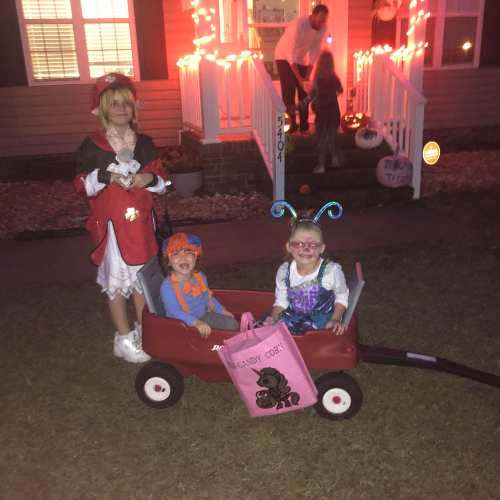 The family was accepted into the program and moved into the two-story, three-bedroom, two-bathroom house, donated by JPMorgan Chase, in April 2021. The house also has an extra room that can act as a bedroom when needed.
As part of the program, veteran families receive customized financial counseling to build savings, reduce debt and learn home ownership skills. Upon graduation from the program, Operation Homefront deeds the home to the family, mortgage-free.
"Before the program, we were really struggling," Brandon said. "Going through COVID-19 and inflation you see a lot of other families struggling, but because of Operation Homefront donors and what they did for us, we've been living comfortably while at the same time getting knowledge for becoming homeowners, which is something we can pass along to our kids."
Prior to applying, Misty and Brandon were renting a three-bedroom house and worried that the owners would sell it and they would have to move to yet another apartment or rental home.
"Operation Homefront supporters donated a house, and two years later it turned into our home. It really means a lot to our whole family."
Brandon Baye, Army veteran
At that point, Misty said, her daughter Sydney, then only 8, had moved five times. Misty was a single mom when she first reconnected with Brandon. The couple now has a daughter together, Morgan, 3. And when Brandon's children, Joshua, now 13, and Julie, now 10, would come to visit, the apartments were cramped, to say the least.
Brandon said it is heartwarming to know there are organizations willing to help veterans. His Army career ended in injuries after serving eight years and rising to the rank of sergeant.
While deployed to Afghanistan in 2011, Brandon was injured when his convoy hit a roadside bomb. The blast knocked him unconscious, and he had to be pulled from the truck. He remembers medical personnel putting a splint on his arm, but little else. He was later diagnosed with a traumatic brain injury and PTSD.
The TBI and PTSD, combined with injuries from a previous deployment in Iraq in 2009, eventually forced him to medically retire in 2014.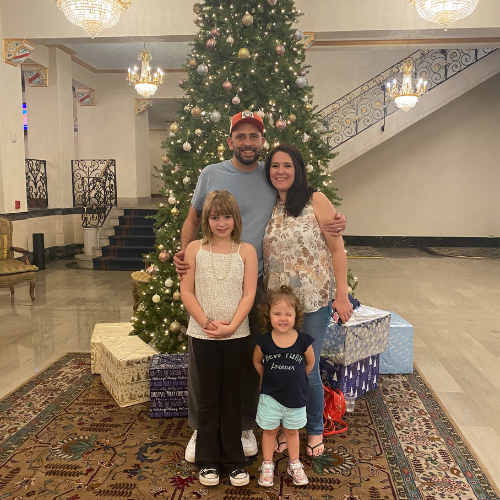 Brandon credits Misty for helping him through the transition to civilian life.
The couple appreciates the financial literacy component of the program and credited what they learned with helping them manage COVID-19 and inflation.
"Financially, it's made me a lot more aware of what I need to do and how it feels to have a savings account where you aren't going to lose your mind living paycheck-to-paycheck," Misty said. It taught us to save up emergency funds. I appreciate all the knowledge we have gained. The program wasn't just the house but everything they had to teach us."
For example, as inflation increased, and prices of food and other household items went up, their financial counselor advised them to stop discretionary spending and save even more. So, they put some home projects, like changing out light fixtures and painting, on hold.
Before he became a stay-at-home dad to Morgan during COVID-19, Brandon made a living remodeling homes. He plans on going back to work and picking up his own home projects after Morgan is in school. The PHV program made it possible for Brandon to take the time off from working in the first place.
The family will always be grateful.
"Operation Homefront supporters donated a house, and two years later it has turned into our home," Brandon said. "It really means a lot to our whole family, not just to me and Misty but our kids as well."