For media inquiries, please contact Mike Lahrman at communications@operationhomefront.org or call (210) 202-1243.
PHILADELPHIA — Chevrolet presented $50,000 to Operation Homefront on-field today at the 120th Army-Navy Game to support the nonprofit's Critical Financial Assistance program, which provides aid to U.S. military families and veterans.
This is the 10th consecutive year Chevy is serving as the official vehicle of the Army-Navy Game presented by USAA, and its third year as a partner to Operation Homefront.
"Chevy's contribution to Operation Homefront will help ease financial stress for military families this holiday season," said Manny Sosa, Chevrolet zone manager for Philadelphia. "Helping our military families and veterans in their everyday lives is a meaningful way to continue our century-long history of military support."
The contribution, presented by Sosa on behalf of Chevy, will help Operation Homefront fund financial grants for rent and mortgage, home and auto repair, food assistance, utilities and more. Since 2011, Operation Homefront has provided more than $27 million in critical financial assistance.
In 2018, Chevy provided Operation Homefront with a fleet of seven Silverado pickups to support six of the organization's regional offices, along with its headquarters in San Antonio. Collectively, the fleet has accumulated more than 40,000 miles helping military families by distributing backpacks for children, holiday meals and toys, and baby supplies, in addition to supporting key programs throughout the year.
"We are honored to be a part of the Chevy Cares program again this year," said Margi Kirst, chief development officer for Operation Homefront. "We thank Chevrolet, its dealers and customers for their generous support – including the fleet of Chevy Silverado trucks that literally 'drives' our mission of building strong, stable and secure military families across America."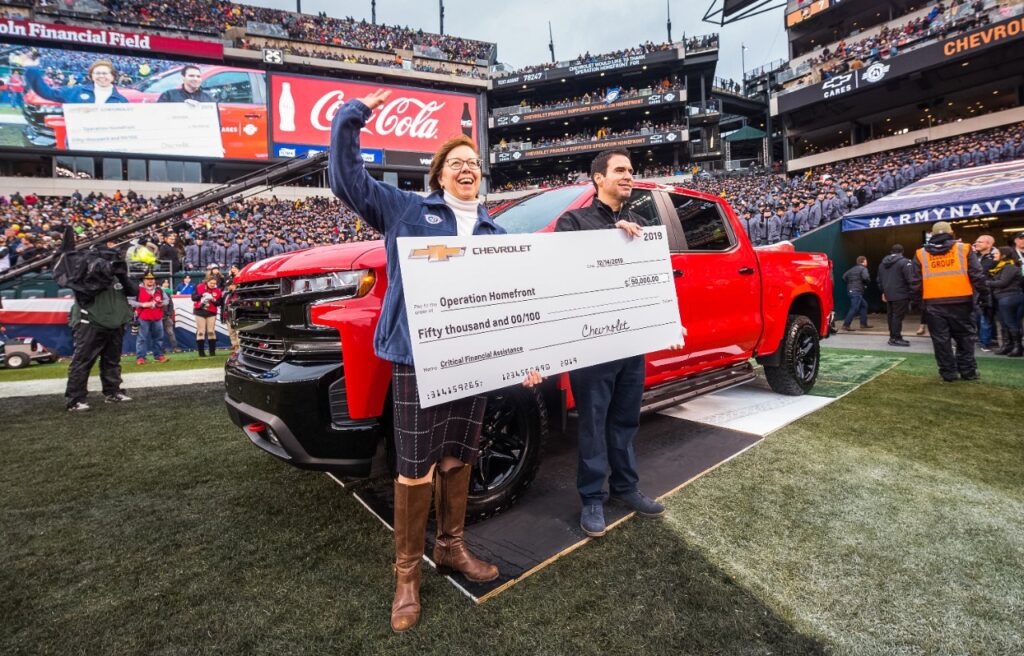 Military support is a key pillar of the community-focused Chevy Cares platform, which helps honor active service members, veterans and their families. Through this initiative, Chevy partners with several organizations, including Operation Homefront, Wreaths Across America, the U.S. Chamber of Commerce Foundation's Hiring Our Heroes Program and more.
General Motors and its family of brands have supported the U.S. military for more than 100 years and are proud to give back to those who have given so much for their country
###
About Operation Homefront: Founded in 2002, Operation Homefront is a national nonprofit organization whose mission is to build strong, stable, and secure military families so that they can thrive – not simply struggle to get by – in the communities they have worked so hard to protect. Recognized for superior performance by leading independent charity oversight groups, 92 percent of Operation Homefront expenditures go directly to programs that support tens of thousands of military families each year. Operation Homefront provides critical financial assistance, transitional and permanent housing and family support services to prevent short-term needs from turning into chronic, long-term struggles. Thanks to the generosity of our donors and the support from thousands of volunteers, Operation Homefront proudly serves America's military families. For more information, visit www.OperationHomefront.org.
About Chevrolet: Founded in 1911 in Detroit, Chevrolet is one of the world's largest car brands, doing business in more than 100 countries and selling more than 4.0 million cars and trucks a year. Chevrolet provides customers with fuel-efficient vehicles that feature engaging performance, design that makes the heartbeat, passive and active safety features and easy-to-use technology, all at a value. More information on Chevrolet models can be found at www.chevrolet.com.