Operation Homefront Provides Relief Among School Supplies in Brigade Backpacks
Children exclaimed "earbuds!" and "scissors!" as they pulled contents from backpacks. Parents — no less excited about collecting school supplies at Operation Homefront's Back-to-School Brigade® event in San Antonio, Texas – expressed relief.
"It's a one-stop shop, and it lessens stress," said Gracie Kayl, wife of Army veteran Thomas Kayl.
Supply shopping for their daughters – ages 7, 11, and 15 – could take hours, if not a full day, and visits to multiple stores.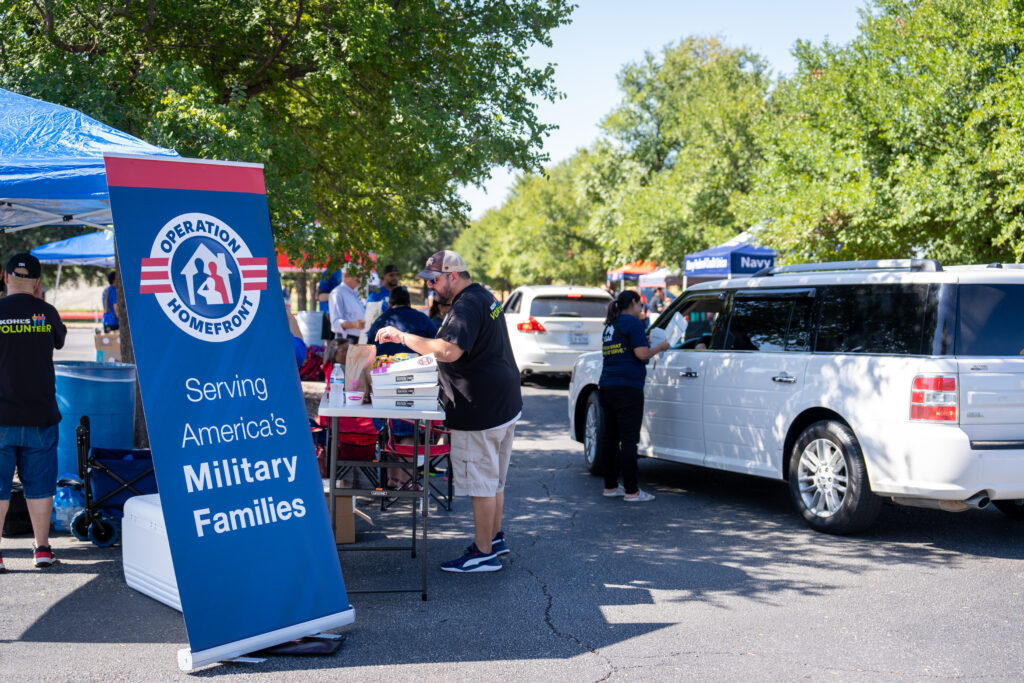 "This is a safe and easy way for kids to get what they need," said 15-year-old Gabriella Kayl, a high school sophomore. "It provides support for families who can't always get everything they need."
They are among more than 500,000 military children who have received brigade backpacks since the program began in 2008. The back to school supplies programs have saved families an estimated $55 million.
The cost savings are especially significant as rising food, fuel, and housing prices continue to impact all Americans. Military families often feel added budget strain because of factors such as deployments, frequent moves, and often being single-income households.
Air Force Staff Sgt. Kayla Gonzalez and her husband, Air Force Tech. Sgt. Gabriel Gonzalez, brought their 6-year-old twin daughters and 11-year-old son to the drive-through event that put backpacks into the hands of about 400 children.
"The support for our families makes it easier to do what we need to do," said Kayla, who learned about Operation Homefront in 2018. She was excited to receive a notification about the San Antonio backpack pickup after her family had a permanent change of station in January to Lackland Air Force Base in San Antonio from Montgomery, Alabama.
She met up with friend and Air Force veteran Kristin Porras Coutin after both families made their way among the lines of volunteers handing out everything from tacos to tape from beneath shade canopies.
Kristin and her husband, active-duty Airman Luis Porras Vargas, were preparing sons Donovan, 5, and Dominic, 6, for the start of school.
"I was relieved to learn about this because school supplies are so expensive," said Kristin, who is studying to become a medical assistant after serving six years in Air Force personnel.
Tech. Sgt. Desy Bennett, a mom of four children, said the supply pickup helped her knock out a major task in hours, not days.

"Life is hectic being active duty with four kids," said Desy, an instructor at Lackland Air Force Base, who learned about Operation Homefront while stationed at Edwards Air Force in California. "It's greatly appreciated."

The Bennett children – ages 3, 7, 10, and 17 – also get to experience military camaraderie.
"It's important for the kids to see what they get back for being military children, because growing up in a military family isn't always easy,"

– Air Force Tech. Sgt. Desy Bennett, mother of four

Gracie Kayl agreed.

"Our girls can see there is a community for veterans and military families," she said. "Hopefully one day they will give back, too."

Through Back-to-School Brigade and its other programs, Operation Homefront serves tens of thousands of military families every year.

Learn more about Operation Homefront and its impact as well as how your support can help secure the futures of America's military families for decades to come.