Military Spouse, Michelle Brown, and Operation Homefront Grow Up Together.
In 2002, following 9/11, a young Navy wife whose husband was stationed at Groton Submarine Base in New London, Connecticut, began volunteering at a newly-formed nonprofit. The husband was often deployed and the young wife, home with a 2-year-old, was far from her hometown of Kansas City, Missouri.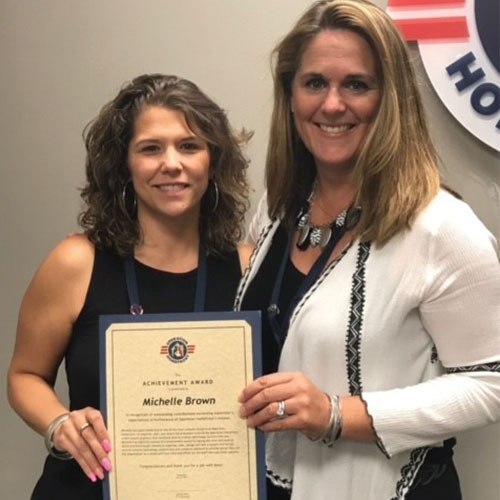 Michelle Brown had no idea at the time that both she and the new nonprofit would -grow up together and that she would one day be the senior director of digital marketing of the national nonprofit Operation Homefront.
As someone who has experienced the ups and downs of military life as a spouse and mother, Michelle calls on that experience—through her time as an ombudsman, her dad's service during the Vietnam era, her cousin's five tours to Iraq/Afghanistan, her two years of volunteering and 18 years as an employee—to develop and execute digital marketing strategies to support Operation Homefront's mission. In addition, Michelle works closely with the organization's IT team as a key partner in developing program platforms to deliver and track digital impact.
With all that time at Operation Homefront, Michelle has numerous fond memories, but as a diehard Chiefs fan, one memory does stand out. Several years ago, Michelle attended an event at Arrowhead Stadium in Kansas City, Missouri. During the Chiefs game, Operation Homefront gave a mortgage-free home to a wounded service member and their family through our Permanent Homes for Veterans (formerly known as Homes on the Homefront) program. The home award was a surprise for the veteran.
"This was one of the best feelings I have ever experienced at Operation Homefront," Michelle said. "I loved being able to present that home to a deserving military family during halftime of my favorite sports team. That was the icing on the cake!"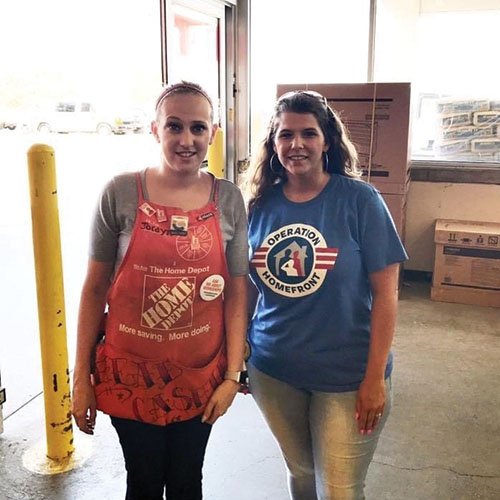 Michelle credits collaboration with her teammates as one of her favorite parts of her job. "By working to achieve a common goal, we help build strong, stable, and secure military families so they can thrive—not simply struggle to get by—in the communities that they've worked so hard to protect."
"The employees at Operation Homefront value the mission and adhere to our core values of doing what's right, respect others, perform with excellence, and gratitude," Michelle said. "I am blessed to be a part of such an amazing group of people."
At the beginning of her time at Operation Homefront, Michelle and her teammates worked to provide a family who had just moved to the New London area with warm clothes and food. The young family was not prepared and not financially able to adjust to the colder New England elements.
That same helping hand is present today, and Michelle encourages anyone who needs help to apply on the Operation Homefront website. "Operation Homefront is here for you. We want you to feel strong, stable, and secure, and we have many programs that can do just that. From back-to-school supplies to food assistance to transitional housing for wounded, ill, or injured service members, Operation Homefront can help!"
This motto goes back to Operation Homefront's history that Michelle has witnessed firsthand. Military spouses who saw a need to support families left behind when deployments quickly surged after 9/11 brought Operation Homefront to fruition. Years into the war on terrorism, that mission began to shift and included helping wounded, ill, and injured with transitioning out of the military and providing the support they need to be stable. Today, it is our vision to be the provider of choice for short-term critical financial assistance, long-term stability, and recurring support programs to military families. Through the years, Michelle credits Operation Homefront with grounding her.
"The work we do here is a constant reminder of the struggles that other people face every day," she said. "I have always been touched by the selfless sacrifice made by our military families even when I was a military spouse for many years. I have never felt 'loved by my neighbor' more than while I was a military spouse. The military is a band of humans who come together to serve one another and their country, and they do so unconditionally. My co-workers and I are committed to being there for military families in their time of need just as they have been there for us in our time of need."