Operation Homefront Villages Provided Safe Haven to Navy Chef
Jabrasia Doss didn't know where to turn after being medically retired from the Navy, but she found refuge in the San Diego Village, Operation Homefront's Transitional Housing program for military personnel leaving the military.
"The Village helped me to feel safe," said Jabrasia, a single mother of 2-year-old Ahliyah. "Everyone there was very friendly, and it helped me save money toward getting out."
The Villages provide rent-free, two- and three-bedroom apartments to wounded, ill, and injured warriors and their families as they leave the military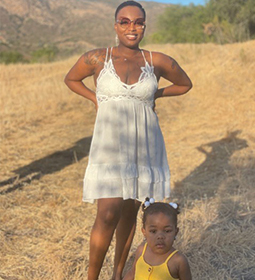 Jabrasia, a petty officer second class, was a chef in the Navy and spent seven months of her five years of service on board the USS Roosevelt. Then she learned that PTSD and a physical illness would require her to leave the military.
Within two weeks of contacting Operation Homefront, she was in the Village, which helped her mentally as much as it did physically and financially.
"It helped just knowing that there are still good people out there," Jabrasia said. "I didn't feel stressed out when I stayed there. I felt calm. It did everything it was supposed to."
While staying in the Village for seven months, Jabrasia saved $10,000 and reduced her debt.
Now the Abilene, Texas, native is in nursing school in Texas and sees a promising future.
Where would she be without the help of Operation Homefront?
"Stressed out, miserable, probably back home with my mother, not in a good place at all, and for sure struggling financially."
Jabrasia has a message for companies and individuals whose contributions allow Operation Homefront to support military families and veterans.
"Keep pitching in. You're really helping us. It's so crazy that there's a program out there that will literally set you up to be successful when you get out. What they're doing does not go unnoticed. There are a lot of people like me who are very grateful."