Star-Spangled Babies Supports Military Spouse During Husband's Deployment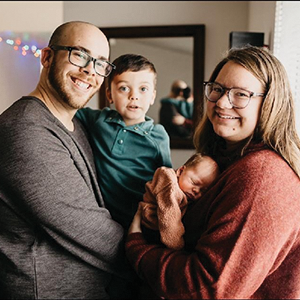 Ashley Leavy had just found out she was pregnant with her second child when her husband, Senior Airman Derek Leavy, was deployed to Africa in May 2021. It was his first deployment since joining the Air Force a couple of years earlier and being stationed at Nellis Air Force Base.
COVID-19 was surging again, and while Ashley's mom and stepfather lived in Las Vegas, her second pregnancy ended up much more isolated than the first. Being pregnant during the pandemic and raising their toddler, Xander, alone was stressful.
In June, her husband's supervisor called to tell her about Operation Homefront's Star-Spangled Babies event. She had heard of the organization in passing but had never attended anything. She signed up for the drive-thru event and took Xander.
"The experience was fantastic," Ashley said. "They definitely made it special for everybody."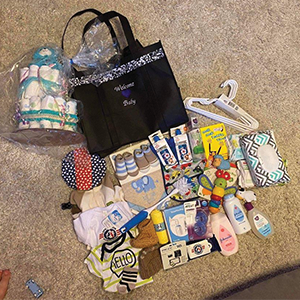 When Operation Homefront volunteers handed over Ashley's gift bag, they also gave Xander his own toy truck. They made an even bigger impression on her eldest boy when he received a sandwich from a local sub shop.
"I thought that was so incredibly sweet," she said.
Having extra diapers and goodies for a newborn became even more important when Ashley went into labor eight weeks early and experienced such serious complications the American Red Cross helped get her husband home from deployment in time for Julian's birth.
"Getting that first case of diapers to get you through that first month was so helpful, especially since he was early," Ashley said. "And we got like three different types of bottles so instead of having to fork over money to see which bottle my baby would like, I could test it out before investing in a bottle system."
Having samples of different products helped as well, she said. Julian had extra sensitive skin and the one sample caused issues but the other did not. She was able to save money knowing which product she could use, adding, "being able to test things out before committing to a product was definitely good."
Ashley said she wants the donors to know their support means a lot to military families.
"Because of COVID no one was gathering," she said. "No one was having things like baby showers. That became my only baby shower. And that made it even more special."