Operation Homefront's Manager of Housing Operations is a Veteran who Understands Challenges
As Operation Homefront's manager of housing operations, Deborah Bunnell receives as many as 30 phone calls a week from military families facing housing insecurity.
She relates to the money struggles of military families, remembering her own paychecks during her four years in the Navy. She also understands the need for stability because, as a military spouse, her family experienced frequent PCS moves during her husband's 12 years in the Navy.
With 92 percent of the staff having served or having a military connection and with 20 years of experience as a nonprofit organization, Operation Homefront understands the challenges military families face.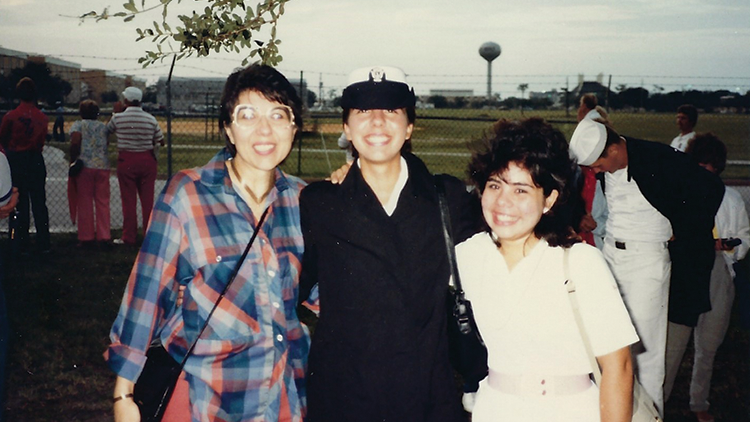 Among other responsibilities at Operation Homefront, Deborah serves as an initial point of contact for families applying for the Transitional Homes for Veterans and Permanent Homes for Veterans programs.
She hears stories about the families having nowhere to turn because the landlord of their longtime rental home decided to sell the property. Current inflationary prices for utilities, groceries, gasoline, and automobiles compound the budget challenges military families face.
"Often people can't qualify for a mortgage, and they can't find another place to lease because housing rates and rental rates are insane," she said. "It has priced people out."
Being part of a program that puts families on the road to homeownership is gratifying to Deborah.
"Giving someone the stability of a home is generational," she said. "Some of these people grew up in apartments, then joined the military and lived in barracks and base housing rentals. They're the first generation to own a home, and they're able to give that stability to their children."
Deborah enlisted in the Navy out of high school in 1986. As a yeoman, she was assigned to the Military and Family Service Center at Naval Air Station Pensacola in Florida. In that job, she saw how mental health services, budget counseling, and spousal support helped families.
"Seeing the effect those services had on families was impactful," she said.
So was her personal experience as a military spouse.
Like many military families, the Bunnells moved every couple of years. Her husband was part of a special unit that left frequently on missions that kept the service members in undisclosed locations – and with little or no communication – for weeks or months.
Deborah was 22 years old, with a 7-year-old stepson and 10-month-old daughter, when her family relocated from Florida to California. She was 1,400 miles from her family and knew no one.
She came to value the support of other military spouses around her, and they formed a network to bridge the isolation from family.
She also learned firsthand the impact of frequent moves on children.
"My stepson was in a different school for each grade until we moved to San Antonio," Deborah said. "I saw what that did to him. He had a hard time making friends, and he had a hard time with the transitions."
After the Bunnell family moved to San Antonio, Deborah worked in jobs ranging from property management to event planning for conferences and business expos. Then, a job posting for Operation Homefront caught her attention.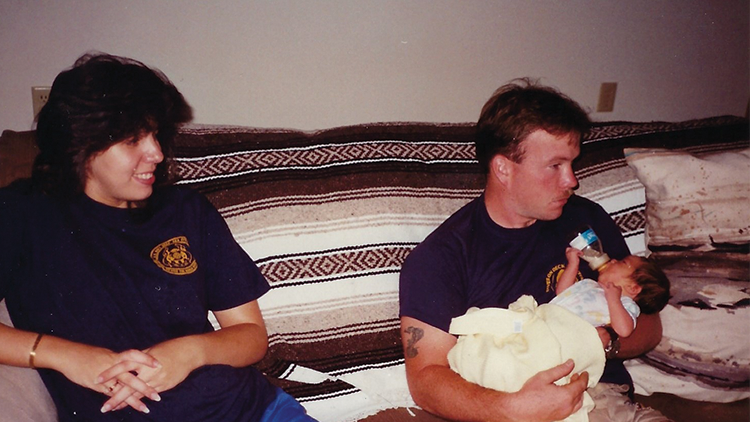 Deborah applied right away after reading the mission of the national nonprofit: to build strong, stable, and secure military families so they can thrive, not simply struggle to get by, in the communities that they've worked so hard to protect.
"I really wanted to do something that would help military families because our military is very underserved," she said. "Many people don't realize that."
Deborah – and Operation Homefront – will celebrate her 10-year anniversary with the organization early next year.
The Permanent Homes for Veterans program was in its infancy when Deborah's tenure began, and she enjoys her role in its development.
"I've watched the PHV program evolve from a good housing program that met families' needs to a great program that really works with the families to ensure they have the support to be successful after they graduate from the program," she said. "When I started, we accepted just about any home that was offered to us. Now, I work hard to ensure the homes are in decent condition, in safe areas, with employment and educational opportunities for the veteran and their family."
Deborah applied the same principles when she helped develop the Transitional Homes for Veterans program, which launched in 2018.
"I locate homes to purchase in areas with high veteran populations that also provide security and employment and educational opportunities for the families," she said.
Developing a strong connection to the community of the transitional home helps families to be successful and feel safe in the areas so they will consider purchasing a home of their own in the same area or close by, she said.
"I'm proud to a part of our housing programs and love all the success stories from our veterans and their families."
While Operation Homefront helps tens of thousands of military families each year, we can do more. You can ensure that a military family gets the support they need today. Donate today at OperationHomefront.org/11Days and help us make life-changing impact for military families.