Operation Homefront Presents Cornerstone Awards to Jenny Jonker and Jamie Little
San Antonio, Texas – Operation Homefront, the national nonprofit serving America's military families, has presented its 2022 Cornerstone Awards to Jenny Jonker, Brand Experience Manager, General Mills, and Jamie Little, Senior Director, Talent Acquisition, Employer Brand and Corporate Social Responsibility, Choice Hotels. Operation Homefront presents the Cornerstone Award to individuals who have gone above and beyond to help Operation Homefront transform how it serves military families and delivers its mission.
Jenny and Jamie have demonstrated their passion and commitment to helping those who have done and continue to do so much for our nation," said Brig. Gen. (ret.) John I. Pray Jr., president, and CEO of Operation Homefront. "Under Jenny's leadership, our partnership with Pillsbury has grown significantly as we seek to expand our highly-valued transitional housing programs. Jamie has been equally influential as the driving force behind an initiative to give Choice Privilege members the opportunity to provide hundreds of hotel stays for military families in crisis. Both have gone above and beyond to help strengthen our ability to give our military families the opportunity to thrive, not simply struggle to get by, in the communities — OUR communities — they've worked so hard to protect."
About Jenny Jonker – Brand Experience Manager, General Mills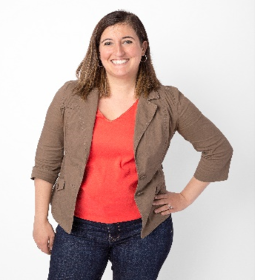 Jenny Jonker has been with General Mills since April 2018, overseeing creative and media strategy for Pillsbury while also helping bring the brand's purpose to life with consumers through Operation Homefront. Recently, she took on a new role within General Mills leading the Betty Crocker and Old El Paso brand experience team. Prior to General Mills, Jenny worked on the media team at Minneapolis-based agency Colle McVoy. Under Jenny's leadership, Pillsbury expanded their support for Operation Homefront to include donating four newly-built, rent-free homes, over three years, to its life-changing Transitional Homes for Veterans program which will ultimately benefit up to 20 families over the next 15-20 years. The homes are located in the Atlanta and Dallas/Fort Worth communities.
About Jamie Little – Senior Director, Talent Acquisition, Employer Brand and Corporate Social Responsibility, Choice Hotels

Jamie Little has served as a multi-functional leader at Choice Hotels for 13 years and was instrumental in solidifying the company's partnership with Operation Homefront in 2018. In addition to Choice Hotels' support for Operation Homefront's Critical Financial Assistance program, Jamie added partner value through a co-branded website, e-mails to millions of Choice Privileges members, on-property co-branded marketing collateral, associate and franchisee volunteer support, and in-kind donations for Back-to-School Brigade, Star-Spangled Babies, and the Holiday Toy Drive. Jamie also connected servicemembers with hundreds of complimentary hotel room nights across the country. For more than four years, Jamie's dedication has led to donations exceeding $780,000 from Choice Hotels International.
The Cornerstone Award was instituted in 2015. Previous recipients include:
Gina Collins – former Chief Marketing Officer, Outback Steakhouse 
Kathy Cox – former Senior Manager, Walmart Foundation
Chelle Davis – Manager, Investor Relations, Dollar Tree 
Loren Dorshow – Executive Director, Car Donation Foundation
Ed Delgado – CEO, The Five Star Group 
Camille Jenkins - Vice President National Customer Relations, Meritage Homes Corporation 
John Kitchens – Director of Corporate Citizenship, CSX Corporation
Marc Knowles – Global Military Team Leader, P&G 
Peter McGuinness – former President and COO, Chobani
Mike Monroe - Director, Veterans Initiatives, A. James & Alice B. Clark Foundation 
Tony Montalto – President and COO, The Bob & Dolores Hope Foundation
Heather Prill - Senior Manager, Strategic Partnerships & Programs, The Home Depot Foundation 
Ken Ruff - VP, National Accounts, Beam Suntory 
Rusty Smallwood - former AVP REO-Manager, JPMorgan Chase 
About Operation Homefront
Celebrating 20 years of serving America's military families, Operation Homefront is a national nonprofit organization whose mission is to build strong, stable, and secure military families so that they can thrive – not simply struggle to get by – in the communities they have worked so hard to protect. Recognized for superior performance by leading independent charity oversight groups, 88 percent of Operation Homefront expenditures go directly to programs that support tens of thousands of military families each year. Operation Homefront provides critical financial assistance, transitional and permanent housing, and family support services to prevent short-term needs from turning into chronic, long-term struggles. Thanks to the generosity of our donors and the support from thousands of volunteers, Operation Homefront proudly serves America's military families. For more information, visit OperationHomefront.org.
Media Inquiries: Susan Ziesman Susan.Ziesman@operationhomefront.org or (210) 392-6878