Meet Operation Homefront's Volunteer of the Year – Sharon Fenton.
Sharon Fenton describes herself as a stay-at-home mom. In 2019, Sharon, in mom-mode, was doing all she could to support her eldest son's enrollment in JROTC. She was very involved as a parent and served on the Board of Directors for the Booster Club.
"The JROTC program required the cadets to do a lot of volunteer hours, so I was looking for ways to help the cadets fulfill their hours," Sharon said.
She found Operation Homefront's volunteer program and registered to be a volunteer in order to have access to events with the idea of having the JROTC cadets volunteer to support area military families.
Ironically, the cadets did not make it to any Operation Homefront events, but Sharon did … and kept coming back to volunteer more and more. She first volunteered at an Operation Homefront "Welcome to the Community" event in the Houston area for OH's Transitional Homes for Veterans program.
Then Sharon was volunteering at a Star-Spangled Babies Shower, handing out backpacks at Back-to-School Brigade, and supporting Holiday Meals for Military and Holiday Toy Drive events. Along the way, Sharon "volunteered" her husband, her sons, and her 10-year-old daughter to help her. Sharon now works with Operation Homefront Area Manager Theresa Heard in an even bigger capacity as the Region 5 Volunteer Administrator.
"Theresa is the wind beneath my wings that allows me to take on more responsibility," Sharon said. "Theresa has been very encouraging."
After her eldest son enlisted in the Air Force, Sharon was motivated to help military families even more. He is stationed at Fort Meade, Maryland, and her middle son may follow in his brother's footsteps.
Her dad served in the Air Force but was finishing his enlistment when Sharon was born. "I have just always felt a connection to the military," Sharon said. "We have to pick our causes that we really care about and mine is the military."
Sharon's passion for the military comes across immediately when speaking to her. She volunteers at Operation Homefront because the military sacrifice so much. "The least that I can do is to sacrifice my time as a volunteer," Sharon said. "As a volunteer, we are able to show them (the military) that we are thankful for their service."
Every volunteer has a favorite event and for Sharon, that event is Holiday Meals for Military. She loves seeing the kids with their families, who are happy, grateful, and thankful that Operation Homefront is there for support and thank them for their service. "We are the ones that need to thank them," Sharon said.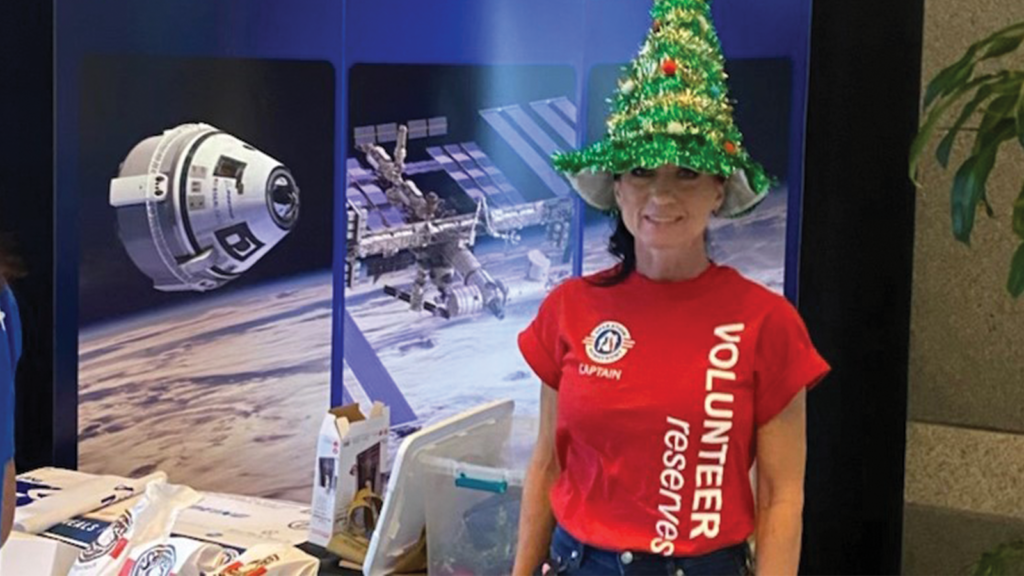 For the past two years, Operation Homefront family events have been delivered in a drive-thru format. Sharon smiles and says the same emotions and feelings are there in the drive-thru events and you still see the excitement – looking in the car windows.
To anyone that is wondering if they should attend an Operation Homefront event, Sharon is adamant that anyone who is a military service member or a veteran, or a family member deserves all that Operation Homefront offers at their events.
"No matter what you do in the military – it is a sacrifice," Sharon said. "And the families sacrifice because you never know what is going to happen. Every day is a sacrifice in service to our country, no matter what your job was or how long you served, you deserve the programs and thank you from Operation Homefront."
She has great respect for everyone who volunteers for Operation Homefront. Sometimes the events, like the Back-to-School Brigades, are in the heat and sometimes the Holiday Meals for Military are during inclement weather, and making the events special for our military families is hard work.
"But no one even minds," Sharon said, "because we are so focused on making it enjoyable for the families when they show up. Everyone is happy to do all the hard work because it is for the military families, and they deserve it so much."
Sharon would like to encourage everyone to consider being a volunteer. "The feeling that you get by volunteering is incredible. They did their service to the country, so we need to do our service to them." This is how Sharon serves her country – by serving military and veteran families at Operation Homefront events.
"It is an honor to work with Operation Homefront and I am glad for the opportunity to help the military families."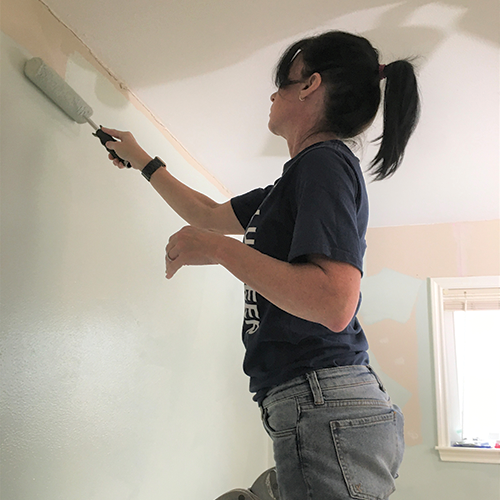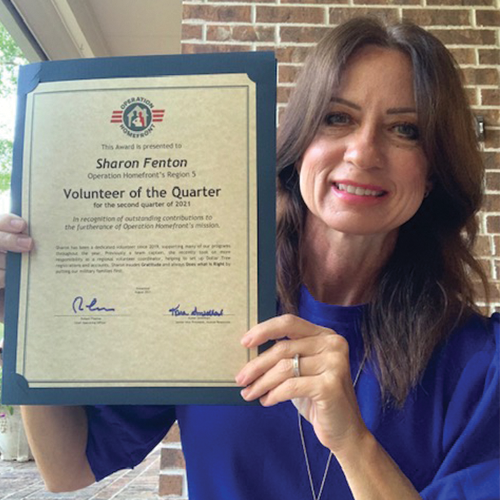 Editor's Note: Sharon is from Texas and has volunteered for OH since 2019. In 2020, wanting to take a more active volunteer role, she became a Team Captain and in 2021 became a Volunteer Administrator support Region 5. Sharon supports eight states between Florida and Texas recruiting volunteers for events, conducting surveys, and assisting with other administrative duties. Additionally, Sharon helps steward relationships with Dollar Tree staff by organizing the pick-up of donated items for Operation Homefront's Back-to-School Brigade and Holiday Toy Drive programs.