Pictured above are Judy Trevino and Al Roker at an Operation Homefront event serving America's military families.
Daughter of WWII Prisoner Of War is Compelled to Serve Military Families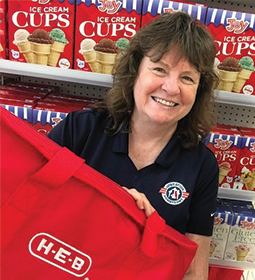 Often the impact of war is felt long after the war ends and can leave a lasting imprint on the service member, as well as the entire family. Operation Homefront's Family Support Services Manager Judy Trevino knows firsthand about this impact.
"Although I was born long after my dad's service to our country and was never a 'military dependent,' I knew some of the stories of my dad and mom's hardships during his time in the military," Judy said.
Judy's father served in the Army at the outbreak of World War II. He was later captured by the German Army at the Battle of the Bulge and held as a prisoner of war at Stalag IXB in Bad Orb, Germany. While he was a prisoner of war, Judy's father kept a diary.
"I was not allowed to read that diary until I was an adult, due to the nature of what my father was writing about," Judy said. "My mom told me stories of what they had endured as a young military family, having to move from place to place, and then his deployment and capture. I have since read the diary my dad kept while a POW, and it is something I will never forget."
After Judy "retired" from another job with 24 years of service, she wanted to do something to make a difference in people's lives. Because of her father's and brothers' service—Judy has two brothers and one brother-in-law who served in the Army during Vietnam—she had witnessed PTSD firsthand. Judy knew she wanted to give back to those who had served and sacrificed so much. When she had a chance to work with Operation Homefront and heard about all the good OH was doing, Judy jumped at the opportunity.
At the time, Judy said, "I did not really have a clue what I was doing, but lots of patient fellow co-workers helped me learn so much about the job and about the military and military families we serve."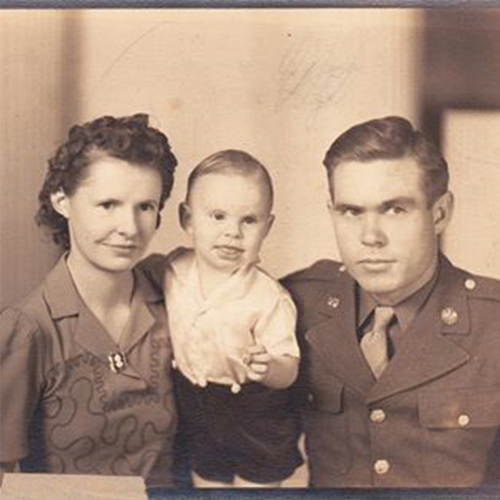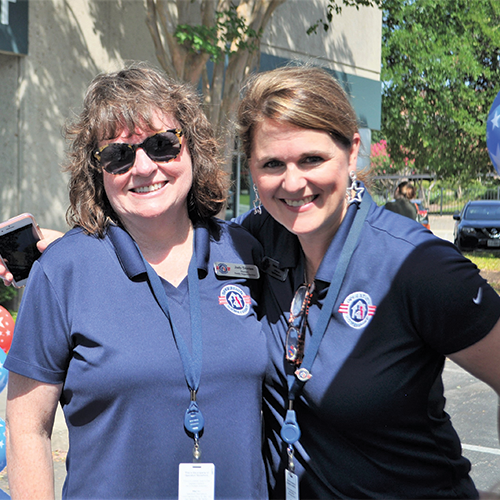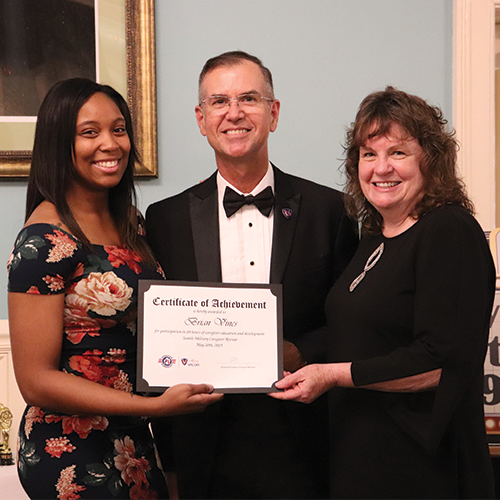 Judy is the Manager of Family Support Services and has been with Operation Homefront for a total of 10 years—a year and a half as a contractor and eight and a half years as an employee. If you have attended any of OH's Back-to-School Brigades, Star-Spangled Babies showers, Homefront Celebrations, Holiday Meals for Military, or Holiday Toy Drives, then you have a good idea of what Judy does. The four-person Family Support Services team collaborates closely with their senior director to plan, coordinate, organize, and oversee recurring family support programs from implementation all the way through evaluations. This includes being a liaison between the field offices and other departments and conducting training classes as needed. Judy and the rest of the Family Support Services team also manage the nomination/application and selection phases of the Military Child of the Year® Award and all registrations (building and reporting) for key programs.
For Judy, her favorite part of the job is being able to attend local events and see the smiles on the faces of the families Operation Homefront serves, as well as viewing the smiling faces in the photos captured by the field during their events.
"That always makes me happy," Judy said. "I also like that we have core values that include respecting others, doing what's right, gratitude, and striving for excellence. Those are values I see in my fellow employees every day, and that makes me proud to work for an organization that not only has those values listed but believes in them."
Through the years, Judy has heard countless "thank yous" from families. One such family had lost almost everything in a hurricane and was getting new backpacks for the kids. Just that small thing lifted a burden from the family for a day. Another she remembers was a single service member who was able to fly across the country to be home for the holidays. He had not seen his family in over a year, and his grandmother was ailing. He was able to spend a few days with her, and she passed shortly after his trip.
Through the years, Judy has heard military families say they don't want to register for an event because there are others more in need than they are.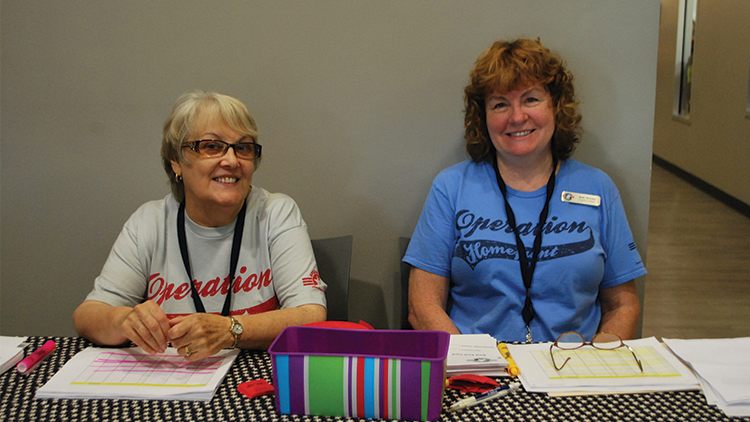 "I always encourage them to register anyway and let them know it is our way of saying 'thank you' and that Operation Homefront helps in so many other ways, too, and they can be part of helping to spread the word to other military families," Judy said.
Judy stresses this message to everyone. Operation Homefront is more than just giving out turkeys or backpacks. It is about giving hope to those military families who are facing financial hardship. It is about making a child happy with a Christmas gift and keeping the spirit of Christmas alive in their hearts. It is about helping families rise to their potential. It is about showing our gratitude. It is about giving some relief to military families who should not have to worry about choosing between groceries or the electric bill or if they can even afford to buy the kids gifts for Christmas.
In all that she does to serve military families, Judy does so in memory of her father and to honor her brothers' service and sacrifice.