Eleanor David, Marines 2021 Military Child of the Year®, Embraces Opportunities
Eleanor "Ella" David, the 2021 Military Child of the Year® for the Marines, has always found solace in the constancy of her musical studies. With each PCS move, playing piano first and later violin and viola allowed her a special outlet and a space to connect in each new community.
Ella, 17, lives in Falls Church, Virginia, and is a senior at McLean High School. She is the daughter of Medha and Col. George David, commanding officer of the Marine Corps Cyberspace Warfare Group based at Fort Meade, Maryland.
She has performed as principal violinist and violist in her schools' orchestras and in community groups. While her arm was in a cast, Ella documented progress of her fellow student musicians, then used her violin as physical therapy to regain range of motion. In eighth grade, Ella added the viola to her instrument repertoire.
Music, she said, has provided an avenue for connecting with other students when her family has moved with the military. The Davids have lived in Japan, Spain, and the United Arab Emirates, having PCS'd seven times in Ella's lifetime. Her father has deployed for a total of 50 months during her lifetime.
From kindergarten through fifth grade, Ella attended five different schools, two of them overseas. When she was starting high school, they moved for a sixth time. A seventh PCS, to Fort Meade, took her to high school in a new state.
"I involved myself in music and orchestra, as well as soccer, and made friends through those activities," she said.
The moves were tough for Ella when she was young because she missed her friends and the cultures and languages she would come to know.
"When civilians move, it is essentially a choice. The military moves on PCS orders and for military children, this is not easily predictable. Home becomes a concept centered around family rather than a place for military," she said.
As Ella matured, she came to see opportunity in being a military child.
She especially enjoyed living in Madrid, Spain, where she learned the language and came to appreciate the country's traditions of tapas and celebrating Día de los Tres Reyes (Three Kings Day).
Ella encourages other children of service members to embrace changes and experience what new places offer. Winning Military Child of the Year® for the Marines, she said, will allow her to raise awareness of military children.
"I am proud of my dad for serving and thankful for my unique experiences as a result," she said.
In addition to music activities, Ella excels in academics and on the soccer field. She combined her interests in music and science for a study of the mechanics of sound production in string instruments, a winning project in the 2020 Fairfax County Science Fair. She has maintained a 4.0 GPA and achieved top scores on all nine AP tests taken and earned the distinction of National AP Scholar for 2020.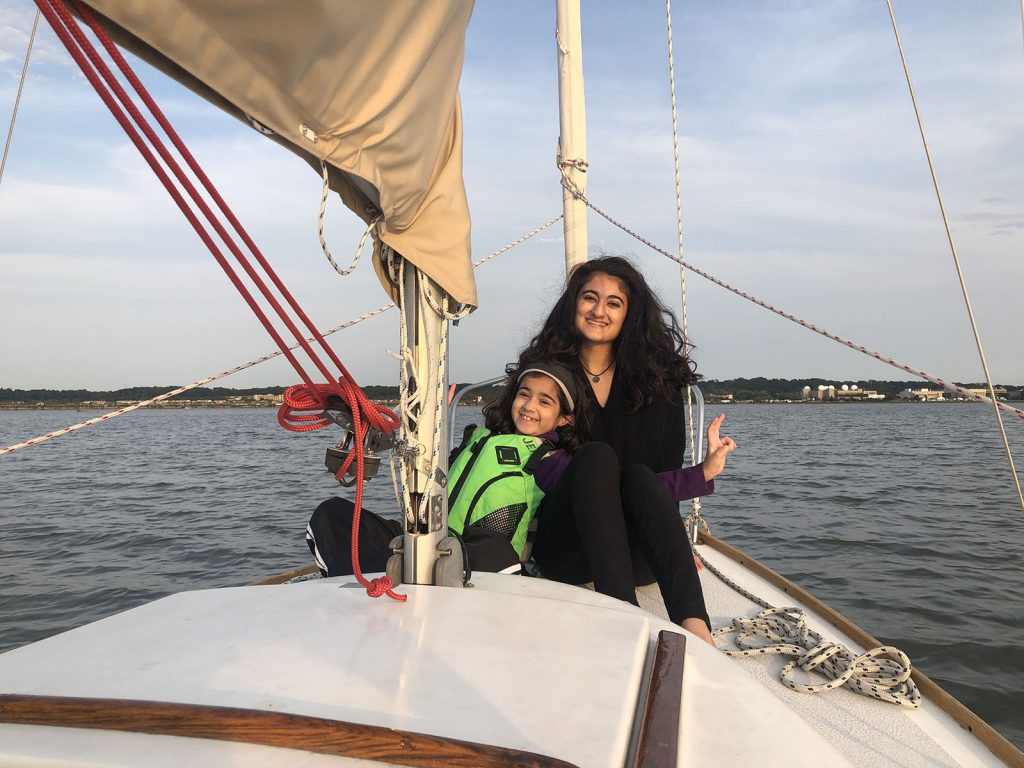 Ella serves as a chemistry and math tutor at her high school and helped develop virtual tutoring sessions in chemistry and calculus to adapt to online learning in response to COVID-19. Outside of school, she enjoys scuba diving, sailing, and watercolor painting.
Living overseas inspired an interest in languages and cultures. She has studied Spanish and Arabic and is learning Latin and Brazilian Portuguese.
Ella plans to study chemical engineering and viola performance in college.
Favorite Quote:
"Nothing in life is to be feared; it is only to be understood. Now is the time to understand more, so that we may fear less." – Marie Curie
Service/Leadership Highlights:
Chemnections Tutoring Club, Outreach Director, McLean High School
Calculus tutor for McMatics, McLean High School
Principal Violist, Tampa Metropolitan Youth Orchestra
Assistant Concertmaster, McLean High School Orchestra
National Science Honors Society member
Latin Honors Society member
Honorable Mention, US Army Orchestra Young Artist's Competition
National AP Scholar 2020
We also encourage you to submit messages of congratulations to our recipients.
Read the other 2021 recipient profiles:
Elise Puliafico, the 2021 Military Child of the Year recipient for the National Guard
Liam Cooper, the 2021 Military Child of the Year recipient for the Coast Guard
Nyah Gray, the 2021 Military Child of the Year recipient for the Air Force
Joshua Wouden, the 2021 Military Child of the Year recipient for the Space Force
Caleb Pipes, the 2021 Military Child of the Year recipient for the Army
Dasia Bandy, the 2021 Military Child of the Year recipient for the Navy
Emma Remley, the 2021 Military Child of the Year recipient for Innovation