Elise Puliafico, the 2021 Military Child of the Year® for the National Guard, Wants to Help Other Children Cope
Elise Puliafico, the 2021 Military Child of the Year® for the National Guard, is an empathetic leader who wants to help other military children cope with being the child of a parent or guardian with PTSD related to military service.  
Elise, 18, is the daughter of National Guard Lt. Col. Joseph Puliafico and Lynette Puliafico, a teacher. She has one older sister, Valerie, and a cat named Chloe. The family lives in West Bridgewater, Massachusetts, where her dad is stationed at Hanscom Air Force Base.
She learned just how strong and resilient she is during her father's deployment to Afghanistan from 2014 to 2015 when Elise was 12. During this time, Elise's mother had to have a routine surgery but dangerous complications required an extended hospitalization, including days in the ICU.
"Not only was I worried about my father and his safety but I was also worried about my mother's life," she said. "I was so afraid that I was going to lose both of my parents at this time."
Elise relied on her sister and grandparents to help during this time but knew she had to stay strong for her parents. She kept focusing on what she could control, like extracurricular activities, sports, school, and other healthy outlets. She also learned to be more self-sufficient, as she had to learn to cook, do laundry, and perform other household chores. This resiliency and independence served Elise well when her father returned from Afghanistan and her mother was diagnosed with cancer, for a second time.
Overall, Elise has experienced over 60 months of her father being gone during deployments. But it was after her father returned from the latest Afghanistan deployment that she learned more about PTSD. She used her own family's post deployment experience to help others. Elise attended pre-deployment briefings that mentioned a loved one may be different when they returned. This was true for her family too. She chose to take her experiences and use them as a teaching tool for other children in the National Guard by joining the National Guard Teen Panel where she has worked to focus on PTSD educational programs for dependents of deployed service members in the reserve components. She has also been working to open a dialogue between her teen peers to better discuss their concerns and help normalize their experiences.
Elise is always concerned for the welfare of her military child peers. This past holiday season she saw a need in her National Guard community. Due to the COVID-19 pandemic, many of the typical holiday fundraisers were not able to occur. Elise realized that many National Guard families were going to struggle during the holiday season. In order to help, she organized a contactless toy drive in her local community. She collected over 200 toys which she then delivered to the Youth Program Coordinator for distribution to Massachusetts National Guard families. She was able to help dozens of families provide an exciting holiday for their children.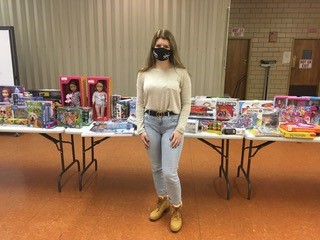 Outside of her advocacy, Elise is active in various clubs as a senior at West Bridgewater Middle/Senior High School. In Elise's sophomore year, she was selected by the high school faculty as a class representative for the Hugh O'Brien Youth Leadership conference where she honed her leadership skills. The next year she was selected by the high school faculty as a student representative for the American Legion Girls State, due to both her formal and informal leadership abilities.
In addition to her military volunteering, Elise actively volunteers in the West Bridgewater community. She is a teen representative on the West Bridgewater Public Library Green Team, creating local environmental awareness. She has also volunteered with the Council on Aging to assist senior citizens in the use of technology (phones, tablets), and has helped to organize a "Senior" Prom. In her high school Elise volunteers as a "Wildcat Mentor" for underclassmen.
She is a captain of the varsity field hockey, tennis, and debate teams. When she is not volunteering, working, or studying she enjoys skiing, baking, and reading. Elise plans to study civil engineering in college and wants to create sustainable affordable housing for military bases and underserved communities. Her top choices for colleges are Vanderbilt University, Georgia Tech, Worcester Polytechnic Institute, and Virginia Tech.
Favorite Quote:
"Life is not easy for any of us. But what of that? We must have perseverance and above all confidence in ourselves. We must believe that we are gifted for something and that this thing must be attained." – Marie Curie
Service and Leadership Highlights:
4.00 GPA (Unweighted) West Bridgewater Middle-Senior High School, class of 2021
United States National Guard Teen Panel (2019 – Present), Region 1 (Northeast) Representative
American Legion Girls State (2020) – West Bridgewater selected representative
Massachusetts HOBY Leadership Conference (W. Bridgewater Representative) 2019
Presidential Volunteerism Award – Bronze (July 2020)
Class of 2021 Treasurer (2018 – Present)
Member of both National Honor Society and Spanish National Honor Society (2019 – Present)
Serves as representative on the State, Regional, and local level Student Advisory Council Boards (2017 – Present)
We also encourage you to submit messages of congratulations to our recipients.
Read the other 2021 recipient profiles:
Liam Cooper, the 2021 Military Child of the Year recipient for the Coast Guard
Nyah Gray, the 2021 Military Child of the Year recipient for the Air Force
Joshua Wouden, the 2021 Military Child of the Year recipient for the Space Force
Eleanor David, the 2021 Military Child of the Year recipient for the Marine Corps
Caleb Pipes, the 2021 Military Child of the Year recipient for the Army
Dasia Bandy, the 2021 Military Child of the Year recipient for the Navy
Emma Remley, the 2021 Military Child of the Year recipient for Innovation