Nyah Gray, 2021 Military Child of the Year® for the Air Force, Serves and Leads
Nyah Gray, the 2021 Military Child of the Year® for the Air Force, developed powerful resilience as a little girl when her father died. In tragedy, she found refuge in music and academics. Now, the 17-year-old high school junior who lives in Buda, Texas, makes it her mission to find value in people and objects that others see as flawed or even worthless.
In addition to volunteer work with special needs children, Nyah founded Key Change, a ministry that restores pianos destined to be discarded and donates them for music therapy programs at schools and nursing homes. She also participated in a program to collect used eyeglasses and distribute them to villagers in Benin, West Africa.
Nyah is the daughter of Heather Gray Blalock and Maj. Walter David Gray, an Air Force Tactical Air Control Party air liaison officer who was killed in action in 2012. Her stepfather, retired Air Force Col. Jack Andrew Blalock, served as commander of a civil engineer squadron and as Air Force ROTC commander at Texas State University in San Marcos, Texas, until his retirement earlier this year.
Those who know Nyah admire her ability to handle adversity with faith and a determination to let obstacles make her stronger.
Nyah was 8 years old when her family became a Gold Star Family. Her father was serving in Kunar Province, Afghanistan, when he and three others died in an attack by a suicide bomber. Nyah took on responsibilities at home, pitched in with cooking, and helped her two younger siblings with homework.
During her father's funeral procession in the Georgia town where he grew up, young Nyah began to understand the honor associated with military service. Townspeople lined the streets to pay their respects, and businesses put her father's name on signs.
"Even the Chick-fil-A cow mascot came out and kneeled by the road," she said. "Eventually there have been buildings and highways named after him, and every time we attend a service or military event, I am reminded of the great honor it is to have been military."
Military life was all Nyah had known until her stepfather's retirement this year, and now she better understands the opportunities that came with her family's seven PCS moves.
"You learn to make friends quickly and easily," she said. The friendships endure over a lifetime.
"We drove across the country one time and never had to stay in a hotel," she said, recalling staying in the homes of military friends all along the way.
When Nyah's mother and stepfather married and blended their two military families, shared military experiences gave the six children common ground. The two families had even been stationed together in Germany before Nyah's stepbrothers lost their mother to cancer.
Nyah advises other military kids to take the good with the bad. "Savor all of the moments that military life affords you and live in the present," she said.
Through all her military moves and difficult times, Nyah has excelled academically. She was recognized as a NASA Texas High School Aerospace Scholar, is a member of Mu Eta Sigma national math honor society, and she participates in the North American Computational Linguistics Olympiad.
Nyah is an accomplished pianist and enjoys the arts. She credits the many military moves with her father and stepfather for sparking an interest in languages and cultures. That passion could one day develop into a career, perhaps as a linguist with the CIA or as a Bible translator.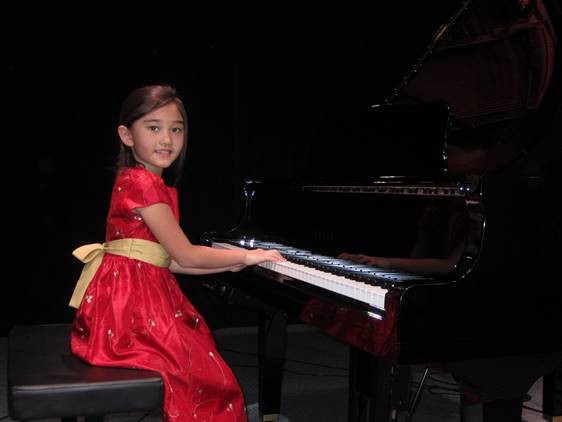 Favorite Quote:
"And I heard the voice of the Lord saying, 'Whom shall I send?' … And I said, 'Here I am Lord, send me.' "– English Standard Version, Isaiah 6:8 , the verse inscribed on her father's headstone at Arlington National Cemetery. The verse is a truism for military life and life in general, Nyah said.
Service and Leadership Highlights:
Pianist, youth praise band, Hays Hills Baptist Church
Founder of Key Change, a ministry that refurbishes pianos and donates them to music therapy programs
Mu Eta Sigma National Math Honor Society
NASA Texas High School Aerospace Scholars program, 2020-2021
Air Force Tactical Air Control Party volunteer for fundraisers, memorial services, dedications, and reunions
National Rural Electric Cooperative Association Youth Tour delegate representing Pedernales Electric Co-op, 2020, only homeschool student
Benin Mission Advocacy Team member
We also encourage you to submit messages of congratulations to our recipients.
Read the other 2021 recipient profiles:
Elise Puliafico, the 2021 Military Child of the Year recipient for the National Guard
Liam Cooper, the 2021 Military Child of the Year recipient for the Coast Guard
Joshua Wouden, the 2021 Military Child of the Year recipient for the Space Force
Eleanor David, the 2021 Military Child of the Year recipient for the Marine Corps
Caleb Pipes, the 2021 Military Child of the Year recipient for the Army
Dasia Bandy, the 2021 Military Child of the Year recipient for the Navy
Emma Remley, the 2021 Military Child of the Year recipient for Innovation